Most people know that in a normal basketball game, there are a total of 10 players on the court at any given time, with each team having 5 players 'in play'.
However, what about the team as a whole? How many players will be sitting on the bench? Are there any other players that are on the team, but not on the court or on the bench? These are just some of the things we'll be answering today.
Quick Overview
| League | Maximum Number of Players on team |
| --- | --- |
| FIBA | 12 |
| NBA | 15 |
| WNBA | 12 |
| NCAA | 15 |
| NFHS | 20 |
| FIBA 3×3 | 4 |
FIBA: 12 players
Traditional basketball rules established by the International Basketball Federation (FIBA) keep things simple. Each team consists of 12 players, with 5 players being in play on the court at any time, and the rest on the bench available for substitution.
This rule is adopted by the Olympics and most basketball leagues around the globe.
NBA: 15 players (13 active, 2 inactive)
The NBA is one of the most polarizing and entertaining sports leagues in the world. From high-flying dunks to dazzling assists, the NBA has transcended into must-watch TV over the last decade.
American basketball leagues like the NBA and NCAA have a tendency to set their own rules, which affect everything from game duration to, you guessed it, team size.
To fully understand the elite athletic feats and overall excellence put forth on a nightly basis, it's important to understand how these players come to be in the NBA, and what makes up an NBA roster enabling them to shine.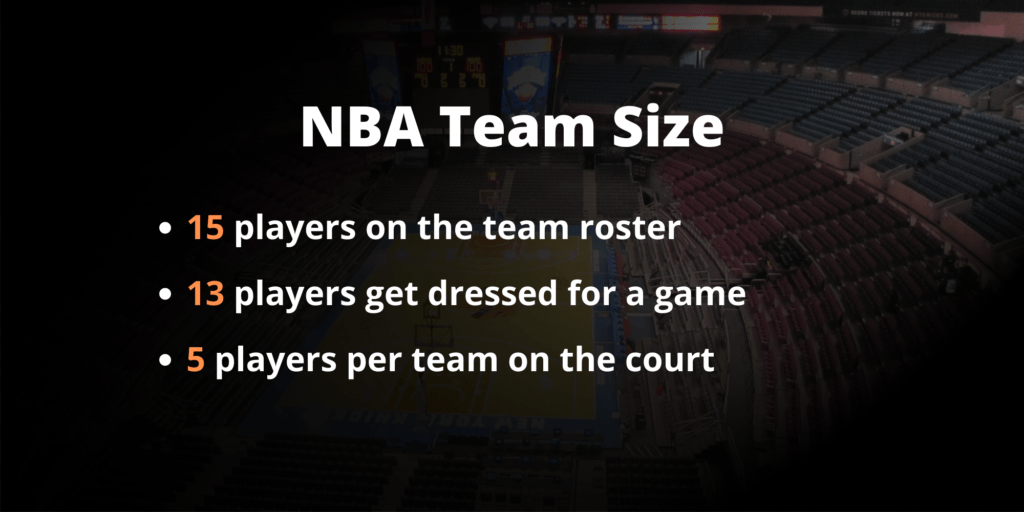 In the offseason, NBA franchises are allowed to have up to 20 players signed on their roster. But once the season commences, this number is cut to 15 players, and on any given night, an NBA team can have up to 13 'active' players with two remaining 'inactive'.
The reason NBA front offices are allowed to have more than their regular-season roster in training camp is due to fringe individuals being given a chance to make the squad before the season tips off.
For many, these are players who have struggled to find a permanent home elsewhere, players from overseas, or individuals who have shined in the NBA's developmental "G-League".
Two Way Contract Players
In addition to the 15-man 'permanent' roster during the regular season, organizations are able to have 2 players on two-way contracts on their books. Two-way contracts are usually given to younger players who the front office believes are developing on schedule, and these individuals can play between both the NBA franchise and their G-League affiliate. Additionally, the salaries of two-way contracts are stipulated by how many minutes they play for each outfit.
NBA Hardship Exception
While the roster size of 15 players is more or less set in stone, the NBA does demonstrate flexibility in exceptional circumstances.
If a team has 4 or more players who have missed 3+ games due to injury or illness and are expected to miss more games in the near future, they could be granted a hardship exception. This allows them to add another player to their roster, which would temporarily increase their roster size to 16 players.
Between two-way players, hardship exceptions, and in-season transfers, the NBA actually ends up having more than 450 players that you would expect from 30 teams with 15 players each. Read more about how many players were registered in recent NBA seasons.
Deciding Which Players are Active and Inactive
As we've established, NBA teams are able to have up to 13 'active' players to choose from on game day. The decision on whether a player will be active or inactive is determined by the team's coaching staff, which put together an active roster before tip-off.
More often than not, these decisions are straightforward, as injuries are a common occurrence that forces players to be inactive for extended periods. Other instances in which players are inactive can be their inability to be in the rotation, suspensions, health and safety protocols, or approved absence away from the team.
Not All Active Players Will Have Minutes on the Court
With that being said, despite having up to 13 active players at his disposal, NBA head coaches will usually only rotate between 9 to 10 players during a game, resulting in active players not seeing any minutes and registering a DNP (did not play – coaches decision) in the box score.
This is common across most sports and certainly isn't exclusive to basketball. Some active players are on the bench purely as a backup or to make up the numbers, but aren't expecting to play unless any special circumstances develop.
WNBA: 12 players
The WNBA follows the FIBA rules of having a limit of 12 players on a basketball team. That means five players from the same team on the court at any given time, and up to 7 players on the bench available for substitution.
NCAA: 15 players (13 active, 2 inactive)
The NCAA follows a similar team structure to the NBA. A college basketball team can have up to 15 players during the season. Again, during the actual game, only 13 'active' players can actually have the chance of setting their foot on the court.
High School: 20 players
When it comes to high school level basketball, the number of players on any given school basketball team varies a lot. That's because across the US you have different high school leagues and federations that have their own rules.
However, if we go by The National Federation of State High School Associations (NFHS) rules, varsity and junior varsity teams are limited to a maximum of 20 players on the roster. It makes sense that high school rosters allow for more players than professional or college leagues for two reasons. First, schools want to have the freedom to try out more players in order to uncover young players with potential. Second, there is more uncertainty and reduced commitment levels among high schoolers, so it makes sense that a team can be made bigger to compensate for this.
Street Basketball: 4 (3 players, 1 substitute)
Street basketball typically has a less formal structure and reduced enforcement of rules compared to professional basketball competitions that are played indoors. An actual pickup game could have teams with virtually any size.
However, the majority of streetball games are played 3-on-3 on a half court. This is known as 3×3 basketball, and FIBA actually has rules regarding this type of basketball which is basically the product of street basketball's popularity.
In formal 3×3 basketball competitions, each team has 3 players in play at any given time, and one substitute available.
The 5 Basketball Positions in a Team
With a fundamental understanding of an NBA roster and it's active participants, it's also important to appreciate the detailed and intricate nature of roster construction.
As it's commonly known, an NBA starting line-up is made up of the following:
Point Guard
Shooting Guard
Small Forward
Power Forward
Center.
With these positions, come unique responsibilities and duties on the hardwood, and each player performs a vital role in the overall success and function of the team.
A Point Guard, for example, is usually the franchise's primary ball handler, facilitator, and playmaker. In general, his main objective is to run the team smoothly, getting his teammates involved and to score as a secondary obligation.
In essence, a Shooting Guard's responsibility is to shoot and score, a Small Forward's objective typically entails a mixture of offensive and defensive output as the team's best athlete, a Power Forward is considered a "big" that also helps on both sides of the floor, and a Center patrols the paint, protects the rim, catches lobs and is a high-level rebounder.
Of course, given the incredible skillsets of today's NBA players, these positions and responsibilities have become interchangeable and fluid, but the rudimental nature has somewhat remained.
Striking the Right Balance in a Team Roster
Whilst some league office rules present challenges for front offices to build rosters, there is no rule that dictates how many players a team must have in any given position. As such, teams are permitted to fill their rosters as they see fit, with an emphasis on what the team requires to win and be competitive against their peers.
For championship level teams, there will be a harmonious balance to their roster construction, striking the perfect blend of stars, emerging young talent, experienced veterans and a noticeable approach to address team deficiencies.
All in all, it's safe to say the process in putting together a success NBA team is a tall task that requires a significant amount of planning and considerations.
Lucky for us, we simply enjoy the end product and appreciate the greatness we see on a nightly basis throughout the association.
It's Not Just The Players!
While we've discussed the number of players on a basketball team in terms of the players, let's not forget that there are a lot of people who also make extremely valuable contributions to a team's success.
Of course, we have the head coach and any assistant coaches that lead the team's overall strategy. There is also usually a team doctor who ensures the wellbeing and safety of players. More professional teams will also have dedicated physiotherapists, nutritionists, and psychotherapists who will make sure the basketball players are performing at their best. You also can't forget the janitor who keeps the court clean so that the team can train without delay or the die-hard basketball fan that cheers from the stands every game, without fail. All these members can also be considered to be a part of the basketball team!