Basketball isn't just a game; for many, it's a passion, a way of life, and a communal activity that brings families, friends, and neighborhoods together. Whether you're practicing your jump shot, playing a one-on-one game, or playing H-O-R-S-E with friends, having a reliable home basketball hoop can elevate your home court experience.
And nothing beats in-ground basketball hoops when it comes to stability. Being planted deep into the ground makes them almost impossible to bring down.
While many households gravitate towards portable hoops for their flexibility, in-ground systems benefit from reduced vibrations, longer overhangs, and the ability to support larger, heftier backboards. Plus, they're surprisingly unobtrusive, requiring no bulky base and leaving a minimal footprint.
Finding the right in-ground basketball hoop for your needs can be quite the challenge, however, which is exactly what we are here to help with today. Join us as we delve into the details and discover the best in-ground basketball hoops that excel in performance, durability, and ease of installation.
Our hoop recommendations are split into the following 4 categories:
Entry-level (~$500): For kids or light recreational play
Intermediate (~$1000): For teens and adults, not suited for aggressive dunking
Premium (~$2000+): 1-piece pole systems that handle anything thrown at them
Professional (~$5000): Regulation-tier performance at your home
Best In-Ground Basketball Hoops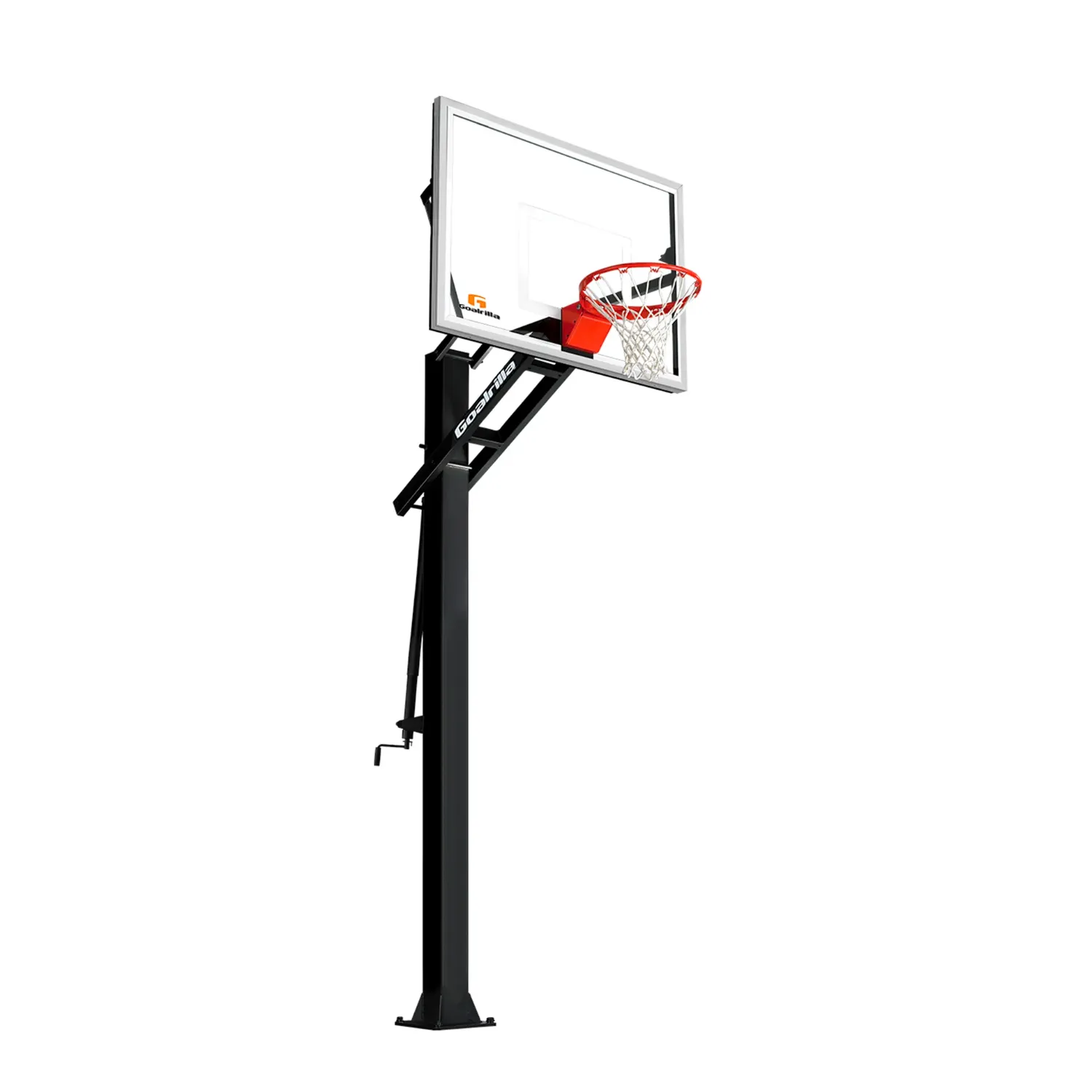 Best For Most People
Thanks to its 1-piece pole construction, the GS54 is the only hoop in its price bracket that can comfortably be dunked on, and it doesn't cut corners anywhere else.
Category
Intermediate/Premium
Support Pole
1-piece, 5" square
Backboard Material
3/8" Tempered Glass
Height Adjustment
7.5' to 10'
Mounting Method
Anchor System
Plays like a gym system
Fantastic rebound
More affordable than other 1-piece pole systems
Not the biggest backboard for an in-ground system
Our top pick has the best tradeoff between price and usability, and it comes from a brand with a reputation for producing quality basketball products – Goalrilla. We recommend the GS54 for players wanting something that closely replicates the performance of NCAA and NBA hoops, without having to pay a small fortune for a system with a regulation-sized backboard.
The 3/8″-thick tempered glass backboard provides excellent rebound performance, and the 1-piece, 5″x5″ square steel pole won't rattle anywhere near as much as multi-piece systems. This is really the most affordable hoop that can deal with players who dunk or hang on the rim, as 2-piece systems usually have some play between the sections, leading to more movement or vibration.
This Goalrilla goal checks the other boxes too. It uses Goalrilla's bolt-down anchor system, meaning you can potentially relocate it if you buy another anchor kit. The pro-style flex rim flexes under pressure, to better accommodate players dunking on it or hanging from it. All of this is backed up by Goalrilla's lifetime warranty, meaning you don't have to worry about replacing it in the future.
The only thing that might deter some is the slightly smaller 54″ backboard, in which case upgrading to the Goalrilla's more expensive FT series (FT60/FT72) is worth considering. However, in our experience, the 54″ backboard size is simply not an issue, and the thick tempered glass surface is vastly preferable to bigger but rattly backboards found on cheaper systems.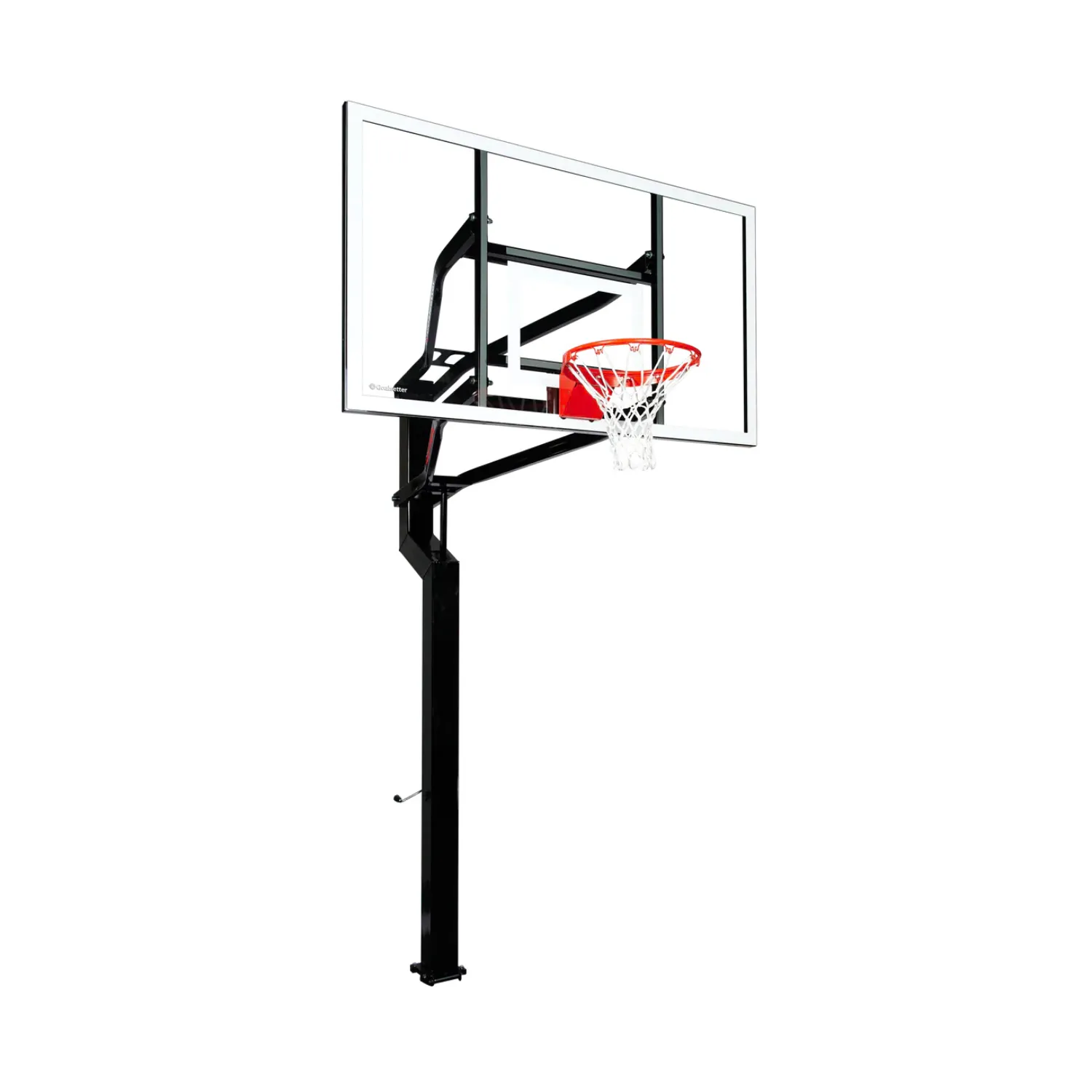 Best Premium
Featuring a unique off-set pole design, the Goalsetter MVP cleverly reduces the torque around the base for a more stable system.
Support Pole
1-piece, 6" square
Backboard Material
3/8" Tempered Glass
Height Adjustment
6' to 10'
Mounting Method
Anchor System w/ hinging base plate
Innovative off-set pole design
Regulation-sized backboard
Hinged ground anchor
Rim goes as low as 6'
If you're looking for a high-end in-ground basketball hoop that comes with all of the bells and whistles that a professional system should have, then the Goalsetter MVP 72″ Glass In-Ground Height Adjustable Basketball Hoop System is your best bet.
Unlike cheaper models which often feature a two-piece pole system, the one-piece pole made with 3/16" wall thickness provides superior support and is less prone to shaking and rattling. It can handle all of the shock and impact created when people dunk on it and bump into it.
The Goalsetter MVP is unique in that it has an offset pole design, meaning weight is distributed more evenly, and wear and tear on joints is significantly reduced.
In terms of mounting, this is an anchored unit, which means that you do need to bolt it into the ground, although this is quite easily done. The fact that it comes with a ground anchor hinge means that you can assemble the whole thing on the ground, something that certainly helps make life a bit easier for everyone.
Speaking of dunking, to make sure that everything stays in one piece, the backboard is made of fully tempered glass and features structural steel tubing with an H-frame design, making it close to indestructible. This ⅜" thick competition backboard also produces some great rebounds. All of the steel components here are powder-coated for great weather resistance.
Being able to adjust the height of the pole from 6' to 10' in infinite adjustments using a simple crank mechanism is another bonus feature, as other hoops typically start from 7.5'. With a 4′ overhang, the MVP also provides a large safe playing area under the net.
Overall it's difficult to fault this USA-made goal from Goalsetter. With a few innovations that set it apart from other offerings and a limited lifetime warranty, it's a worthwhile investment for those who want to play seriously on a 72″ regulation-sized backboard.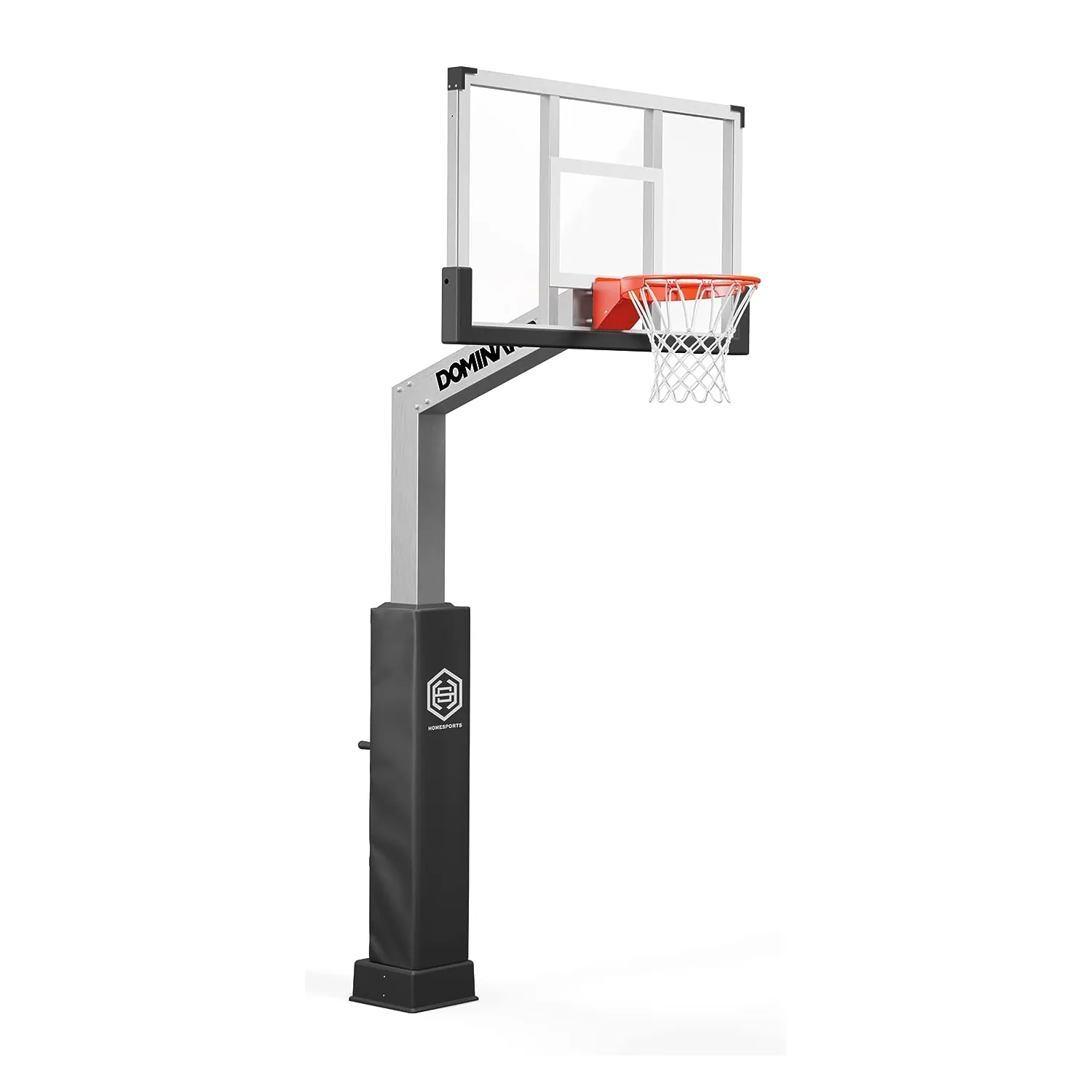 Notable Mention
Lightweight and naturally rust and corrosion-resistant, the Dominator presents a strong case for aluminum hoops.
Support Pole
1-piece, 8" square
Backboard Material
½" Tempered Glass
Height Adjustment
7' to 10'
Mounting Method
Anchor System
Lighter weight for easier assembly and height adjustment
Naturally rust resistant
Attractive brushed metal design
Thick tempered glass backboard
Not as rigid comparably sized steel hoops
Steel is by far the most common material used for the support pole because it offers the greatest durability and rigidity. However, HomeSports has
challenged the norm with the Dominator hoop, which features a precipitation-hardened 6061 T6 aluminum.
There are several advantages that its aluminum construction has over steel rivals, which might make it a good choice for your home.
Firstly, aluminum is naturally rust and corrosion-resistant. While powder-coating steel also ensures steel hoops are rust and corrosion-resistant, damage and scratches to the powder coating will expose the steel and potentially make it prone to rust.
Secondly, the lightweight nature of the metal makes installation and height adjustments easier. The latter is especially important if kids are involved, as heavier steel hoops could be too challenging for younger players to adjust by themselves.
And let's not forget to mention the aesthetic appeal of the brushed aluminum pole, which stands out from the crowd.
Even though aluminum isn't as rigid as steel, the massive 8×8" main support pole with 3/16″ thick gauge aluminum can handle the heaviest stresses. And beyond the solid support pole, you get a very thick 1/2″ tempered glass backboard which provides an incredible rebound.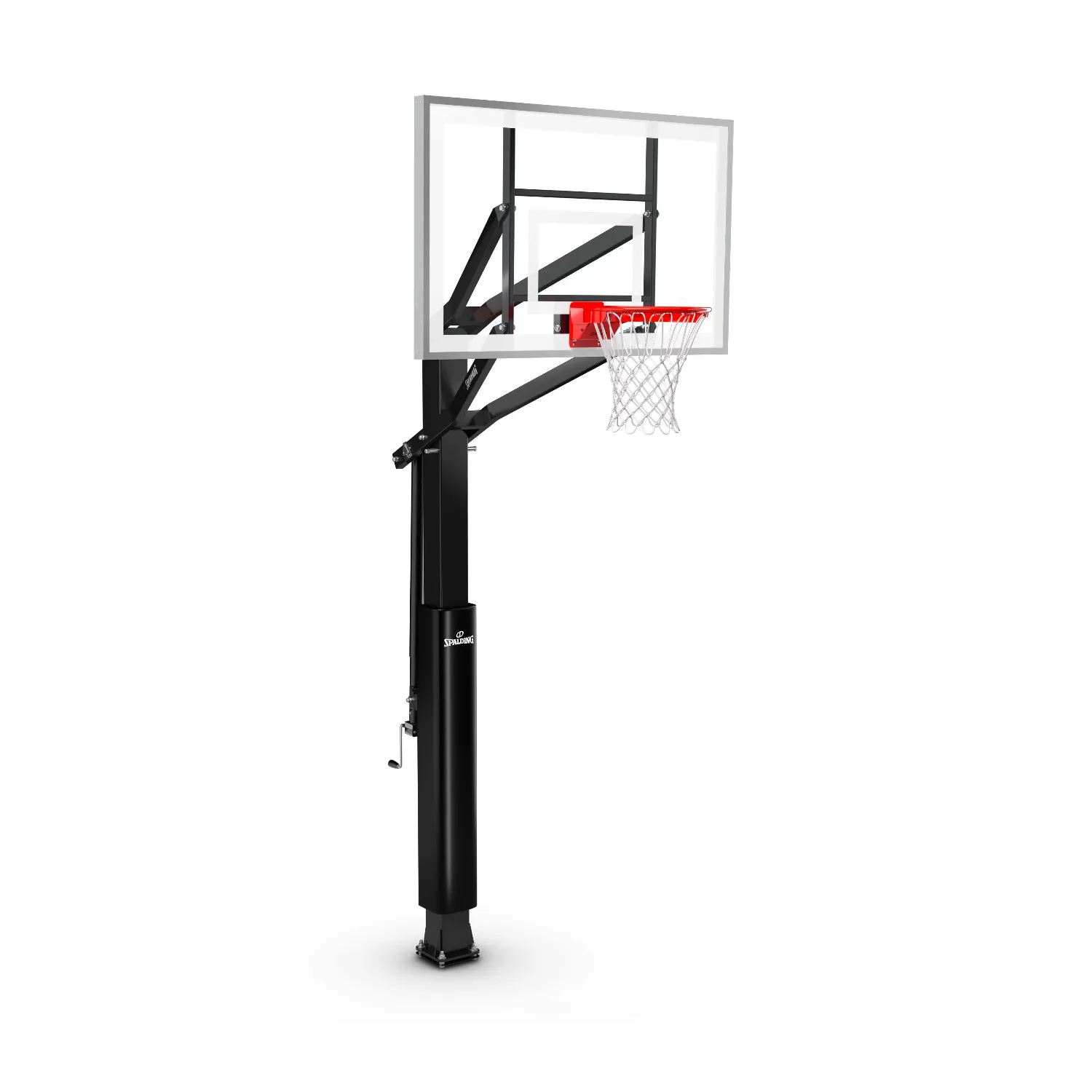 Notable Mention
A thick 6" square support pole keeps this Spalding goal nice and sturdy, but it's somewhat unremarkable compared to other premium hoops.
Support Pole
1-piece, 6" square
Backboard Material
3/8" Tempered Glass
Height Adjustment
7.5' to 10'
Mounting Method
Anchor System
Sturdy 6" square pole on 60" and 72" variants
Great rebound performance
J-bolt anchor system
If what you are looking for is great durability, stability, and performance, and you don't mind investing a bit extra, then this Spalding "888" Series In-Ground Basketball Hoop is another option worth considering.
This is a so-called heavy-duty hoop, and it's thanks to the 6" thick one-piece support pole that can handle virtually any amount of punishment thrown its way. This should be more than enough for even the most rigorous of games.
The steel pole is also powder-coated for enhanced weather protection features. For the 54-inch and 60-inch variants, you get a 3' offset between the pole and backboard, preventing you from slamming into the pole during play. But just in case, it does come with heavy-duty padding to keep you safe.
With its J-Bolt anchor system, this is an anchor mount hoop, so you do need a good driveway or concrete base to anchor it into. However, once it's anchored, it won't go anywhere no matter how rough the gameplay. The height of the rim can be adjusted from 7' to 10' using the U-Turn Pro Lift system in infinite increments.
The 60" tempered glass backboard provides you with all of the same great impact resistant, shatterproof, and rebounding features of the best hoops on the market. You just can't beat tempered glass, plus the steel backboard frame is very high-quality as well. It also comes with Spalding's Flex Breakaway Rim worth almost $200 alone.
While it's a great hoop, it's outmatched by the Goalsetter MVP 72″ and Dominator, which both provide more overhang and feature unique innovations that the "888" series is lacking.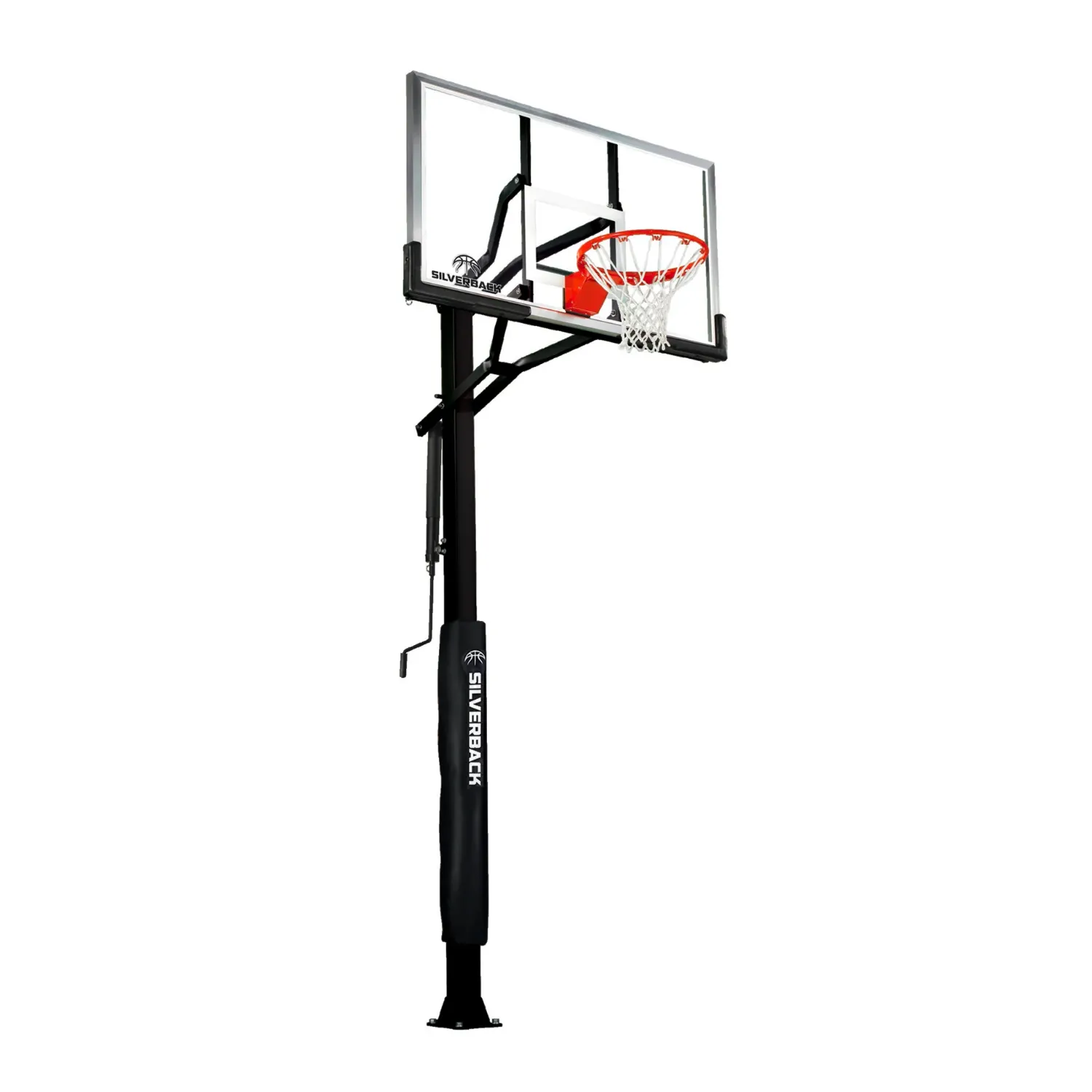 Best Intermediate
With a decently-sized tempered glass backboard, a sturdy 4" square pole and padding included with the purchase, the SB60 is the best intermediate system for under $1000.
Support Pole
2-piece, 4" square
Backboard Material
5/16" Tempered Glass
Height Adjustment
7.5' to 10'
Mounting Method
Anchor System
Great value for money
Backboard padding and pole pad included
Good amount of overhang
60" backboard is slightly shorter than typical 60" backboards
Silverback is the more value-oriented line from Goalrilla, the same manufacturer of our top overall pick, the Goalrilla GS54. And if you're looking for a basketball hoop that gives you the best playing experience at a budget of around $1000, look no further than the Silverback SB60, which offers incredible bang for your buck without sacrificing much.
With a tempered glass backboard for a realistic rebound and an anchor kit system for the potential to relocate it post-installation, you only need to consider more expensive systems if you are expecting to play high-level competitive games or want to hang on the rim.
Keep in mind that although the included backboard is 60″ wide, at 33″ high it's slightly shorter than a standard 60″ backboard. It's also worth noting that despite being tempered glass, at 5/16th inch thick it's thinner than the 3/8″ backboard of the more expensive Goalrilla GS54, so don't expect the rebound to be quite as good.
The professional-style breakaway rim is a great addition here because it allows for a realistic playing experience while also preserving the integrity of the backboard itself.
This is all supported by a powder-coated steel pole that can withstand the elements and handle large amounts of stress. The support pole thickness is fine for the vast majority of purposes, but being a 2-piece pole it won't deal as well with players dunking on it regularly.
This is an in-ground unit complete with a four-bolt anchoring system to keep it in place. Mounting this unit is not overly difficult, but it does need to be done right. Because it is anchor mounted, you can always unbolt it and move the goal around in the future.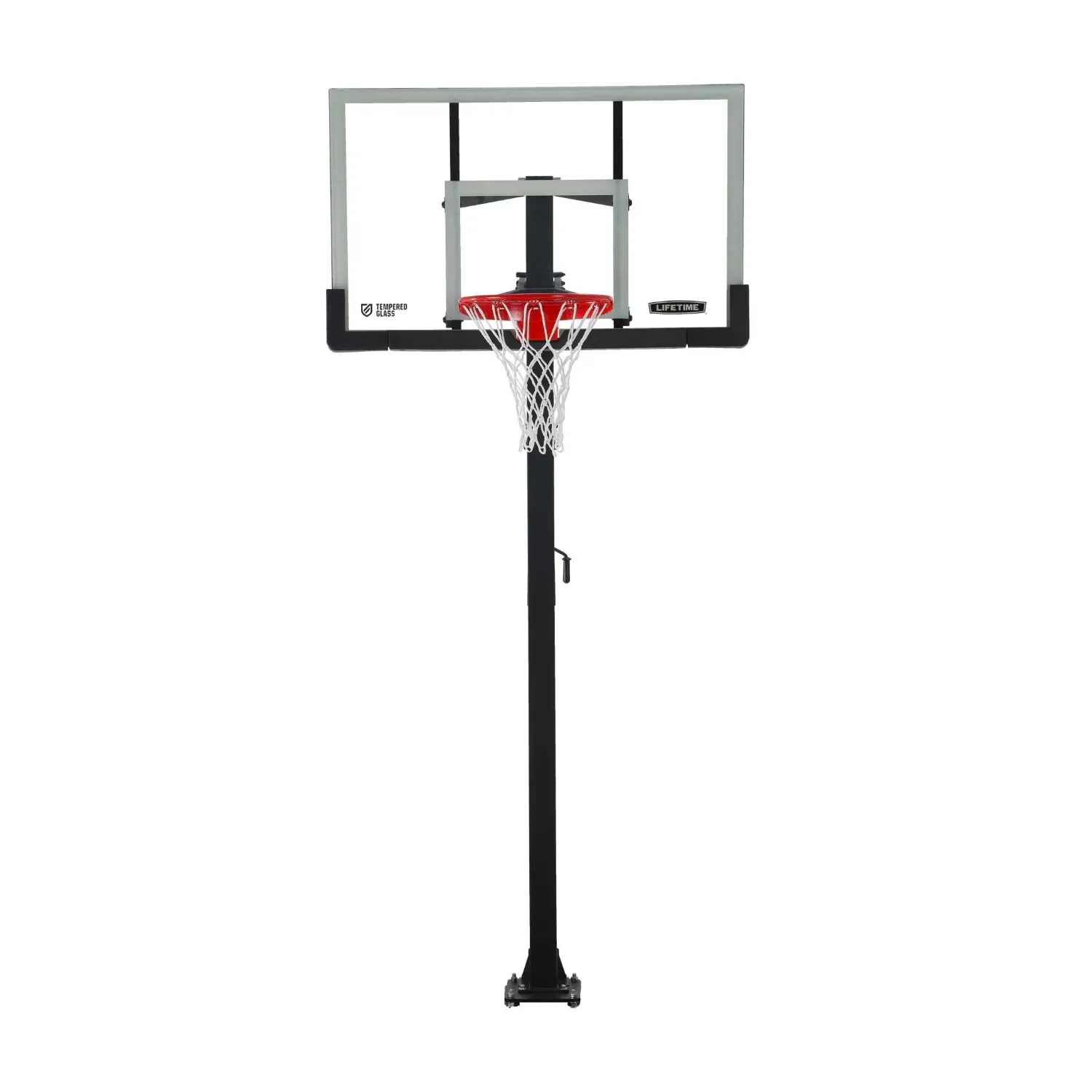 Notable Mention
The Lifetime Crank is a very comparable to the Silverback SB60, and may be better-suited for some buyers.
Support Pole
2-piece, 4" square
Backboard Material
0.39"/10mm Tempered Glass
Height Adjustment
7.5' to 10'
Mounting Method
Anchor System
Simple crank adjust system
Thick tempered glass for the price
UV protected graphics
If you're looking for an intermediate in-ground basketball hoop that comes in at a reasonable price, yet still features great durability and functionality, then the Lifetime Crank Adjust In-Ground Basketball Hoop is another hoop worth considering.
Something you might appreciate is the very stable base that this hoop has, as it comes with a four-bolt ground anchoring system. This means that provided you anchor it to a solid base it can handle a lot of gameplay.
This is combined with an easy-to-assemble, two-piece powder-coated steel pole, which can easily deal with the weight and stress of a rowdy game of hoops. Being powder-coated helps to increase its weather resistance, which is very important if you plan on having it outdoors.
The Lifetime hoop comes with a simple crank adjust system so you can easily adjust the height from 7.5' to 10' in infinite increments. It's so easy that even kids can do it.
Although it's easy enough for kids to use, the unit itself is made durable and functional enough for adults, especially the Mammoth backboard which is made out of high-quality steel and tempered glass.
The Lifetime Crank is slightly cheaper than the Silverback SB60 and it's backboard is made from slightly thicker tempered glass. However, we believe the SB60 is the better pick overall thanks to its bigger backboard, greater overhang, and the fact it includes backboard and pole padding.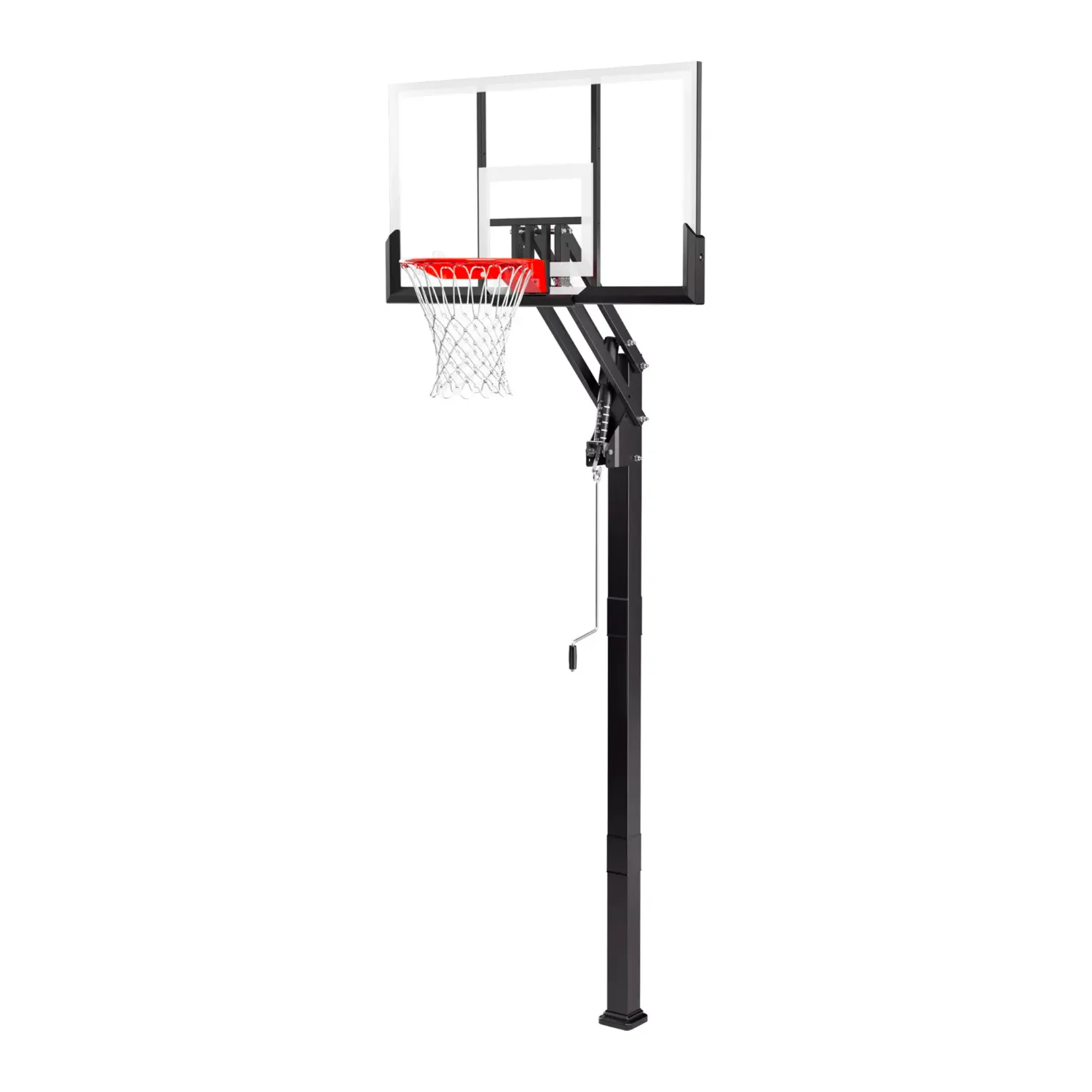 Notable Mention
A decent intermediate hoop let down by thin tempered glass and ground sleeve mounting instead of a concrete anchor system.
Support Pole
2-piece, 4" square
Backboard Material
0.24"/6mm Tempered Glass
Height Adjustment
7.5' to 10'
Mounting Method
Ground Sleeve
Sturdy 4" square support pole
Quality Arena Slam breakaway rim
Height adjustment in infinite adjustments
Slightly thin backboard
Not anchor mount system
The Spalding U-Turn In-Ground Basketball Hoop is another intermediate hoop to consider at under $1,000. Unfortunately, it has some drawbacks that make it less compelling than the similarly priced Silverback SB60 and Lifetime Crank.
The stainless steel frame on the backboard is designed to take some serious hits, as is the 60" tempered backboard itself. The glass is a little thin at 6mm, however, so the bounce isn't quite as satisfying as thicker boards.
Note that Spalding also offers this hoop with an acrylic backboard, though we'd recommend getting the tempered glass if you can afford it.
This is combined with Spalding's Arena Slam breakaway rim with wraparound support, so it can handle serious dunking without compromising the integrity of the system.
The U-turn infinite lift system which allows you to adjust the height of the hoop from 7.5' to 10' in infinite increments, unlike some systems which have to be adjusted in 6-inch increments. However, we're not sure this is the selling point Spalding makes it out to be, as almost every other in-ground hoop features height adjustments in infinite increments.
All this comes complete with an in-ground sleeve base that makes installation less permanent since you won't directly bury the pole in concrete, but instead bury the sleeve and slot the pole in. It makes it possible to relocate in the future, although we prefer bolt-down anchor mounting systems to ground sleeves.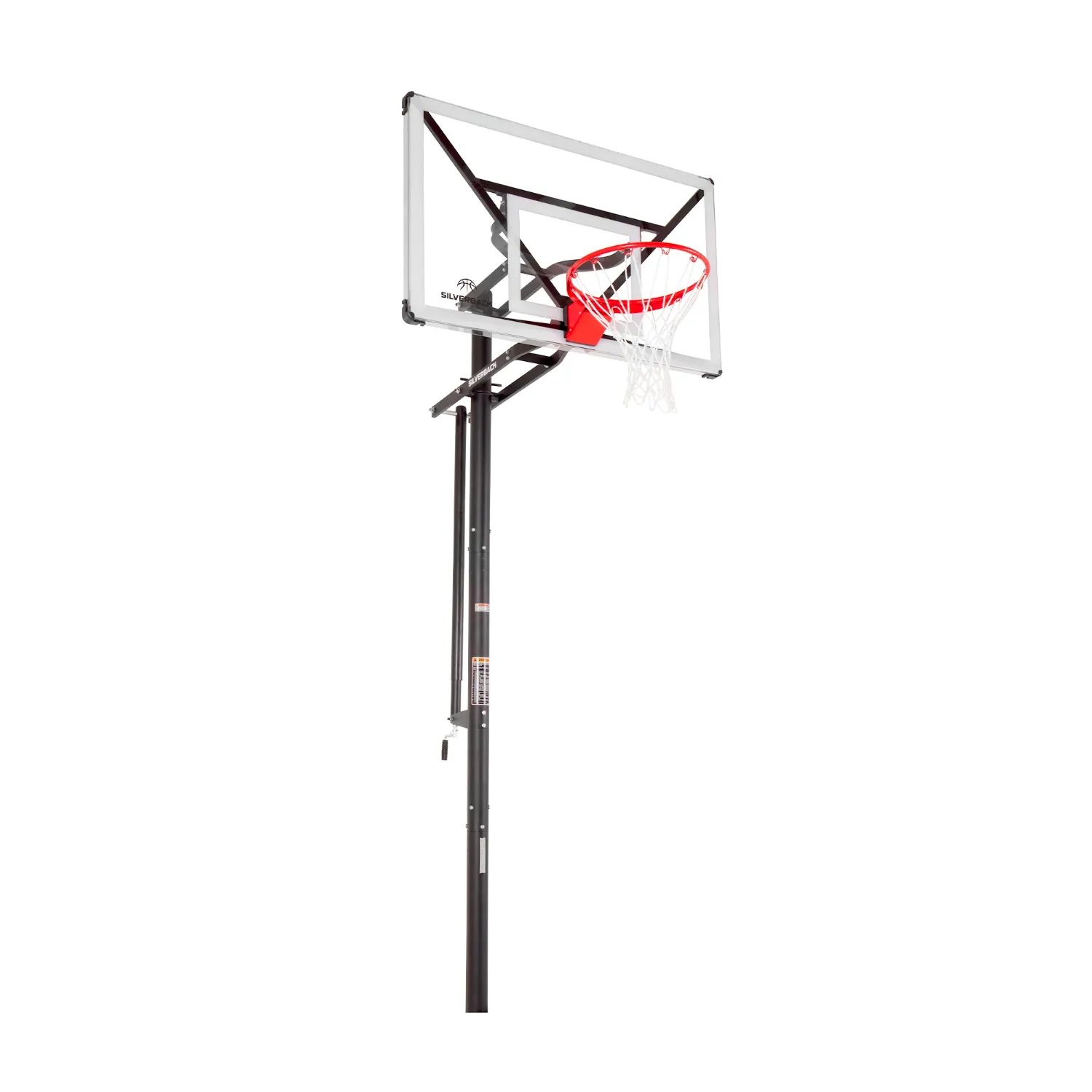 Best Entry-Level
A relatively fuss-free installation and solid specs overall make this our favorite budget hoop.
Support Pole
3-piece, 3.5" round
Backboard Material
Polycarbonate
Height Adjustment
7.5' to 10'
Mounting Method
Direct Bury
Great value for money
Fast installation
Direct bury only, no option for ground sleeve or anchor kit
Polycarbonate backboard
The Silverback NXT 54″ In-Ground Basketball Hoop could be seen as the lighter and even more budget-friendly in-ground hoop compared to the previously mentioned Silverback SB60. This one comes in at a substantially lower price, around $500, therefore effectively making it one of the lowest-priced units on this list.
The NXT 54" is ideal for light recreation, although it isn't recommended for serious basketball players looking to get their training done at home. However, for its low price, it's still a relatively impressive hoop that has everything you need for home use, including an attractive Infinity Edge backboard.
The backboard is polycarbonate, so the rebound is slightly dull compared to tempered glass or even acrylic backboards.
One of the biggest benefits here is the relatively fast 90-minute assembly time, most of which consists of digging. One of the main reasons why this hoop comes in at such a low price is because it is a true in-ground unit that requires you to directly insert it into a deep hole and secure it with a good deal of cement.
This allows for a super stable and rigid base, although the location is permanent once chosen. More expensive systems generally use an anchor kit system. However given the low price of the NXT, it won't sting too much if you have to leave it behind.
Just like with the other hoops we looked at today, this one also features a professional-style breakaway rim that performs well. We wouldn't recommend dunking on it, though, as having a 3-piece pole means it lacks the stability and rigidity of a two or one-piece system.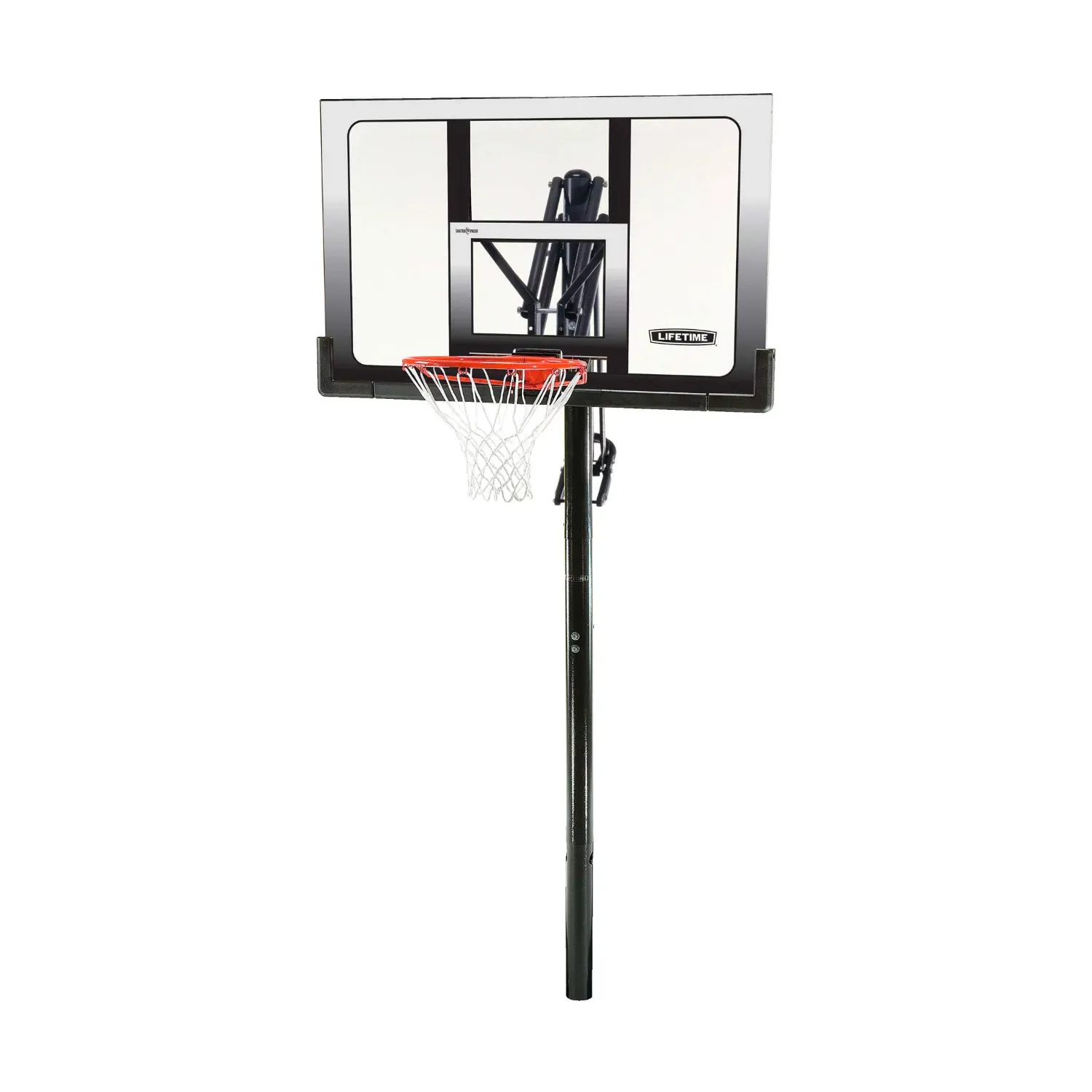 Notable Mention
With a 52" backboard and Power Lift system for easy height adjustments, the Lifetime 71281 is an inexpensive hoop well-suited for growing kids.
Support Pole
3-piece, 3.5" round
Backboard Material
Polycarbonate
Height Adjustment
7.5' to 10'
Mounting Method
Direct Bury
Durable shatterproof backboard
Easy height adjustments with Power Lift system
Cheap
Dull rebound
Backboard produces noticeable rattle
If you are looking for a truly budget-friendly in-ground hoop that is still durable and functional enough to use on a regular basis, then this Lifetime 71281 In Ground Power Lift Basketball System might just be it.
Keep in mind that although it comes with a rock-bottom price, it is backed up by a 5-year limited manufacturer warranty for peace of mind.
The steel support pole is 3.5" in diameter and round instead of square, meaning it isn't quite as tough or rigid as those featured on the more expensive hoops on this list. However, it will be just fine for play that doesn't involve dunking or hanging on the rim, although it will shake more than more expensive systems.
As for mounting, this direct bury hoop requires a bit of digging and concrete, as opposed to an anchor mounting system that is typical of a more expensive hoop. However, instead of planting the support pole directly into the ground, Lifetime also offers an optional ground sleeve for potential relocation, something that other budget-minded hoops like the Silverback NXT 54" lack.
You may also appreciate the so-called shatterproof backboard complete with a steel frame. The backboard here is certainly very durable, although given its polycarbonate surface does not provide you with the very best rebounds.
The 52" backboard is also the smallest on our list. However, keep in mind that most portable basketball hoops come with similarly sized backboards, so it's perfectly playable.
While this isn't the very cheapest in-ground hoop you can find, in our opinion, it doesn't make much sense to consider anything cheaper. Installation is a time-consuming activity, and you don't want to end up with something that you could end up regretting.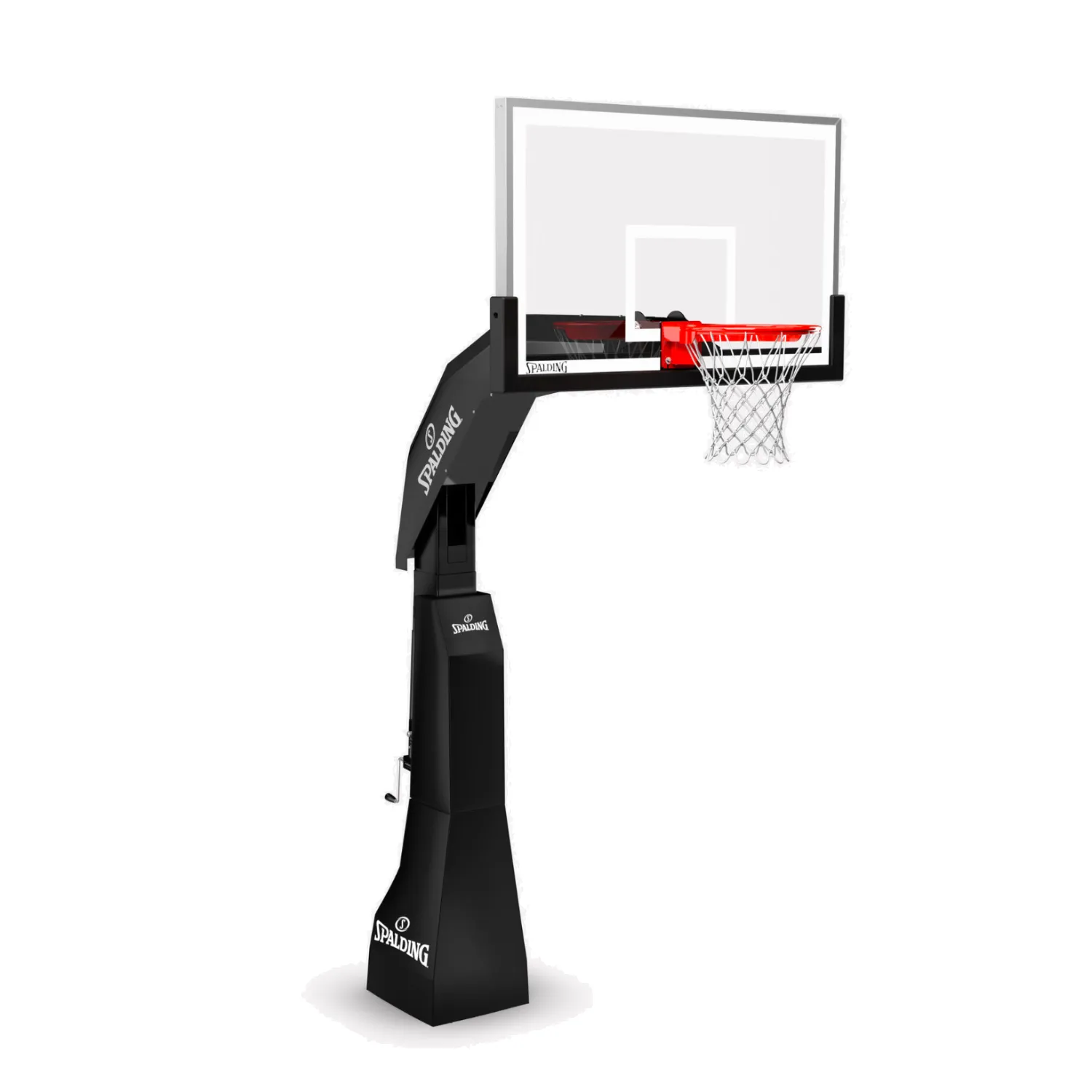 Best Professional
A professional hoop for your driveway or backyard.
Support Pole
1-piece, 8" square
Backboard Material
1/2" Tempered Glass
Height Adjustment
7.5' to 10'
Mounting Method
Anchor System w/ hinging base plate
Unmatched stability
Thick tempered glass backboard
5' offset
Hinging base plate for easier installation
Originally designed for professional and collegiate leagues around the world, the Spalding Renegade is now available for your home, and it is by far the toughest and most functional in-ground basketball hoop on this list. Sure, it comes with a huge price tag, but its features and quality are nearly unrivaled.
It all starts with the massive 8" square steel pole that keeps everything upright, with 8" being very sizable on this front.
This comes with four 40" J-bolt anchors to keep everything attached securely to the ground, which also happens to make mounting fairly easy. This is a very large and heavy pole and hoop, so you do need a very solid base of concrete underneath. The pole also comes with a professional padding set for maximum safety.
The steel board frame combined with the aluminum trim not only looks great, but is also about as durable as humanly possible. Keep in mind that you can get both a 72" and 60" backboard, depending on your needs and preferences.
Whichever one you choose, the tempered glass backboard is totally shatterproof, highly impact-resistant, and has some flex to it as well. It provides regulation-level rebounding capabilities.
This is combined with the Arena 180 breakaway rim which allows you to dunk all without fear of causing any damage. This breakaway rim is truly the best of its kind.
Even the netting on the Spalding Renegade In-Ground Basketball Hoop is high-quality and made with easy glide cable. Of course, the whole thing is fully adjustable for height as well.
How Do In-Ground Hoops Differ?
First things first, we need to cover what to look for when purchasing one. They might sound like fairly simple devices, but they actually have a lot of factors that can make them wildly different.
1. Support Pole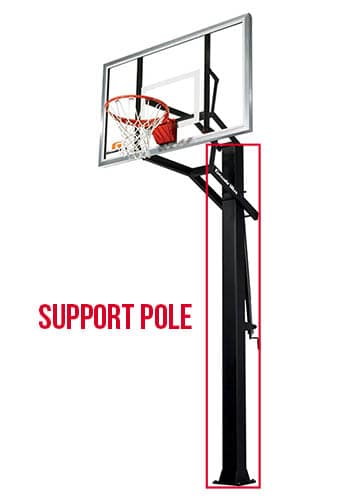 First, you want to look at the support pole of the in-ground basketball hoop. For those who don't know, the support pole is the pole that goes into the ground and supports the backboard. A thicker support pole with a larger diameter generally means more sturdiness and less rattling on shots.
The minimum diameter of a support pole should be about 3.5 inches. At that size, expect a fair bit of rattling coming out of bigger three-pointers hitting the backboard.
More expensive hoops feature square support poles, which are proven to provide greater stability compared to round ones. Square support poles which are 5″x5″ or bigger generally provide enough support for aggressive dunking. If the backboard size is regulation-size 72″, you don't want anything smaller than a 6″x6″ pole.
Finally, just as important as the size of the pole is the number of pieces that make up the pole. Cheaper systems generally involve connecting two or three pieces together to make up the support pole. While this saves on transport and packaging, it reduces the overall stability of the pole. For regular dunking, you should opt for a basketball goal with a 1-piece support pole.
2. Backboard Size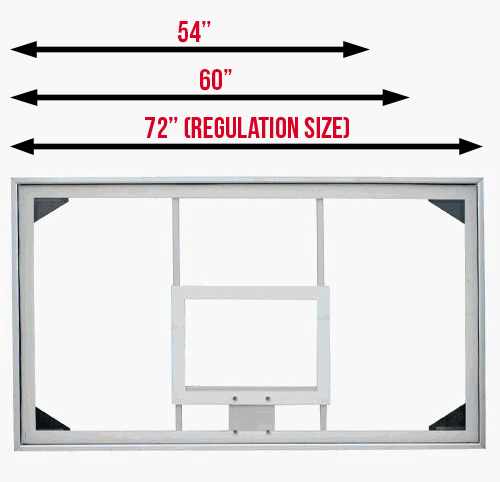 Backboard size is important unless you plan on never taking bank shots. Cheaper options often come with smaller backboards that are around 48 inches wide, which isn't wide enough for high-level play.
To be safe, you'll want to go for a backboard that is either 54 or 60 inches wide. That's wide enough for 95% of bank shots. For comparison, an NBA backboard is 72-inches wide, but a backboard that big is unnecessary for practice purposes. Even the pros rarely use the outer edges of the backboard during a game.
3. Backboard Material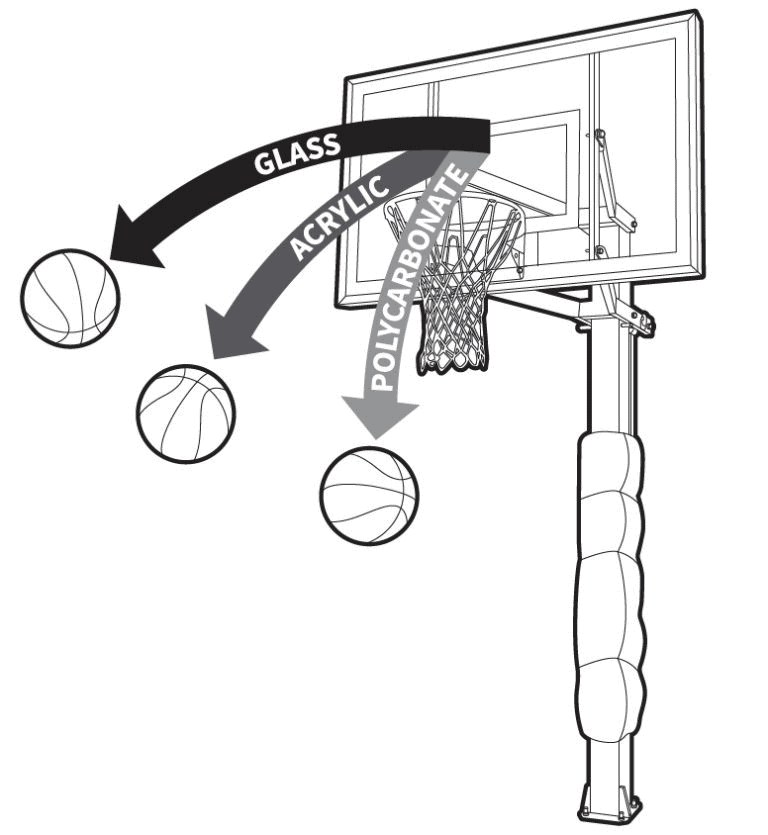 The backboard material is another important factor when selecting an in-ground basketball hoop. In fact, it might be the single most important factor to consider.
You have three choices when it comes to backboard material: polycarbonate, tempered glass, and acrylic. Acrylic is less common as a home backboard, and is mostly used in nicer parks.
Polycarbonate backboards, which are generally found on the cheapest hoops, aren't very "bouncy". They have weak and flat bounce characteristics, meaning the ball just kind of falls when it hits the backboard.
This means practice on them won't really transfer over to tempered glass or acrylic backboards. The other issue is that they turn yellow, get brittle, and warp after a few years in the sun. Fading shouldn't impact the performance too much — it just makes the backboard look bad.
Official regulations call for tempered glass. Tempered glass backboards are far superior performance-wise. However, they do have some issues concerning practicality.
For instance, they're extremely heavy, require a much bigger support beam, and are easy for vandals to break. Some of the more affordable options reduce weight (and cost) by using thinner (¼") tempered glass combined with a smaller support pole. Expect that thin tempered glass to rattle a bit more and be more fragile.
Finally, acrylic backboards sit somewhere in between polycarbonate and tempered glass. They have better bounce properties than polycarbonate, but still produce a flatter bounce when compared to tempered glass backboards.
They are commonly used in portable hoops due to their lighter nature, but are rarely used in in-ground systems which can easily hold up heavy tempered glass backboards.
4. Height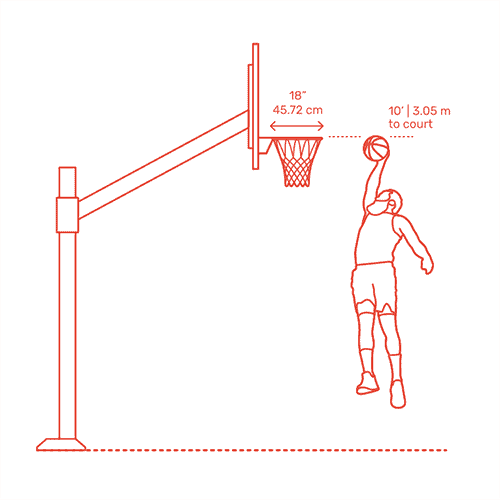 Height is somewhat important. All the in-ground basketball hoops that made our list can be set from 7.5′ to 10′, with some hoops able to start from an even lower rim height.
Rim height adjustment does have some advantages. For instance, a younger player may want a lower rim to practice with because they don't have the strength to make a 10 foot shot. Other players might like to get comfortable dunking on an 8 or 9-foot rim and work up from there.
Height-adjustable systems are the norm, so this shouldn't be a major concern for buyers.
5. Overhang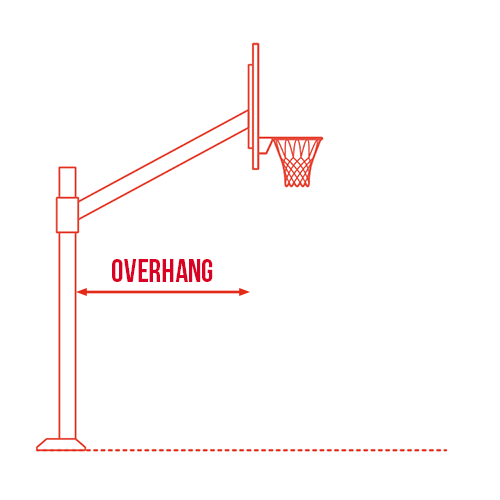 Finally, the last consideration before purchasing your new basketball hoop is the overhang. This is an important factor that many people don't even consider or know about.
Basically, the overhang is the distance from the backboard to the support pole. You want to purchase an in-ground basketball hoop with the most amount of overhang possible (ideally 4 feet). The big overhang allows you to play in the paint and low post without worrying about colliding with the stainless steel pole. Ouch.
However, if space is a concern, then there are benefits to a hoop with a shorter overhang (e.g. 2 feet or 24 inches). It's actually common for hoops installed on a driveway to have a short overhang. In any case, adding padding to the pole is recommended to make crashing into the pole less painful.
6. Rim
Always get a hoop with a breakaway rim, which is a type of rim that comes with a hinge and shock-damping spring, designed to bend down and away from the backboard if weight is put on it.
This allows you to dunk on the rim without bending, damaging, or shattering the backboard. If you plan on playing seriously, a breakaway rim is a must.
Installation
Installing an in-ground basketball hoop is a considerable project, but with a little planning and the right approach, it can be a smooth process. You may also need special tools, e.g. a concrete saw if you're going to install it on concrete instead of digging into the earth.
Here's a breakdown of what the installation involves:
Choosing the Right Spot: Before you dig, ensure you select a spot away from underground utilities and overhead power lines. It's a good idea to have enough playing space and a safe buffer zone around the hoop. For those who live in HOA-regulated areas, remember to check community guidelines or get necessary approvals.
Digging the Hole: The hole's depth and width will depend on the specifications provided by the hoop manufacturer. Generally, the deeper the hole, the more stability you'll achieve. Ensure the hole is slightly wider at the bottom than the top for better stability.
Anchor vs. Direct Bury vs. Ground Sleeve:

Anchor Systems: These are becoming increasingly popular due to their flexibility. An anchor system involves setting metal anchors in concrete. Once the concrete has set, the hoop's pole is then attached to these anchors. The major advantage here is that if you decide to relocate or upgrade your hoop in the future, you can do so without re-pouring concrete—simply detach from the existing anchors and reattach to a new anchor kit.
Direct Bury Systems: As the name suggests, with this method, the pole of the basketball system is buried directly into the ground, encased in concrete. This method is considered more traditional and typically offers a bit more stability. However, relocating the hoop later on is a much more labor-intensive task.
Ground Sleeve Systems: Instead of directly burying the pole, you bury a ground sleeve which the support pole will then slide into. It makes it easier to relocate the pole in the future, but it provides the least stability of the three types.

Pouring the Concrete: Once your hole is dug and your system is chosen, it's time to pour concrete to set the hoop in place. Ensure you give the concrete ample time to cure before assembling and playing. Most manufacturers recommend waiting at least 72 hours, but always refer to the specific recommendations for your hoop.
Assembling the Hoop: After the concrete is fully set, follow the manufacturer's instructions to assemble the backboard, rim, and other components. For anchor systems, this will also be the stage where you attach the hoop to the previously set anchors.
Safety Precautions: Always double-check the stability of your hoop before playing. It's essential to ensure that all parts are tightly secured and the system doesn't wobble or lean.
Remember, while it's possible to undertake this as a DIY project, don't hesitate to call in professionals if you're unsure about any step. Proper installation is crucial not just for playability, but for safety as well.