Nothing beats in-ground basketball hoops when it comes to stability. Being planted deep into the ground makes them almost impossible to bring down.
Many homes choose to opt for portable basketball hoops which can be moved around and stashed away if needed. However, in-ground systems suffer from less rattle, have greater overhang and can hold larger and heavier backboards. Furthermore, they actually leave a smaller footprint on the ground because there's no need for a base.
So if you're passionate about basketball and want to make your backyard the ultimate basketball playground, an in-ground hoop is definitely the way to go.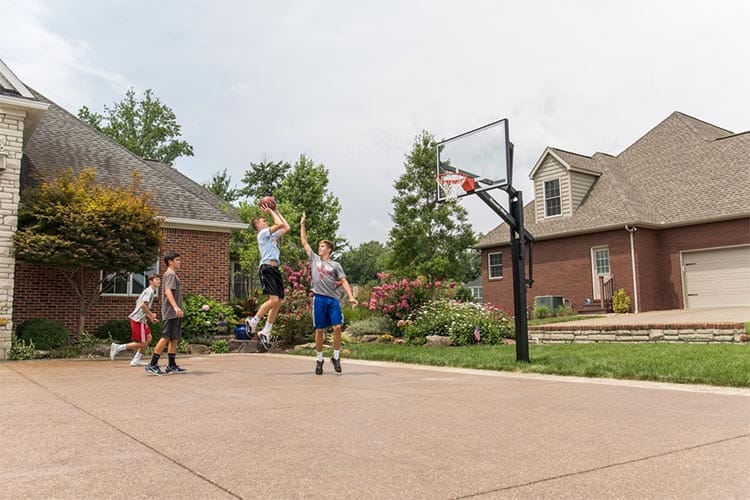 But with hundreds of in-ground basketball hoops on the market, choosing the right one is somewhat difficult. Additionally, there is a huge difference between them as you move through the price levels.
This article will hopefully clear up some of the confusion. We'll start by going through the factors that determine a hoop's price and performance. Then we'll run through our top 5 recommendations, before wrapping up with some further discussion and a FAQ.
How Do In-Ground Hoops Differ?
First things first, we need to cover what to look for when purchasing one. They might sound like fairly simple devices, but they actually have a lot of factors that can make them wildly different.
1. Support Pole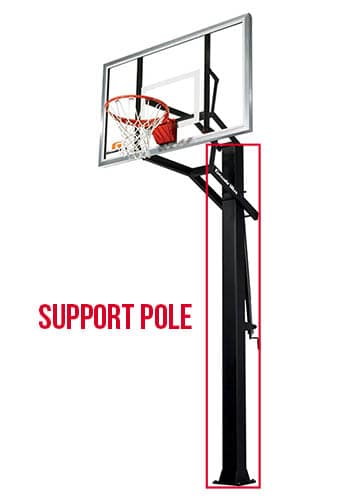 First, you want to look at the support pole of the in-ground basketball hoop. For those that don't know, the support pole is the pole that goes into the ground and supports the backboard. A thicker support pole with a larger diameter generally means more sturdiness and less rattling on shots.
The minimum diameter of a support pole should be about 3.5 inches. At that size, expect a fair bit of rattling coming out of bigger three-pointers hitting the backboard. Bigger players weighing over 250lbs will want to opt for a thicker pole if they will be dunking on the hoop.
On the other hand, you can't have a support pole that is too big. Some support poles may have square poles as big as 8″x8″, and those definitely won't rattle.
2. Backboard Size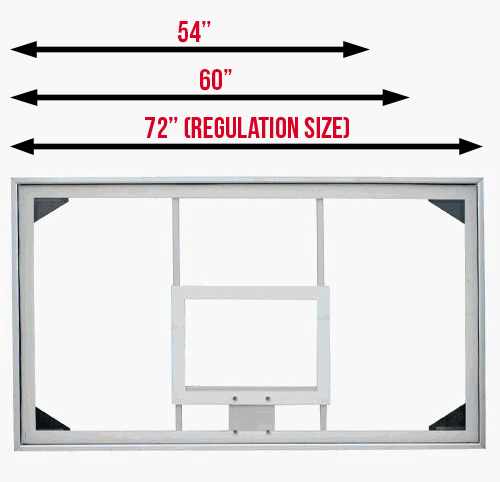 Backboard size is a frequently overlooked factor when choosing any basketball hoop, but it's super important unless you plan on never taking bank shots. Cheaper options often come with smaller backboards that are around 48 inches wide, which isn't wide enough for high-level play.
To be safe, you'll want to go for a backboard that is either 54 or 60 inches wide. That's wide enough for 95% of bank shots. For comparison, an NBA backboard is 72-inches wide, but a backboard that big is unnecessary for practice purposes. Even the pros rarely use the outer edges of the backboard during a game.
3. Backboard Material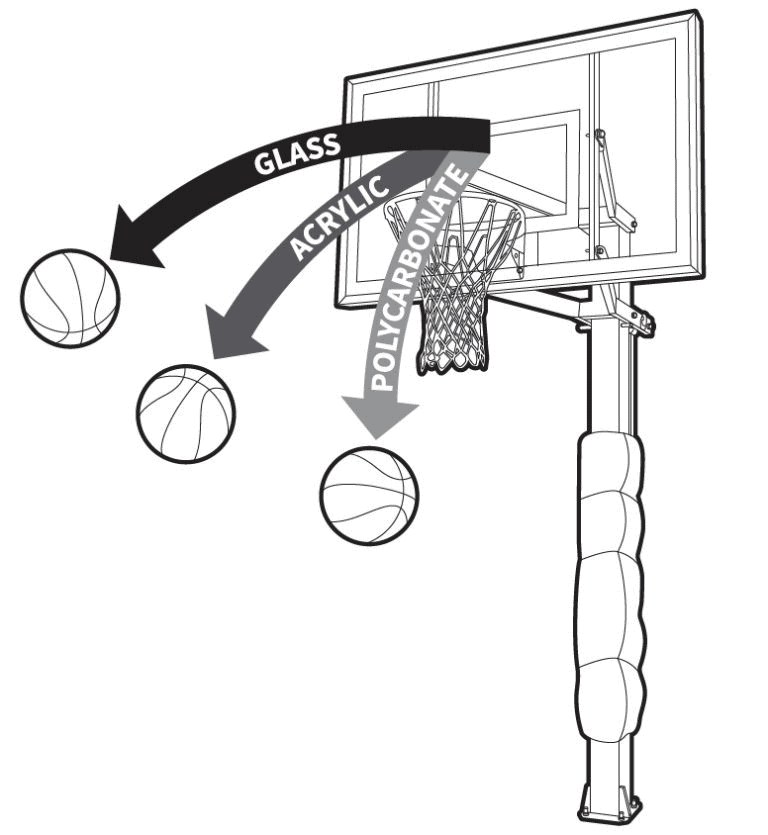 The backboard material is another important factor when selecting an in-ground basketball hoop. In fact, it might be the single most important factor to consider.
You have three choices when it comes to backboard material: polycarbonate, tempered glass, and acrylic. Acrylic is less common as a home backboard, and is mostly used in nicer parks.
Polycarbonate backboards, which are generally found on the cheapest hoops, aren't very "bouncy". They have weak and flat bounce characteristics, meaning the ball just kind of falls when it hits the backboard.
This means practice on them won't really transfer over to tempered glass or acrylic backboards. The other issue is that they turn yellow, get brittle, and warp after a few years in the sun. Fading shouldn't impact the performance too much — it just makes the backboard look bad.
Official regulations call for tempered glass. Tempered glass backboards are far superior performance-wise. However, they do have some issues concerning practicality. For instance, they're extremely heavy, require a much bigger support beam and are easy for vandals to break. Some of the more affordable options reduce weight (and cost) by using thinner (¼") tempered glass combined with a smaller support pole. Expect that thin tempered glass to rattle a bit more and be more fragile.
Finally, acrylic backboards sit somewhere in between polycarbonate and tempered glass. They have better bounce properties than polycarbonate, but still produce a flatter bounce when compared to tempered glass backboards. They are commonly used in portable hoops due to their lighter nature, but are rarely used in in-ground systems which can easily hold up heavy tempered glass backboards.
4. Height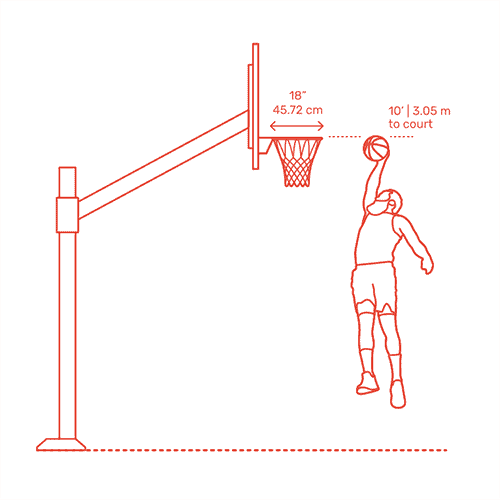 Height is somewhat important. All the in-ground basketball hoops that made our list can be set from 7 to 10 feet.
Rim height adjustment does have some advantages. For instance, a younger player may want a lower rim to practice with because they don't have the strength to make a 10 foot shot. Other players might like to practice dunking on an 8 or 9 foot rim.
Height-adjustable systems are the norm, so this shouldn't be a major concern for buyers.

5. Overhang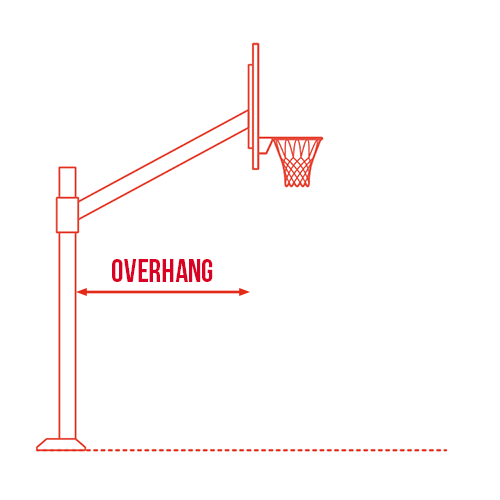 Finally, the last consideration before purchasing your new basketball hoop is the overhang. This is an important factor that many people don't even consider or know about.

Basically, the overhang is the distance from the backboard to the support pole. You want to purchase an in-ground basketball hoop with the most amount of overhang possible (ideally 4 feet). The big overhang allows you to play in the paint and low post without worrying about colliding with the stainless steel pole. Ouch.
However, if space is a concern, then you will want a hoop with a shorter overhang (2 feet or 24 inches). It's actually common for hoops installed on a driveway to have a short overhang. It doesn't impact the game too much. You just need to be careful when going for layups and playing in the paint.
Our Top-rated In-Ground Basketball Hoops
Our top pick has the best tradeoff between price and usability, and it comes from a brand with a reputation for producing quality basketball products – Goalrilla. We recommend the FT60 for players wanting something that closely replicates the performance of NCAA and NBA hoops, without paying a small fortune for a regulation hoop. Here are some things we like about the FT60:
⅜"-thick tempered glass backboard with great rebound performance
5″ x 5″ square powder coated steel pole
Unbolt and move it easily, which is useful if you move homes
Quality pro style breakaway rim that flexes under pressure – great for dunking
Anodized Aluminum Backboard Frame for superior durability
Height adjustable (7.5 feet -10 feet)
Limited lifetime warranty that covers any manufacturer defects
Overall, there's a lot to like about this basketball goal. The tempered glass backboard gives it the same bounce as a regulation hoop – perfect for game practice. It's ⅜" thick, too. This means it won't rattle nearly as much as a ¼" backboard.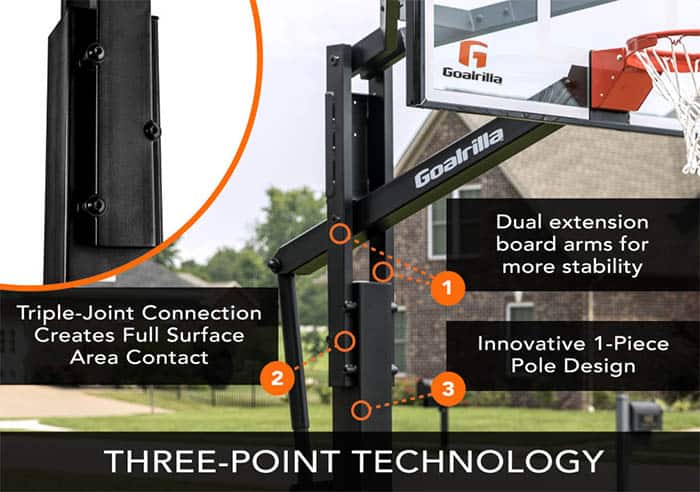 The limited lifetime warranty means you don't have to worry about any manufacturing defects, which aren't that common. Our favorite feature is the ability to unbolt this hoop and move it. It's obviously not practical to move it that often. But it's extremely useful if you plan on selling your home one day, because having a basketball goal won't increase its appraisal value!
Finally, the FT60 has an extreme amount of stability, especially for the price. The 5"x5" square support beam definitely helps with that stability. Plus, the post goes 48" deep into the ground.
Goalrilla offer the FT series in-ground basketball system with 54″ and regulation-sized (72″) backboards. We feel the 60″ model hits the sweet spot. It has more overhang (3.5′ vs 3′) than the 54″ model and obviously costs less than the 72″ version.
Final Verdict
The positives vastly outweigh the negatives in this case. We highly recommend this adjustable basketball hoop if you want to play regulation style basketball at a decent price. Remember, this isn't the cheapest option. However, it's one of the highest rated products from a company that exclusively specialize in making the finest in-ground basketball systems.
Because an in-ground goal is a fixed installation, it makes sense to stretch your budget a little and go for something that will last and scale well with player development. If the Goalrilla is out of your budget, this hoop from Silverback provides a similar level of performance while costing less than $1000.
60″ backboard with 5/16" thick tempered glass for a realistic rebound
4" x 4" square support pole
Height-adjustable (7.5 feet to 10 feet in 6 inch increments)
Pro-style flex rim
Foam pole pad included on 60-inch hoop (not included with 54-inch version)
In many ways the Silverback 60 matches Goalrilla's offering, and that's at a fraction of the price. Take a closer look and you'll notice where the differences lie: A slightly thinner support beam, thinner tempered glass backboard and a 2.5 foot overhang — that's 1 foot less than the Goalrilla FT60.
Final Verdict
Overall, this in-ground hoop from Silverback performs tremendously well. It's a truly 'serious' basketball goal that won't leave you wishing you went for something better a few years down the line.
Next on our list is the Spalding In-Ground basketball hoop. It has almost all the same features as the Goalrilla and Silverback, but at an even lower price. That makes it one of the best in-ground basketball hoops for those on tighter budgets.
Here are some standout features:
Affordable — It's really not that much more expensive than premium polycarbonate hoops.
¼"-thick tempered glass backboard with a consistent rebound
Pro-style breakaway rim
4″ x 4″ square support pole
Height-adjustable (7.5 feet to 10 feet).
As you can see, this offering from Spalding has many of the same features as the aforementioned hoops. It has a big tempered glass backboard, a breakaway rim and is height-adjustable. If you want to keep costs to an absolute minimum, then this is the best in-ground basketball hoop for you.
However, it does have a few issues that may make the experience less than ideal if you're looking for a more authentic basketball experience. First, it has an overhang of 24 inches (2-feet), which is fairly small. Compare that with the Goalrilla's 3.5′ and Silverback's 2.5′ overhang.
It's still playable, obviously. But you have to be more careful of your surroundings. We'd suggest purchasing Spalding's recommended foam guard for the support pole to reduce the risk of injury from making contact with it.
Next, the support beam only goes about 18 inches into the ground, which isn't that deep. If you live in an area with high winds or an area that freezes (or both, like Wyoming), then you might have some issues. This shouldn't be an issue for most people, though.
Finally, the tempered glass is only ¼" thick. That's the thinnest tempered glass backboard around. The rebound is still very decent, but there is an increased chance of breaking the glass and noone enjoys purchasing a replacement backboard.
Final Verdict
This in-ground basketball hoop costs less than the Silverback, but it performs almost as well. The only real problem we have is with the relatively short support beam and low amount of overhang. We'd recommend the Silverback if you can stretch your budget by an additional ~$300 but otherwise this is a solid pick.
Do you want to have a regulation basketball hoop in your backyard?
If you do, then the Spalding Arena Series with a 72" backboard is the choice for you. It meets all the requirements for the NBA. And it's even made by the same company that supplies most of the NBA's basketball equipment (including hoops and game balls).
Here are some of the features that we like:
Meets all NBA regulations
Rock solid 6-inch square support pole
Heavy-duty support pole padding
4-feet overhang
⅜"-thick tempered glass backboard with great rebound performance
Height-adjustable (7-10 feet)
1 year parts warranty. Lifetime warranty on the backboard.
It has a lot of features that we really like. Our favorite feature is that it meets NBA regulations and includes a support pole pad. Honestly, you shouldn't need the foam pad since it has 4 feet of overhang, though it's always nice to have the extra safety.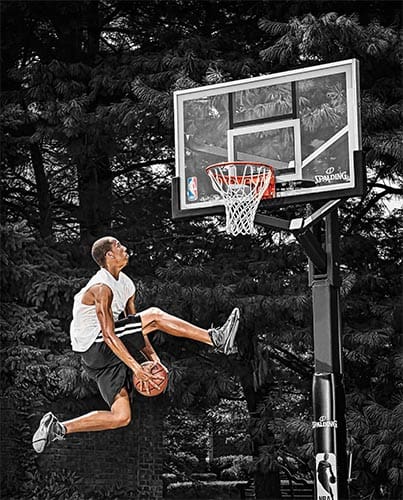 It goes about 36" into the ground, which is actually a foot less than the Goalrilla. However, the H-Frame construction along with the Z-Arms that hold up the backboard make for an incredibly stable system.
You can easily adjust the height on this with the crank handle, too. The process is much more convenient than other basketball hoops, which often involve standing on a ladder and pulling pins. You definitely don't want to do that with a 3/8" tempered glass backboard that weighs almost 100 pounds.
Final Verdict
There isn't much else to add – this hoop is awesome. If you want to save money, then you can purchase this Spalding Arena Series hoop with a smaller 60″ backboard. We recommend going whole hog with the 72" backboard, though.
The only thing we don't like about it is the price. But a high-quality basketball hoop like this was never going to be easy on your pocket.
Simply looking to make some shots or want a basic hoop to keep the kids active? The Lifetime 71525 is just for you.
It's very affordable and it's height-adjustable (7.5 – 10 feet). The 54″ shatterproof backboard is still bigger than most backboards you find on portable hoops and the fact it's secured in-ground makes it naturally more stable.
Of course, the polycarbonate backboard means it produces a rather flat rebound, but other than that, it's a fairly solid piece of kit.
Key Features:
Adjustable height (7.5 – 10 feet)
Extremely affordable
Easy installation
54″ Polycarbonate Backboard
Slam-It Pro Rim with double-compression springs for dunking
This hoop has all the stuff for someone that wants just a plain basketball hoop. It's especially great for young players working on shooting fundamentals in their driveway. Or for people that just want a basketball hoop for some good physical activity.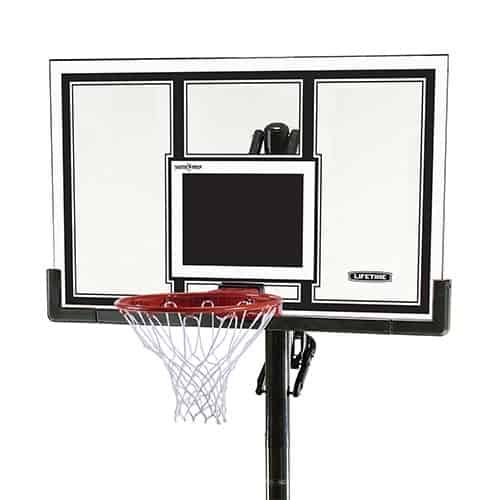 Also, the installation is extremely easy. Simply dig a hole in the ground, place the support pole in the hole, and fill it with cement. Make sure the pole is level, though. You can't adjust it once the concrete sets. Obviously, this pole isn't removable or portable. That's to be expected at this price point.
One last thing, don't dunk on this if you're an adult. It might break the backboard. Yes, it says that it's shatterproof, but polycarbonate gets fragile in the sun.
Final Verdict
It's extremely affordable. But it rattles. It will turn yellow after 3-5 years. That's normal with polycarbonate basketball hoops.
Despite these problems, it will get your children outside playing basketball with their friends. It also gives them ample opportunity to practice shooting fundamentals.
Note: Check out the Lifestyle 90020 if you want an even more affordable hoop. It's the same setup, but with a 48″ shatterproof backboard.
---
Advantages of an in-ground basketball hoop
An in ground basketball hoop has many advantages over a portable basketball hoop. Here are a few of the advantages:
Extremely stable
The biggest advantage is the added stability. You will need to dig a deep hole hole, fill it with cement, and then place the support pole in it.

If you do all of that correctly, then the support pole will never fall down. It's basically impossible for the poles to tip over. Now, you can break the backboard or rim if you hang on it, but you won't see the whole pole being brought down unless a car drives into it.

Compare that to a portable basketball goal. People have been seriously injured by portable basketball hoops falling on them. Cheaper ones can even tip over from a powerful gust of wind.
Less Space
An in-ground basketball doesn't have to take up much space. All you need is about 8 inches of ground space for the support pole. Most people have that much extra room in their yard. It's really not a lot of space.
Now, a portable basketball hoop might be movable, but it's certainly not compact. The reservoir that holds the sand or water is huge. With that in mind, you can't go wrong with an in-ground setup if you need to save space.
Better backboards
As mentioned earlier, official basketball regulations require tempered glass. Those backboards have more bounce, never turn yellow, and never warp.
Sadly, the vast majority of portable hoops do not have a tempered glass backboard. Tempered glass just weighs too much. More expensive ones typically come with acrylic backboards, which is about 80% as good as tempered glass.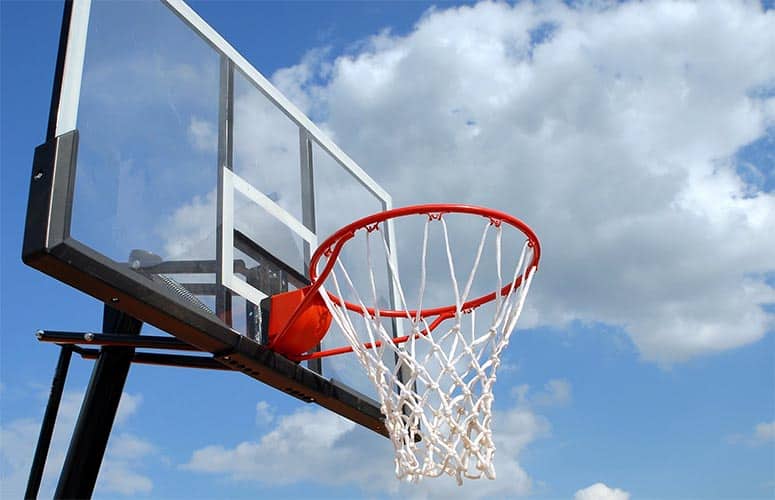 Frequently Asked Questions
Here are some of the most frequently asked questions about buying basketball hoops. Feel free to contact us if your question isn't answered.
Can I dunk on an in-ground basketball system?
That depends on a few factors. Your size, the type of backboard, and how whether or not the installation is correct. But typically, in ground goals are designed to withstand the weight of a player.
The bigger issue is whether or not the rim can survive. Look for terms like 'pro dunk' or 'breakaway rim' as these are usually built with dunks in mind.
Don't hang from any basketball hoop, though – looking cool just isn't worth it.
What's so bad about rattling?
Your neighbors will hate you!
How do I install this basketball hoop?
That depends on the hoop. The general concept for installing a basketball hoop is very simple.
Gather three or four friends.
Dig a post hole.
Put the anchor or steel pole in the post hole with the help of your friends.
Pour 800-1200 pounds of cement in the hole.
If it's an anchor, then attach the support pole to the anchor.
You can also hire a professional to install the hoop.
How long will it last?
It's almost always the backboard that is the weak link in a basketball hoop system. The steel pole that holds everything up will last for years so you don't have to worry about it.
A polycarbonate backboard should last 3-5 years if placed outdoors before running into problems. It will last longer if it's under a roof.
A tempered glass or acrylic backboard will last until the glass (or acrylic) breaks. In other words, it will last for a very, very long time. Just don't hit it with a hammer or let Shaq dunk on it.
Will anything rust?
The support pole shouldn't rust as they have a protective coating. Some of the other components may rust over time, though. That's to be expected if it's outdoors in a non-desert state.
Should I purchase a pole pad?
Yes. Obviously, it's not necessary. However, you will be glad you purchased one the first time you crash into it. Sure, it will hurt a little bit, but it's better than risking some nasty bruising.
Final Thoughts
There really isn't much more to say. Basketball is such a great sport for going outside and socializing. Honestly, every household in America should have a basketball hoop.
The Goalrilla FT Series is our top overall pick. It's a quality in-ground basketball hoop with great rebound performance, a support pole that goes extra deep to provide excellent stability and leaves plenty of overhang for unobstructed play under the paint.
If you're looking for something cheaper but want something that is still fit for serious play, consider the Silverback 60 and Spalding NBA Aluminum Trim Glass Backboard In-Ground Basketball System.
If you want a regulation-spec hoop similar to what the NBA uses, then the Spalding Arena Series In-Ground Basketball Hoop is your best bet. It's tempered glass, durable, huge, and comes with a foam pad.
On the other end of the spectrum, the Lifetime 71525 Adjustable In-Ground Basketball Hoop is a good budget option that comes with all the benefits of being installed into the ground. It might not be enough for those aspiring to become the next Michael Jordan, but will provide plenty of fun for everyone else.