Basketball players are spoiled for choice when it comes to indoor basketballs. From texture to bounce, every basketball has a uniqueness about it that every player loves to discuss.
You should only use an indoor basketball on hardwood courts, as they wear down quickly if played outdoors. Their softer and leather-like properties make them a joy to handle, but they don't hold up well against rougher surfaces.
For this article, we've shortlisted our top 7 indoor basketballs to help you make the right choice. But before we dive into the list, we'll gloss over the key terms you need to be aware of when buying a basketball.
Cover Material
Sporting goods manufacturers make basketballs using either rubber, composite leather or genuine leather.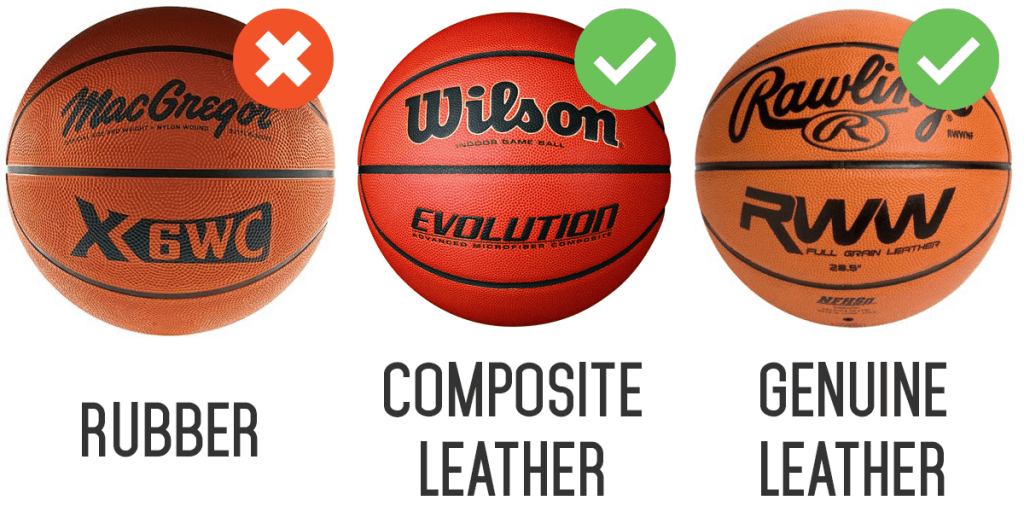 Rubber basketballs are inexpensive but hard-wearing. Discount stores typically sell cheap basketballs made from rubber. They don't feel good in the hands and lack the texture and bounce characteristics of competitive game balls. Only consider a rubber basketball for outdoor purposes.
Composite leather basketballs are made using synthetic leather. They are softer than rubber basketballs and provide better grip. A good composite leather basketball feels similar to a genuine leather basketball but doesn't cost as much. The NCAA Basketball Tournament Game Ball is made from composite leather.
Genuine leather basketballs are the highest quality basketballs on the market. They have a break-in period, but after that their handling is unmatched. The all-new Wilson NBA Official Game Ball is made from genuine, full-grain leather.
Properties Of A Good Indoor Basketball
Perhaps most important of all, a basketball needs good grip. Too little grip can make catching passes, dribbling and palming the ball harder.
However, more grip is not always better. In 2006, the NBA replaced genuine leather basketballs with composite leather basketballs. NBA players complained the new basketballs had too much grip, and in 2007 the old genuine leather basketballs were back.
A good basketball feels soft. Slight cushioning improves the feeling of receiving passes, dribbling and releasing a shot. Rubber and cheaper composite basketballs are usually too firm.
A good basketball is tacky, not slippery. They have a slightly moist, sticky feel to them.
Finally, a good indoor basketball has a consistent bounce. They bounce like an official game ball and bounce the way you expect it to, every time. The seams and pebbling of a basketball can have subtle effects on its bounce.
While these factors will make for an optimal playing experience, we also need to remember that durability is important over the long term, especially since most of us don't want to replace the ball often. Good air retention and a cover that doesn't wear too easily are therefore also desirable properties.
Our 7 Best Indoor Basketball Picks
Let's dive straight into our top 5 recommendations for indoor basketballs, in order: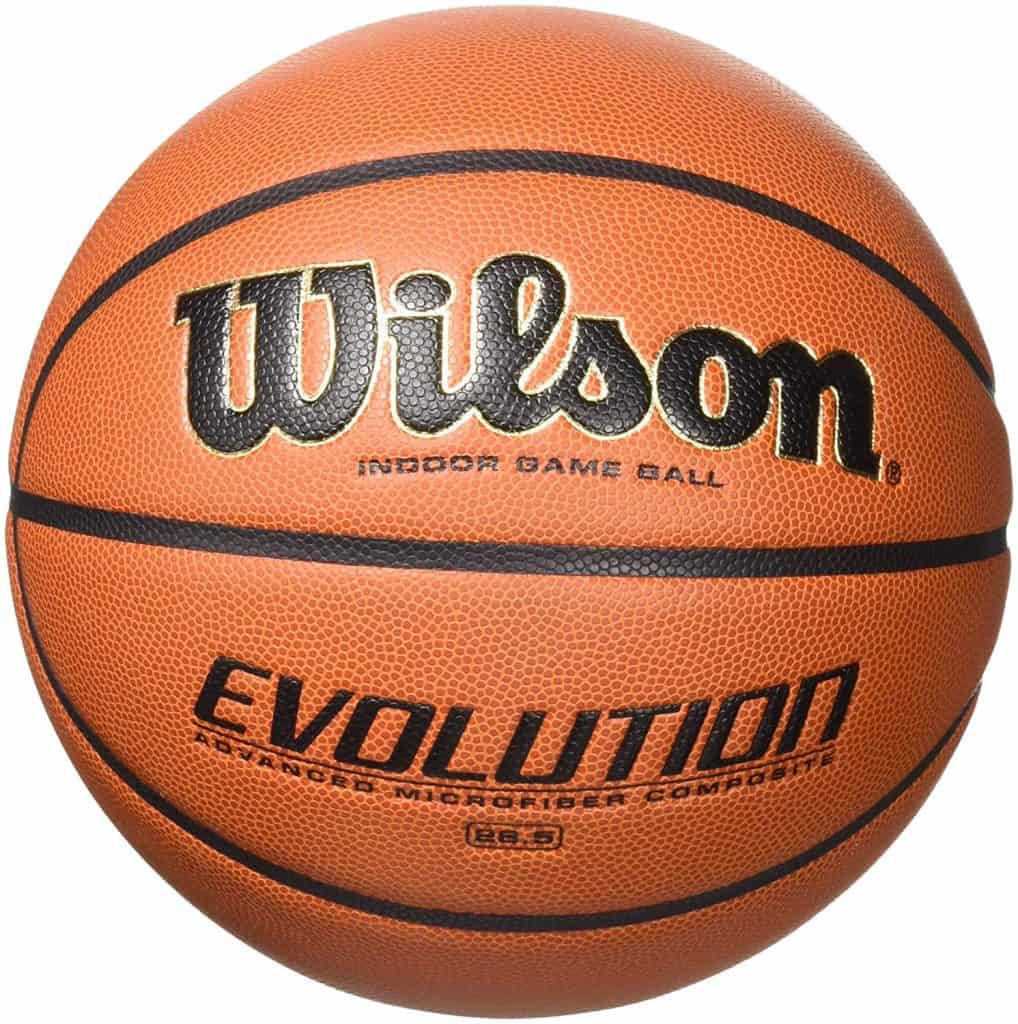 1. Wilson Evolution Indoor Game Ball
An indoor basketball that gets everything right
Save 15% on your Wilson.com order with code:
HoopsBeast-15
Extremely popular in high school and colleges, the Wilson Evolution is the best-selling composite leather basketball on the market. NCAA in-season tournaments use the Wilson Evolution more than any other basketball.
Wilson are known for their grippy and soft, almost buttery texture that their microfiber composite cover gives. Most players love it, but some players prefer the more natural feel of Spalding or Nike basketballs.
Channels are pebbled, giving them extra grip. And just as you'd expect from a basketball used in competitive play, the basketball has top-notch bounce consistency.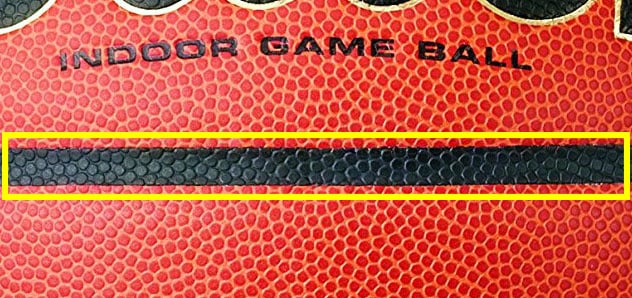 Price-wise, the Wilson Evolution places itself in the middle of the high-end basketball market. There are also a few color variations for those that want something a little more unique.
Overall, you can't go wrong with the Wilson Evolution. It's perfect for training or competitive play and doesn't break the bank, either.
Another popular college basketball, the Baden Elite is Baden's premium composite leather offering.
Baden designed the composite cover using Cushion Control Technology to give it lots of grip and plenty of tack. It is very similar to the Wilson Evolution, feel-wise.
Moisture grip and the recessed stealth soft valve system are its two unique features. The moisture grip gives it good moisture wicking properties (good for players with sweaty hands). Meanwhile, the low-profile valve is gives it a truer bounce and flight.
The Baden Elite is in the same bracket as the Wilson Evolution, so for most people it will come down to a small matter of preference.
Note: For players who prefer a slightly smoother and less tacky leathery texture, consider the Baden Elite's brother – the Baden Element Game Ball. Many colleges also use the Baden Element, with the coaches or sports directors having the final say on which.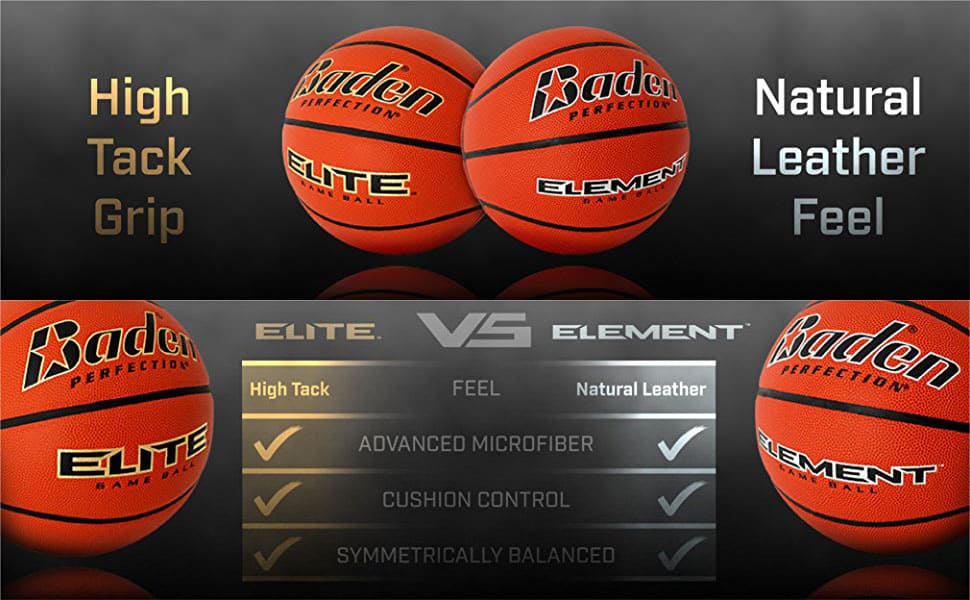 The Rock is a highly praised NFHS-approved basketball that comes from a relatively unknown private brand, John Stote's Anaconda Sports. If someone mentions The Rock, you can safely label them a basketball buff.
With its trademark name and visibly loud lettering, The Rock distinguishes itself from the comparatively bland offerings by bigger sports brands.
Like the Wilson Evolution, The Rock also features pebbled seams (channels) to provide a more consistent all-round grip. While grooved channels naturally provide extra grip, having them pebbled further increases grip.
Out of the box, The Rock has a super tacky feel. Its bounce is spot-on and doesn't feel flat or too bouncy.
Every basketball will eventually wears away and loses grip. But going by other people's testimonials, it appears The Rock has superior durability. How fitting, for a basketball that goes by the name, 'The Rock'!
John Stote designed The Rock from the ground up to be the ultimate composite leather basketball. And it's comes close. However, with the price tag being a tad high, it's definitely reserved for enthusiasts.
Molten is the official ball supplier at international FIBA competition games. That includes the Olympic games. Being approved by the International Basketball Federation means it is obviously a solid ball, but what's interesting is how unique it is compared to the average indoor basketball.
The Molten X-Series GG7X indoor basketball features Molten's unique 12-panel design, meaning there are also more (albeit narrower and shallower) channels. If you like making contact around channels, this basketball might just be for you.
Molten's signature GIUGIARO cover design also helps with ball visibility, helping players keep track of the balls rotation.
The Molten X-Series feels the most different out of all the basketballs in this list. A big reason for that is because the basketball's pebbles are symmetrically aligned!
The GG7X is a great ball but its texture is slightly controversial. It is a little too sticky and spongy for some, and feels a little synthetic overall. We definitely suggest trying it out before purchasing.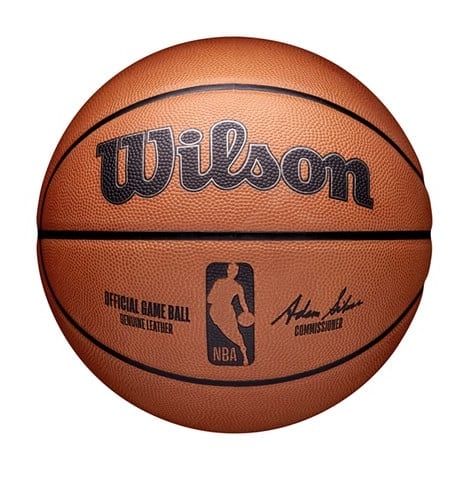 5. Wilson NBA Official Game Basketball
The official, genuine leather basketball used by the pros. Replaces the previous Spalding NBA game ball.
Save 15% on your Wilson.com order with code:
HoopsBeast-15
No top indoor basketball list would be complete without the official ball used during NBA games – which, beginning with the 2021-2022 season, has been made by Wilson. This replaces the previous Spalding Basketball that was used during the NBA games of prior seasons.
The best indoor basketballs we've covered so far have all been composite leather ones, but this is a genuine leather basketball. If you've always wanted that natural leather feel, well, this is the real deal. Be warned though, it doesn't come cheap!
Genuine leather basketballs are becoming increasingly hard to come by, and in the 2006-7 NBA season even the NBA switched to composite leather basketballs. It was only because of player complaints that the NBA are back to using genuine leather today.
In all honesty, this isn't a great choice for most people. Nevermind the price, genuine leather balls have a substantial break-in period. The NBA uses Spalding's 'bounce machine' to break basketballs in before they are played on court.
Shooting, dribbling and bouncing a genuine leather ball has a very special feel. Although only professional basketball players will have the luxury of playing with these on a daily basis, every basketball player should try on out at least once in their lifetime.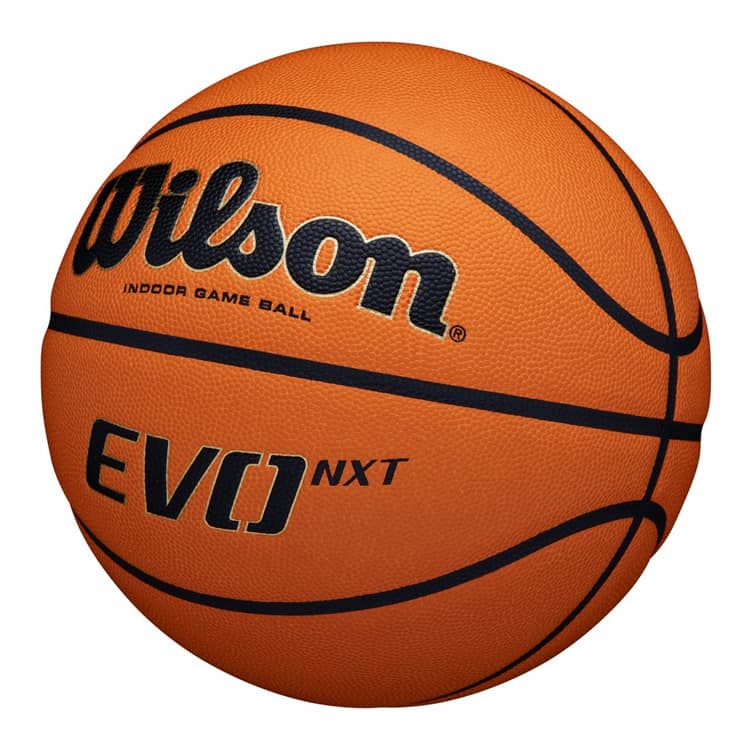 6. Wilson Evo NXT
A next-generation indoor basketball from Wilson
Save 15% on your Wilson.com order with code:
HoopsBeast-15
We talk about many Wilson basketballs in this article, and the Evo NXT is definitely the most interesting. As you might have guessed, the Evo NXT is designed to succeed the Wilson Evolution Game Basketball by combining it with elements from the popular Wilson Solution and also introducing new technologies that make it even better.
This new indoor ball has already gone on to receive FIBA and NFSB approval, and it's even become the official Basketball Africa League (BAL) game ball. Its main improvements lie in the Extended Range Tech which makes it easier to spin long-range shots and feel lighter in the hands, and the super soft core construction that makes it even softer.
While this is no doubt a contender for the best indoor basketball, we actually feel its unique properties stray a bit too far from your standard indoor basketball. If you've been playing basketball for a while, it'll take a while to adjust to its softness. While you might come to love it, what happens when you go back to a different ball? Your shot will feel somewhat off again and you might end up finding yourself in a position where you're not confident in your shot and ball control unless you're playing with the Evo NXT.
If we're looking for Spalding's answer to the Wilson Evolution, the Spalding precision is it. This is designed primarily as a go-to game ball for high school and college games.
One thing that really stands out is the more recent look it has compared with the traditional or 'classic' designs you normally get with their balls. The light color of the cover and the silver trims that surround the text look terrific and are reminiscent of the Nike Elite indoor basketballs that used to be quite popular.
This indoor basketball was designed to be the shooter's dream ball, thanks to its deep channels and soft feel. It actually uses recycled materials for its Eco-Grip composite cover, which is definitely something we'd like to see more of in the industry.
While it's a great ball, it still falls short of the Wilson Evolution, performance-wise. The Eco-Grip has a slightly more rubbery feel in comparison. The channels, while deep, also lack the Wilson Evolution's pebbling which means ball control performance isn't quite as good. Finally, while the bounce is just as good, the Spalding Precision has poorer air retention that means, over time, you'll be spending more time pumping the ball.
Overall this is a great ball for indoor play but at this price, there are simply better options available.
Other Notable Mentions
Spalding TF-1000 Classic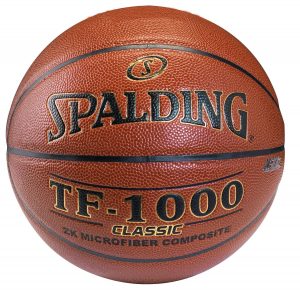 Back in the day, the Spalding TF-1000 was the s**t.
Speak to any older basketball player and they will sing nothing but praise for the original TF-1000. It had the perfect amount of grip, tack and softness.
Spalding ceased production of the original TF-1000 (to the disappointment of many), but in 2015 it resurfaced as the Spalding TF-1000 Classic.
Unfortunately, the TF-1000 Classic just isn't the same. It's a decent Spalding indoor basketball that gets slippery when moist and suffers from numerous quality control issues.
Spalding might have until recently been the official ball supplier for the NBA, but the reality is their recent quality for composite leather basketballs has been lacking.
Wilson NCAA Replica Game Basketball (Indoor/Outdoor)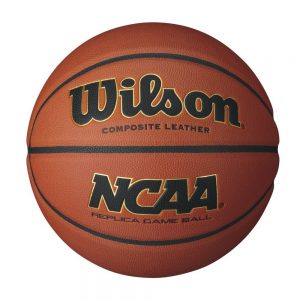 Indoor basketballs generally cost in excess of $50 and aren't suitable for outdoor use. An outdoor basketball might not feel as soft to touch or grip as well, but they cost roughly half and can be played on any court.
An indoor/outdoor basketball is a nice middle-ground, offering a decent amount of grip, a decent bounce, and the versatility to be played pretty much anyway.
The Wilson NCAA Replica Game Ball is our favorite affordable basketball, especially for those who just want a quality ball to train with. It might not be the softest ball, but being made from composite leather, it's still leagues ahead of any rubber basketball. It's also a durable ball, which is good if you don't have a good idea about the kind of things you're going to put your basketball through!
More Buying Advice
Which brand of basketball is the best?
This is a very subjective question, as different people will have their own preferences. Spalding and Wilson are undoubtedly the big players in the basketball market. However, Nike, Molten and Baden have also produced some of the highest-rated basketballs.
Can you play with an indoor basketball outside?
It can be tempting to play with an indoor basketball outside, because they feel better and there are inevitably times we don't have any other basketballs lying around. However, indoor basketballs should not be played outdoors as their soft outer covers will quickly shred to pieces. Invest in a good outdoor basketball instead. Use an indoor only basketball on indoor basketball courts with hardwood surfaces.
Price
For a good quality composite leather indoor basketball, look to spend in the region of $40-$60.
Genuine leather basketballs cost considerably more and are priced in excess of $100.
Ball Size
The official size for men and boys aged 15 or older, as set by official governing bodies, is Size 7. Size 7 basketballs have a circumference of 29.5 inches.
Women's basketball leagues use slightly smaller Size 6 basketballs. Size 6 basketballs measure 28.5 inches around.
Younger basketball players might want to practice with the standard youth basketball (ages 11 and under) Size 5. These balls have a circumference of 27.5 inches. Options may be more limited at this size.
You can learn more about basketball sizes in our basketball ball size guide.
Ball Weight
You can probably imagine that the weight of a basketball influences everything from your shots to dribbles. Look for basketballs that are of official weight. All indoor basketballs in our list are of official weight.
Inflating Your New Basketball
New indoor basketballs generally come inflated, but you should use a ball pump to get the air pressure within the recommended 7-9 PSI.
Nobody can magically tell what the air pressure is unless using your pump includes a pressure gauge (like this one from Under Armour), so instead use the following rule of thumb:
Bring the ball up to face level and let it drop by free fall. If should bounce up to your waistline. If it goes higher, the ball is over-inflated. Any lower than your waistline and it needs to be inflated a little more.