Outdoor basketballs are designed to withstand the rougher surfaces and conditions of outdoor play. You won't have to worry about the ball's cover being completely ruined by the concrete or acrylic courts you play on.
Most people would agree that nothing can beat a indoor basketball purely in terms of feel. However, every basketball player will play outside at some point, be it in their backyard or at a local court. And in these areas, a ball must sacrifice some of its softness for toughness.
Being able to handle those difficult outdoor surfaces, they can of course also be played indoors. They are the perfect 'all-round' basketball to own – every player should own at least one.
Composite Leather Or Rubber Cover?
When it comes to outdoor basketballs, the biggest consideration is the construction material used for the cover.
It would be criminal to play a genuine leather basketball outdoors, so that leaves us with two options: composite leather and rubber.
Composite leather basketballs use synthetic leather and feel similar to a genuine leather basketball.
Note: Genuine leather balls are increasingly expensive and rare. They are barely used outside of NBA and EuroBasket games anymore. The NCAA has been using composite leather for years now.
Rubber basketballs are cheaper than composite balls, but are noticeably less nice to handle. They feel rubbery and have bigger pebbles on the surface, making them harder to grip. They often go by the name of 'Street' basketballs.
Can you use a composite leather basketball outside?
Certainly! In fact, all the best outdoor balls are made from composite leather. Unless you have an incredibly tight budget, avoid a rubber basketball – you can thank me later.
However, keep in mind that there are indoor-only composite leather basketballs and indoor/outdoor (a.k.a. all-court or all surface) ones.
While you can use indoor-only balls like the Wilson Evolution or Nike Elite outdoors, the surface material will wear out quicker. That's a problem because they cost twice as much as outdoor balls. There is almost always a trade-off between softness and durability – no getting around that.
What We Assess
For the average buyer, choosing the right outdoor basketball is difficult and time-consuming. There are an overwhelming number of options and very few have the luxury of trying them all out. There are plenty of reviews online but going through them all isn't fun at all.
To make things easy for you, we've done the hard work and compiled this list of our favorites to help you choose the best one for you. We've personally tested each one and rated them based on these key criterias:
Softness and Grip
Generally speaking, the softer the ball, the nicer and more grippy it feels in the hands (there is an argument to be made that a basketball can feel too soft).
Outdoor basketballs feel harder than indoor basketballs, but new manufacturing methods and composite materials mean the best ones are soft and durable at the same time.
Bounce Consistency
The last thing you want is for the ball to bounce in a way you don't expect. Some balls have an inconsistent bounce that is noticeable among seasoned basketball players.
Durability
Some basketball manufacturers will state a ball is suitable for outdoor use, when in actual fact they really won't hold up well. Sure, they'll be perfectly playable for the first few games, but are you prepared to replace it every month? You should expect a life expectancy closer to a year from a good outdoor basketball.
Our 7 Best Outdoor Basketball Picks
Without further ado, let's dive into the list of our top 7 outdoor basketballs (ranked). First up…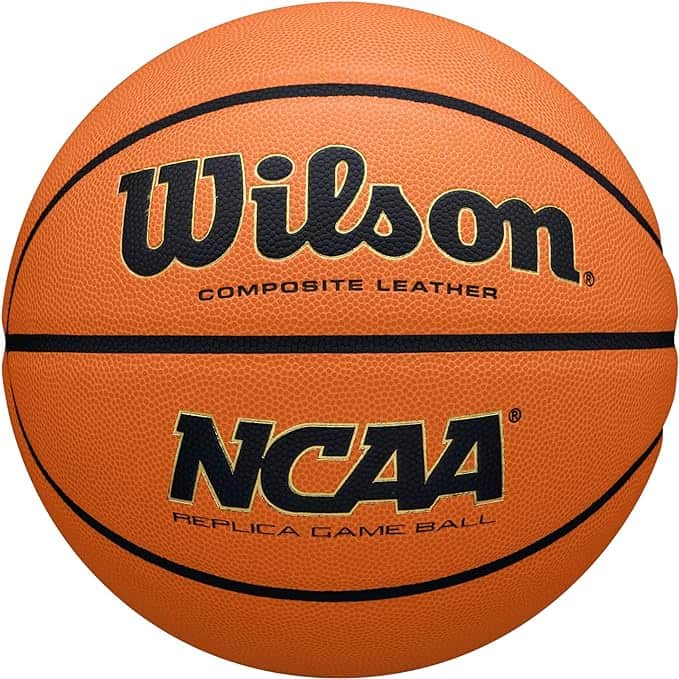 1. Wilson Replica NCAA Game Basketball
Our favorite composite indoor/outdoor basketball that strikes the perfect balance between playability and price
Save 15% on your Wilson.com order with code:
HoopsBeast-15
Since becoming the official ball supplier of the NBA, Wilson have a whole new lineup of NBA-branded basketballs like the NBA Forge and NBA Authentic Outdoor basketball.
But obviously none of those balls feel anything like the official genuine leather ball used in the NBA. Instead, their latest composite leather ball tech is found on their relatively new official NCAA Evo NXT game ball which is used during March Madness games.
The NCAA Replica Game Ball is designed for outdoor use, but it borrows a lot of the same designs and tech from the official ball including the pebbled seams. And right out of the box, it feels softer and nicer to handle than their cheaper outdoor offerings like the NBA Forge.
If you've played basketball games in high school, there's a good chance you've handled the Wilson Evolution indoor basketball. The Wilson Replica NCAA Game Basketball feels almost as soft and tacky, though the difference is noticeable. However, this basketball's cover won't shed to pieces on an asphalt surface.
While it's difficult to argue that this ball is objectively better than the Spalding Zi/O, I am a fan of the seam pebbling making it my personal favorite.
Our rating: 4.5/5
Read the full Wilson NCAA Replica Game Ball review
The Zi/O Basketball is Spalding's attempt at creating the ultimate indoor/outdoor hybrid basketball. Like Wilson's NCAA Replica Game ball, the Zi/O has been around for a long time and is instantly recognizable among many hoopers.
It's tight pebbling gives it a soft and tacky feel. Meanwhile, it's foam-backed cover ever so slightly dampens the bounce on harder outdoor surfaces. As a result, it doesn't feel too bouncy on harder outdoor surfaces.
If you value consistency across playing on hardwood (indoor) and concrete (outdoor) surfaces, the Zi/O is an excellent choice.
Our rating: 4.5/5
Read the full Spalding Zi/O review
Note: The NCAA WAVE is no longer available but I'm keeping it here because it's such a unique ball that deserves to be remembered
Famous YouTuber The Professor's ball of choice, the WAVE is made with durable butyl rubber that feels slightly softer than the Wilson NCAA Replica Game ball. Its unique feature is the addition of 24 T3 grooves on the panels which provides improved ball control and makes it easier to palm. These grooves also help to minimize the build-up of dirt on the panels when played outside.
The WAVE is just a few bucks more expensive than Wilson's NCAA Replica Game ball, so choosing between the two is a tough one. If you want to practice with a very traditional ball design, the Replica is the way to go, but the WAVE is a nice alternative if you like the idea of having a grippier ball. However, you also don't want to become too familiar with the WAVE's grooves, as most balls you pick up won't have them.
Overall, it's a versatile and high-quality ball that deserves all the praise it earned from big streetball players.
Our Rating: 4/5
Read the full Wilson NCAA Wave review
While most composite leather balls are 100% composite leather or 100% polyurethane synthetic leather, the Nike Elite All-Court 8P interestingly goes for an 85% rubber, 15% synthetic leather blend.
The result is a ball that feels least like its indoor counterpart, but still remarkably superior to a pure rubber basketball. The upside of course is that it is also more durable than typical indoor/outdoor basketballs like the Wilson NCAA Replica or Spalding Zi/O.
Personally I feel like the Nike Elite All-Court 8P sacrifices a bit too much softness for increased durability. But, if you play mostly indoors with a proper indoor ball and just want an outdoor basketball you can throw around as much as you want, this ball makes a lot of sense.
Our Rating: 4/5
Molten is a successful Japanese sports equipment brand who are famous for being the ball supplier for FIBA worldwide competitions (including the Olympics). The Molten GM7X is made to the same specification as their tournament ball, but with a harder wearing outdoor cover.
Molten's X-Series basketballs feature an iconic 12-panel design that distinguishes itself from the traditional 8-panel design. Its seams (channels) are noticeably shallower than other basketball brands, but there are also more of them.
In terms of feel, Molten has a great feel that's difficult to describe. It feels different compared to the Spalding/Wilson balls that many players are comfortable with, but not in a bad way. It doesn't feel as leathery and feels like a super-soft, cushy kind of rubber.
The ball's aligned pebble pattern that provides consistency across the basketball's surface is a particularly interesting feature. It might be unnecessary, but it's a nice little detail nevertheless.
Durability wise, there are some questions hanging over the GM7X. The cover doesn't seem to hold up quite as well as the others when played on rougher surfaces. It's therefore not recommended for players who primarily play outside.
We definitely recommend trying out the Molten GM7X if you get the chance. Some people love its unique design and feel, others aren't so fond.
Our Rating: 4/5
Read the full Molten GM7X review
Under Armour is relatively new to Basketball but has shown its commitment by snapping up big sponsorship deals with the likes of Stephen Curry.
While their history as a ball-manufacturer only dates back a few years, we found the Under Armour 495 Basketball to be a terrific multi-court basketball.
The UA Gripskin technology is designed to provide a better grip through denser and deeper pebbling. It also features nylon winding to keep shape and a 100% Butyl rubber bladder to better retain air.
The ball was initially a little slippery and difficult to palm. However, after wearing it in for a few days the ball felt softer and had more grip, mimicking the feel of a high-end indoor basketball.
Unfortunately, the ball is let down by an ever so slightly flat and inconsistent bounce, as well as poorer air retention when compared with balls from the other manufacturers.
Our Rating: 3.5/5
Read the full Under Armour 495 review
And finally…
This one is definitely for those looking to be different. With almost every other ball sporting the same old orange and black color scheme, it's hard to be excited about the aesthetic of any of them.
These balls by Chance, on the other hand, come in several distinct designs that ooze style. There's definitely one to suit everyone's taste.
Costing slightly more than your average outdoor basketball, you would expect the quality of the ball itself to be top notch too. Unfortunately, the ball lets itself down in this area by failing to hold air well. Its bounce and grip are decent, but inferior to the other balls that made it into this list. Overall, it's a decent ball that is worth a mention just because of its unique and rather hip design.
Our Rating: 3.5/5
Read the full Chance Premium Composite Leather Basketball Review
Other Notable Mentions
Spalding NBA Street Phantom Rubber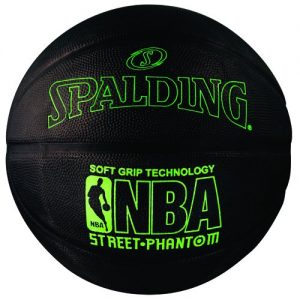 The Spalding Street is the the only rubber basketball on this page. Since it's rubber-made, it will last forever.
However, rubber basketballs feel cheap and no serious player wants to use one unless there's no other choice.
This basketball features Spalding's rubber soft grip technology, designed to do the impossible – make a rubber basketball feel soft. The basketball does genuinely feel better than your discount store rubber basketball as a result.
The seams are also wider than normal, but being a rubber basketball you don't really notice them.
It's a good basketball to have just in case you ever want to play some ball an uneven, dirty surface. Or just to use as a secondary basketball in order to increase the longevity of your main basketball.
It's the best rubber basketball you can get – just don't expect the same touch or bounce as a composite basketball.
Wilson NBA Forge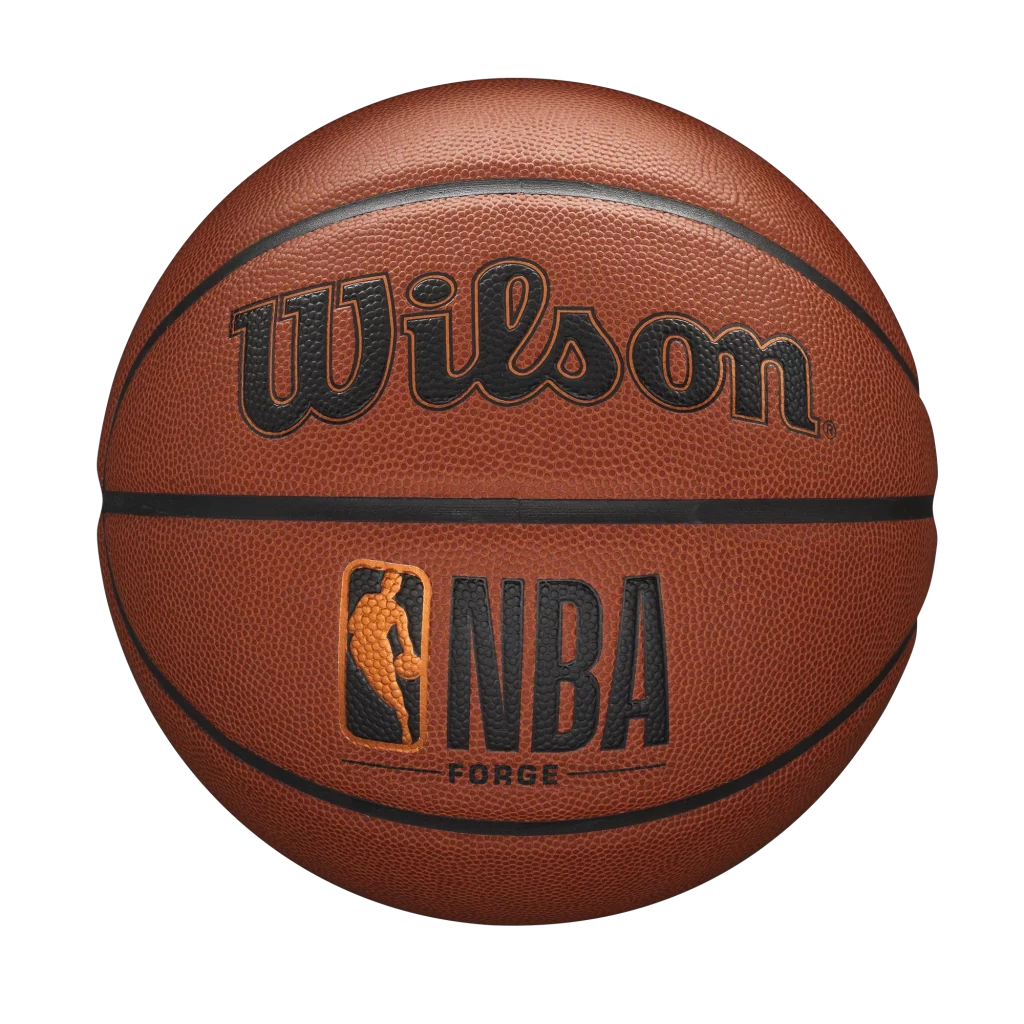 The NBA Forge is a fairly recent ball and already the bestselling indoor/outdoor basketball. Becoming the supplier of the official game ball definitely seems to be paying off for Wilson.
But in the hands, it doesn't feel like anything special, and doesn't feel as good as our top recommendations, the Wilson NCAA replica game ball and Spalding Zi/O.
That's understandable given it's lower pricing point, but overall it's a tough sell when you can spend just a little more to get a nicer feeling ball.
Nike Hyper Elite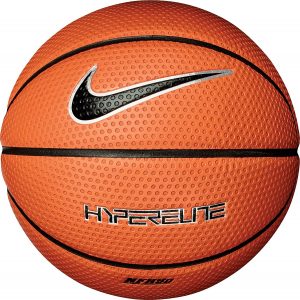 Nike are synonymous with basketball. However, that's mostly down to their basketball kits and shoes, not so much their basketballs.
Their basketballs are rarely represented in competitive basketball. That's partly down to their somewhat lackluster basketballs so far which often feel too firm.
However, the Nike Hyper Elite basketball is a seriously nice basketball with some nice innovation to boot.
It features a unique blended composite/rubber cover that gives it a very nice feel. It's definitely the softest ball here and has tons of grip.
Instead of featuring a pebbled surface like your typical basketball, the Hyper Elite features dimples. This makes it a great choice for those with sweaty hands as moisture escapes easily.
Although we loved the Hyper Elite in our hands, it doesn't have the characteristics of a great outdoor basketball. As soon as you pick it up you can tell it won't hold up too well outdoors. It's somewhat surprising Nike market this as an indoor and outdoor basketball.
Baden Contender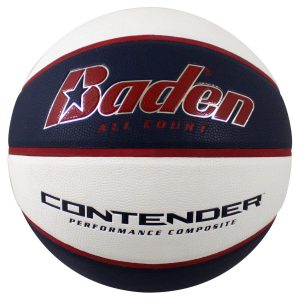 A very popular outdoor basketball, the Baden Contender often comes recommended by others.
Its main selling point is its value. It has a lower MSRP than all the other basketballs here (excluding the Spalding rubber NBA Street Phantom).
The firm feel and slightly flat bounce let it down, in our opinion. It's decent for outdoor play but feels funky indoors.
Because Amazon runs discounts on our top 5 picks, the Baden Contender doesn't actually provide any cost saving.
As a result, we'd only suggest this if you can snag it for $20 or less.
More Buying Advice
Price
For a decent synthetic leather outdoor basketball, you will generally spend in the region of $30-$40.
Rubber basketballs should cost no more than $20.
Ball Size
For men and boys 15 years or older, Size 7 is the regulation ball size. It has a circumference of 29.5 inches.
For women's basketball, and boys 12-14, Size 6 is the official size. The circumference of a size 6 ball is 28.5 inches.
For youth basketball (ages 11 and under), Size 5 is the standard. Size 5 balls have a circumference of 27.5 inches.
Ball Weight
The weight of the basketball should be in line with the NBA/FIBA specifications. All the basketballs listed here, and most basketballs from reputable brands, follow these standards.
Just be careful about those cheaper discount store basketballs which usually don't abide by them. After all, you don't want to be shooting hoops with a basketball that doesn't weigh the same as a regulation ball.
Outer Cover Texture
The synthetic material used in the basketball's cover determines the ball's texture. It is a matter of preference and varies from ball to ball.
Wilson are traditionally known for making basketballs that are easier to grip/palm, while Spalding basketballs are slightly less so.
Being outdoor basketballs, the ball will always be on the firmer side.
Durability
Outdoor basketballs are designed to be able to withstand rougher surfaces and different weather conditions.
However, even the best ones will wear down sooner or later.
The pebbles on the basketball will become shallower and the grip will degrade.
Despite being manufactured with longevity in mind, outdoor basketballs will generally not last as long as an indoor basketball that is played on a smooth hardwood court.
They will need replacing every now and then, so don't get too hung up on which basketball is toughest.
Breaking In A Basketball
Unlike genuine leather basketballs, composite leather and rubber basketballs are designed to be suitable for play from the get-go.
However, most people would agree that even a composite basketball needs some time to feel it's best. That's why you can't really make judgments based off how a brand new basketball feels.
The Under Armour 495 basketball, for example, needs a few hours on court before it feels best.
Inflating A Basketball
Most basketballs come partially inflated, but you will want to use a ball pump to increase the air pressure to the recommended 7-9 PSI.
Since ball pumps do not come with a pressure gauge, basketball match officials typically 'know' when a basketball feels right. If you are unsure, you can use the following rule of thumb:
Bring the ball up to face level and let it drop by free fall. If should bounce up to your waistline. If it goes higher, the ball is over-inflated. Any lower than your waistline and it needs to be inflated a little more.
Wrapping Up
Hopefully you enjoyed reading through this list of our top basketball picks for outdoor play. The feel of a ball is a very personal preference, so if you get the chance I would definitely suggest going to your local sporting goods store and spend some time gripping and bouncing the balls for yourself.
If you have any feedback or want to throw in some of your own recommendations, leave a comment below or get in touch with us through any of our social media channels.