Besides the basketball and playing surface, the hoop itself heavily dictates your basketball experience. From the amount of overhang (for moves under the net) to the quality of the backboard (for that perfect rebound), there are many factors that determine how good a basketball hoop is.
Mounting a backboard above your garage door might be tempting because of the low cost, but investing in a decent outdoor portable basketball hoop has several advantages:
They can be moved around with relative ease
Quick, fuss-free rim height adjustments
Can be packed away when not needed
Overall, they offer you more convenience, flexibility and versatility than mounted or in-ground basketball hoops. And it's those unique advantages that make them the most popular type of hoop in American homes.
There are many popular brands competing in the portable hoop market today. Spalding, Silverback and Lifestyle are the first that spring to mind, but other brands have also produced some great ones. We've gone ahead and reviewed the most popular options available right now, and we've narrowed down our favorites that make up this list.
Best Portable Basketball Hoops At A Glance
Prices for portable hoops vary wildly, so in this roundup we've chosen our favorite ones at different price points according to our portable basketball hoop reviews:
Let's take a look at each hoop in greater detail.
Search for hoops within this budget and you'll be finding most hoops to be youth-sized. Perfectly fine if that's what you're after, but that's not what we're covering in this roundup.
However, one portable basketball system that stands out (and is really the only option at this price point) is from popular budget brand Lifetime.
This adjustable basketball hoop has a support pole with a fairly simple telescoping mechanism – allowing it to adjust from 7.5-feet to 10-Feet in 6-inch increments. It therefore goes all the way up to the regulation height while also being suitable for youth ages 8+ basketball.
The so-called 'Impact' backboard is designed to be 'virtually unbreakable'. The polycarbonate backboard feels rock solid and durable, meaning the basketball hoop isn't a cheap toy that will need to be thrown out after a year.
As you would expect from a hoop of its price, it's not all good news. Being a small 44-inch backboard, a lot of shots will hit the corners or miss it completely. Have a history of shooting airballs? Well, you'll be shooting even more now. And even if you hit the backboard, you won't appreciate the particularly dull bounce that knocks the life out of the ball.
The base only has a 27 gallon capacity which means it isn't particularly well-grounded. Adults and teens will easily bring the whole thing down if they hang on the rim at its 10-foot setting, so it's not suited for players who possess a strong aerial threat.
Finally, the backboard attaches directly onto the support pole, offering zero clearance between the two. It can be very frustrating to be obstructed by the pole when playing around the net.
Assembling the Portable Lifetime Pro Court System will take around 1-2 hours, and 2 people are recommended for setup. Assembly isn't too difficult, but some people have complained about low quality parts having to be replaced.
Overall, the Lifetime Pro Court is good for a bit of fun and the cheapest 10-footer you'll find. If you're a beginner who just wants to get comfortable shooting hoops, this is the best portable basketball hoop in this price bracket. But if you're practising layups or long-range shots, it just won't cut it.
Essentially the same as the Lifetime 1221, you're probably asking what makes this Lifetime portable basketball hoop cost more. The difference is in its 44-inch 'shatterproof fusion' polyethylene backboard.
The clear backboard is stiffer, producing a far better rebound and making it better for bank shots than the 1221's polycarbonate material.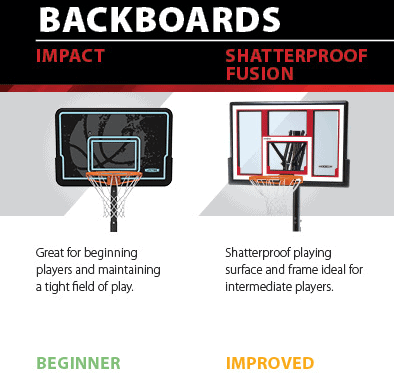 The backboard's bounce characteristics are up there with high-end basketball systems. It's still only 44-inches wide meaning you will have a harder time taking advantage of the nicer material, but you'd be hard pressed to find a basketball hoop with a regulation height rim and decent polyethylene backboard at this price.
If you're just getting started with basketball, it would probably be in your interest to go with the cheaper Lifetime 1221 instead, since the improved bounce characteristics will barely be noticeable. However, seasoned players will feel much more at home with the 1269.
3. Spalding 54″ Polycarbonate Backboard NBA Portable Basketball System
A hoop that straddles the line between entry-level and midrange. Midrange features, but entry-level build quality and stability.
For not much more than the cost of the Lifetime 1269, Spalding offer a portable hoop with a much bigger 54″ polycarbonate backboard. With a slam jam breakaway rim, slight overhang, 7.5 to 10-foot height adjustability and NBA branding, the hoop offers a seriously impressive list of features for a budget hoop.
The backboard's rebound quality is arguably worse than the Shatterproof Fusion of the Lifetime 1269, but this basketball hoop has the lifetime beat in practically every other area. The fact the backboard is considerably bigger also gives you much more confidence your shots won't end up going through your next door neighbor's window.
The hoop looks impressive, but just keep in mind that this is still very much a budget hoop. Cheap backboard aside, the support pole is thin and the overall stability is dubious. If you can dunk, you probably won't want to test the breakaway rim too much because you might bring the whole thing down.
The 34 gallon base is small for a basketball hoop that supports a 54″ backboard, and it only works because the backboard is light and flimsy compared to acrylic or glass alternatives. In any case, you'll want to fill it with a base gel or sand instead of water to ensure it's sufficiently grounded.
The Silverback NXT 54″ portable basketball goal is one of our favorite mid-range options. It's one of the most popular portable hoops around and it's
The build quality on this basketball system is superb. The similarly priced Spalding Pro Slam weighs just 100 pounds, the Silverback NXT comes in at roughly 150 pounds. The support poles are thicker, the base is stronger, and there's fewer parts you need to deal with. In fact, one of its selling points is its simple 90-minute setup time.
Compared to other 'portable' hoops, the NXT's unique wheelbarrow lift and roll design mean it actually is easy to move around. The wheels are bigger, meaning you can also move it over rougher terrain without too much difficulty.
The engineering behind the NXT is impressive for an adjustable height hoop of its price. A 35-gallon base is nothing special, but this one features a steel frame sub-structure that runs within to provide some extra stability. It does still rattle a little, but it can definitely take a beating.
The acrylic 'Infinity' backboard is frameless, giving it a nice look and more consistency around the edges. We're a massive fan of the aesthetic, and the rebound is fantastic.
Finally, the basketball hoop features an impressive 26″ overhang, meaning there is plenty of free room to roam directly beneath the goal.
Overall, the NXT is an excellent choice for a mid-range portable basketball hoop. Superior build quality, great stability and a perfectly acceptable 54″ backboard. It just gets everything right.
The Silverback NXT is also available with a 50″ backboard setup for less. However, we'd strongly urge going for the 54″ setup as 50″ feels a little small.
The Spalding NBA Hercules Portable Basketball Hoop is Spalding's answer to the Silverback NXT, and it's another mid-range, adjustable height portable goal that packs a compelling set of features.
The first premium feature is its breakaway rim. Unlike a standard rim which is directly bolted onto the backboard, a spring mechanism is in place to cushion the impact of grabbing onto the rim. For people who want to practice dunking, a breakaway rim is practically mandatory.
The angled support pole is also a very nice touch. It provides some much-needed clearance between the backboard and backboard, ensuring more enjoyable play under the net.
While these impressive features would seem to make buying it a no-brainer, there are some things to be aware of.
First, because it has a lot of small parts (even more than some of the more expensive hoops), assembling it proves to be quite a challenge. It will take around 5 hours or longer in total. It's definitely a weekend job, and you'll want some help from friends or family. If you are not confident in your own ability, the expert assembly service might be worth it.
Don't let the Amazon reviews fool you – sift through them and you'll realize most of the negative reviews concern missing parts or a complicated assembly process. Once setup, the NBA Hercules is a terrific portable basketball hoop.
Feature-wise the NBA Hercules is excellent. It feels well grounded but the 3-piece support poles are a little thin and a hassle to setup. We would seriously consider getting professional assembly to save you any headaches.
Unlike the cheaper Spalding portable hoops that have questions surrounding build quality, the Spalding 54″ NBA Glass Backboard Portable Hoop System is a completely different story. Note that this is not just the previously mentioned Spalding 54″ polycarbonate basketball hoop with a nicer backboard – the whole hoop is much improved.
You get fantastic build quality, great stability and best of all, a tempered glass backboard. The 2023 version loses the NBA logo following the end of Spalding's 37-year NBA contract that has now went to Wilson, but that doesn't take anything away from the hoop's playability.
Tempered glass backboards are used in professional basketball leagues. With this portable basketball hoop you'll get a bounce much more comparable to the kind you'd expect in NBA games.
The thick support pole and 40-gallon base means the stability is decent, even with the heavier glass backboard.
The screw jack mechanism makes for simple height adjustment. The hoop is heavy and not exactly easy to move around, but that shouldn't be a problem unless you plan on moving it around a lot.
Right now, we feel like this is the best portable basketball hoop in its class, feature-wise. You simply can't find other hoops in this price bracket that feature a glass backboard and the level of stability found in the 54″ hybrid hoop.
The Spalding 74560, a.k.a. "The Beast", is at the top end of consumer-grade portable basketball hoops. It's an expensive basketball hoop, but it's easy to understand why.
The biggest feature is its 60-inch tempered glass backboard. Very rarely do you find a portable basketball hoop with a backboard bigger than that.
To make sure the whole system stands firm, it's grounded by a massive 55-gallon base. It's two piece, 5-Inch square angled pole system adds to its sturdiness.
It features Spalding's acclaimed Pro Image Breakaway rim that is commonly seen in NCAA play and worth $80 alone.
You might ask whether it really makes any sense to splurge another $500 to get the bigger backboard and increased stability. That's something for you to decide: For serious play a 54″ backboard is very acceptable, but the extra 6-inches The Beast provides is definitely noticeable.
Overall, if your budget can be stretched, "The Beast" is the way to go. However, it might be overkill if your playing surface is small. You won't get much out of a 60″ backboard if you're limited to playing in your small driveway or backyard.
Things To Look Out For
All of the portable hoops you'll find in our roundup, including the cheaper ones, are perfectly suitable for recreational play. However, increasing your budget will make for a more enjoyable playing experience.
Here are the factors that determine the usability, quality and price of a portable basketball goal.
1. Base Stability
The last thing you want is a portable hoop that gets blown over in the wind! Or a hoop that comes falling down when you throw down a slam dunk…
Every portable basketball hoop has a base size, measured in gallons. These bases are filled with water or sand to weigh down the entire hoop and keep it grounded.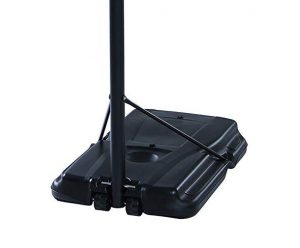 Generally speaking, any base size that is around 35 gallons or more is perfectly fine for most purposes (unless you're Shaquille O'Neal, of course!)
Expensive hoops will have even bigger bases, partly to provide additional support and partly because the entire hoop weighs more.
Just keep in mind, bigger is not always better, especially if you're going to move it around often.
2. Support Pole Specifications
The support pole is what connects the base to the backboard.
A strong support pole provides better overall stability. You'll find most support poles either come in three-piece or two-piece configurations.

The top-end portable hoops are more likely to come in two-piece configurations. Two-piece configurations are slightly less portable but have less bits and moving parts and are therefore more stable.
Another important consideration is the height-adjustment range. Most portable hoop heights can be incrementally adjusted – perfect for the kids or when you want to practice dunking on a lower rim.
3. Overhang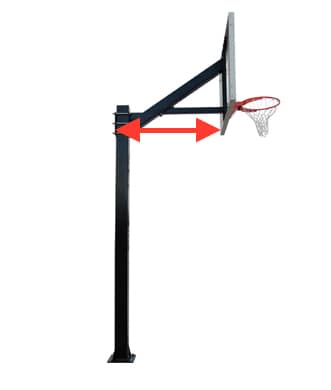 Overhang refers to the distance between the front of the post and the front of the backboard. This is important because you don't want to be crashing into the support pole when you're playing deep.
The cheapest hoop systems have the backboard directly attached to the support pole, meaning there is effectively no clearance. More expensive systems will have greater clearance, giving you the freedom to move around under the goal.
4. Backboard Size And Shape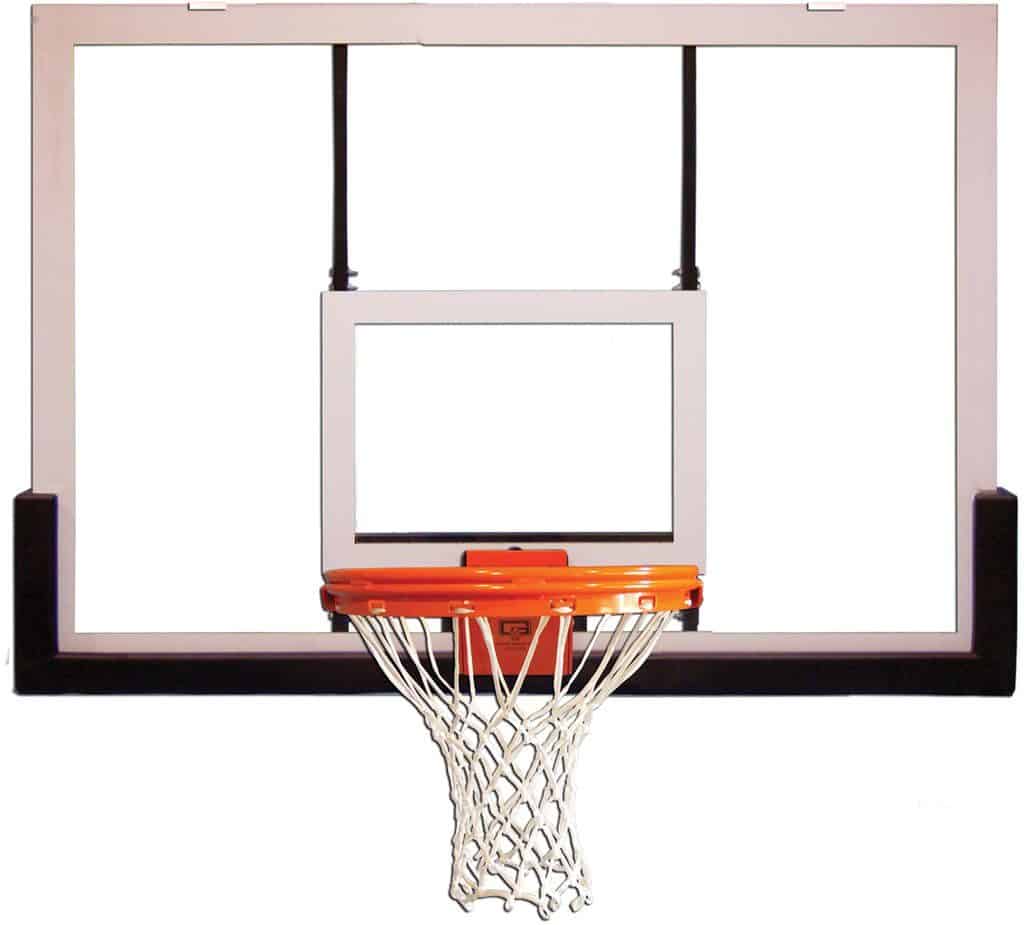 In NBA games, backboards measure a massive 72-inches wide. You can't really get portable basketball hoops with backboards that big, but generally speaking: more expensive hoop = bigger backboard.
Bigger backboards make it possible to land more bank shots and get more rebounds. You generally want the backboard size to be at least 52-inches wide to prevent things feeling a little awkward around the board.
Also take note of the shape of the hoop's backboard. A straight edge, rectangular backboard is preferable to an oval or fan-shaped one.
5. Backboard Material
Backboards are typically constructed from polycarbonate (plastic), acrylic, or tempered glass.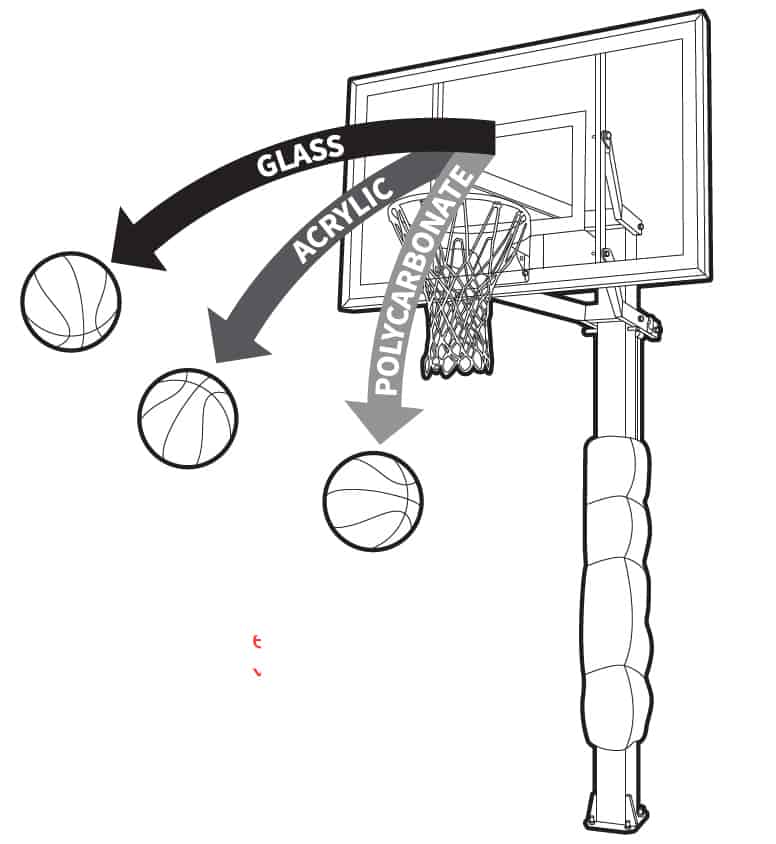 Cheaper hoops come with polycarbonate backboards which are fine for all intents and purposes. However, they lack the rebound qualities of higher quality material backboards. In other words, the rebound might feel flat and unnatural.
Furthermore, a polycarbonate backboard also becomes brittle in around 3-5 years. Its lifespan is significantly shorter than acrylic and tempered glass backboards which can easily last 10-20 years.
Acrylic backboards provide a better rebound than polycarbonate backboards. Balls will bounce off these backboards very nicely, and they are relatively lightweight.
Glass backboards provide a bounce that matches what you would expect from a professional hoop. You'll see them in college and professional basketball games. They produce the least amount of vibration. The main downsides are their higher price tag and heavier weight.
The backboard material provides a good indication of how well the ball will rebound. However, keep in mind the quality can vary within each material. You will find some more expensive polycarbonate backboards can rival or even beat a cheaper acrylic backboard, for example.
6. The Rim
While the rim itself will always be sized according to the 18-inch diameter specification, there is variation among the way the rim is attached to the backboard.
Standard rims are screwed directly onto the backboard. Standard rims have the advantage of being cheap, strong and reliable.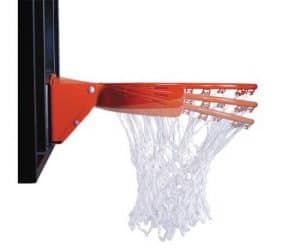 Higher end hoops feature Compression breakaway rims which feature springs inside the bracket. That means there'll be some nice cushioning each time you hang on the rim after a dunk.
Compression breakaway rims should only be seen as an important factor for those that dunk, as otherwise it doesn't make any difference.
More Buying Advice
Where To Place Your Portable Basketball Hoop
Since we're dealing with portable basketball hoops, placement is quite flexible. The backyard or driveway are the most common places. Just make sure the surface is flat and the surrounding play area is big enough and away from any potential danger.
Hoop Maintenance
Portable basketball hoops are designed to last for years and even withstand harsh weather conditions. However, the plastic base is usually most vulnerable to damage. They are susceptible to cracking, in which case they need to be repaired or replaced.
Filling Out The Support Base
The support base is typically filled with either water or sand.
Water is quick and convenient, but it weighs less (given the same volume) and can evaporate over time. Another drawback is water can freeze during the winter, cracking and permanently damaging the support base. Make sure to empty the water or add antifreeze when the weather is cold.
Sand is typically the recommended option. Sand weighs around 13 pounds per gallon (compared to water's 8 pounds per gallon) providing extra stability. There's also no chance it will freeze, so that's one less thing to worry about. However, filling and emptying the support base will be more of a hassle.
Another option is BaseGel. BaseGel mixes with water to produce a heavy gel that is an excellent filling for support bases. Unlike water, it doesn't suffer from freeze-thaw cycles that damage the support base.
Conclusion
Choosing the right hoop can appear daunting at first. However, when you really ask yourself what you really need – and what your budget is – it's actually pretty simple.
For those purchasing a basketball hoop for younger kids, the Lifetime 1221 is a great choice. It's light, easy to stash away and future proof: It will see the kids grow into it, all the way from 8-foot to the 10-foot regulation height.
For those on a tighter budget but after something a more serious, the Spalding Hercules is the best option. You get a big 54″ acrylic backboard, angled support pole and breakaway rim – features you simply won't see in other hoops in the same price range. Just be prepared for a rather complicated assembly process – many people have experienced headaches setting it up in the past.
At the mid-range, you are spoilt for choice. The Silverback NXT is an incredibly solid all-rounder. A 54″ acrylic backboard, impressive 26″ overhang and solid build quality make for a very good purchase. However, you might be tempted to spend extra and get the excellent Spalding 54″ glass backboard hoop system. The tempered glass backboard provides a superior rebound, and the larger 40-gallon base provides a little more stability.
If your budget permits, look into the Spalding's "The Beast", a hoop that features a massive 60″ glass backboard and packed with other top of the line features. The free assembly service from Amazon is a nice bonus, too.