Besides the basketball and playing surface, the hoop heavily dictates your basketball experience. From the amount of overhang (for moves under the net) to the quality of the backboard (for that perfect rebound), there are many factors that determine how good a basketball hoop is.
Mounting a backboard above your garage door might be tempting because of the low cost, but investing in a decent outdoor portable basketball hoop has several advantages:
They can be moved around with relative ease
Quick, fuss-free rim height adjustments
Can be packed away when not needed
Overall, they offer you more convenience, flexibility and versatility than mounted or in-ground basketball hoops. And it's those unique advantages that make them the most popular type of hoop in American homes.
Choosing the right portable hoop can be a game-changer when it comes to convenience, stability, and performance. Quality materials, height adjustability, ease of assembly, and mobility are critical factors when purchasing a portable basketball hoop.
There are many popular brands competing in the portable hoop market today. Spalding, Goalrilla, and Lifestyle are the first that spring to mind, but other brands have also produced some great ones.
Our team has put in numerous hours researching and testing a variety of portable basketball hoops to identify the ones that offer the perfect blend of performance, durability, and convenience.
Let us guide you through our top picks and help you find the best portable basketball hoop that will elevate your game and foster memories for years to come.
Best Portable Basketball Hoop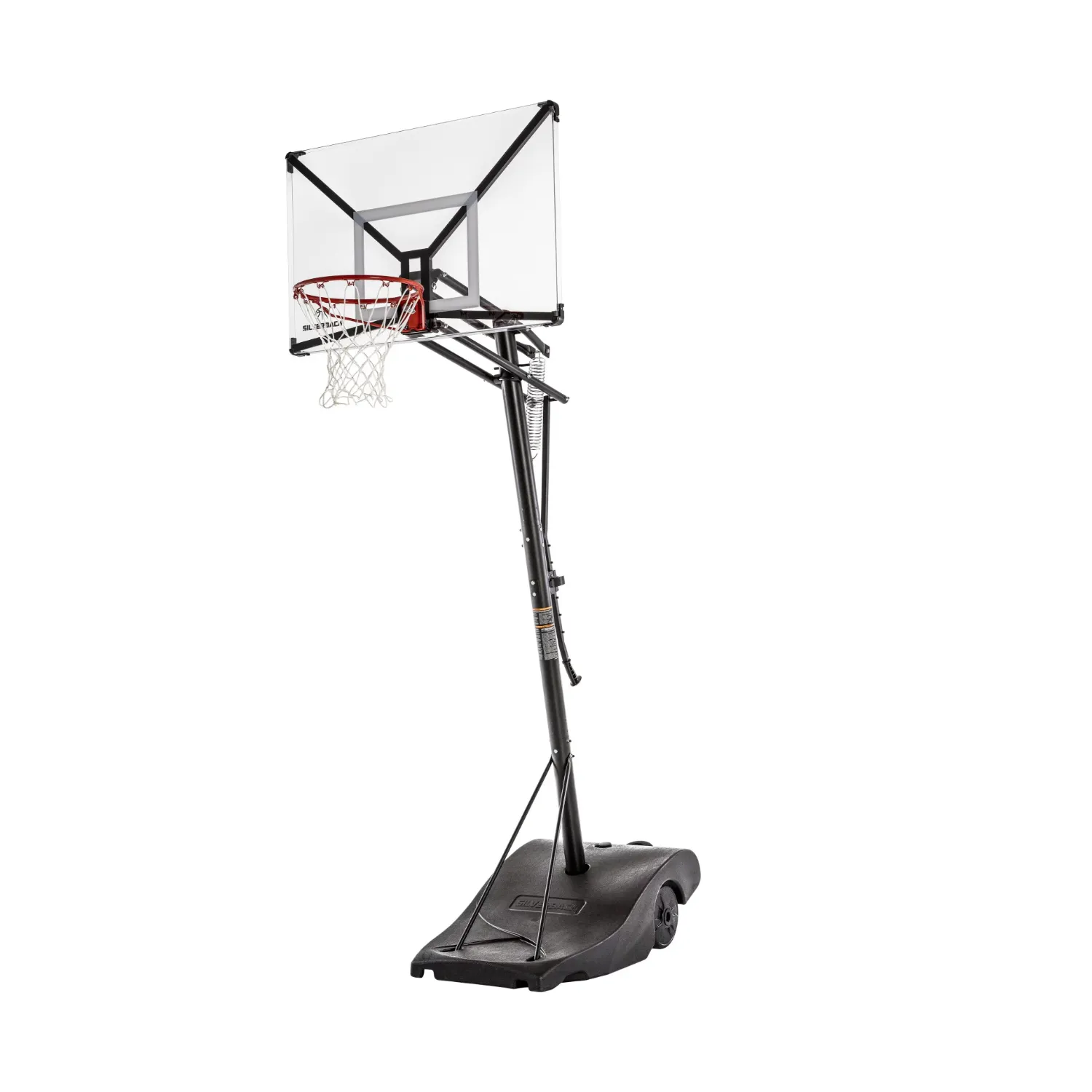 Best For Most Players
With a large backboard, breakaway rim, stable base and ample overhang, the Goalrilla Silverback NXT 54 checks all the boxes at a remarkable price
Backboard Material
Polycarbonate
Height Range
7.5' to 10' (6" increments)
Overhang
24.45" with rim at 10'
Good strength and stability with Stabili-Frame steel-on-steel connection
Plenty of overhang
Easy to move wheel-barrow design
Great value for money
Rebound is good but not quite as dynamic as acrylic surfaces
The Silverback NXT Portable Basketball System brings the authentic court experience right to your backyard. For the same price, it's hard to find a hoop with better or similar build quality.
The similarly priced Spalding Pro Slam weighs just 100 pounds, and the Silverback NXT weighs roughly 150 pounds. The support poles are thicker, the base is stronger, and there are fewer parts you need to deal with.
A distinguishing feature of the Silverback NXT is its innovative 'Stabili-Frame' steel-on-steel connection between the main pole and the base. This unique design provides improved stability and rigidity, reducing shake and improving overall playability.
Additionally, the Infinity Edge backboard design, where edges wrap around the back of the backboard, gives it a classy look and more rebound consistency around the edges. The polycarbonate construction doesn't give quite a realistic bounce as acrylic ones, but it performs notably better than the polycarbonate backboards found on budget hoops.
Compared to other 'portable' hoops, the NXT's unique ErgoMove wheelbarrow lift and roll design means it actually is easy to move around. The wheels are bigger, meaning you can also move it over rougher terrain without too much difficulty.
Additionally, the 'Quick-Play' design ensures assembly is a breeze, cutting down setup time to around 90 minutes, though we found it to take slightly longer. Nevertheless, this is a significant advantage over the majority of hoops on the market, which can often take multiple hours to assemble.
Finally, the basketball hoop features an impressive 26″ overhang, meaning there is plenty of free room to roam directly beneath the goal.
Overall, the NXT is an excellent choice for a mid-range portable basketball hoop. Fantastic build quality, great stability, and a very decent 54″ backboard.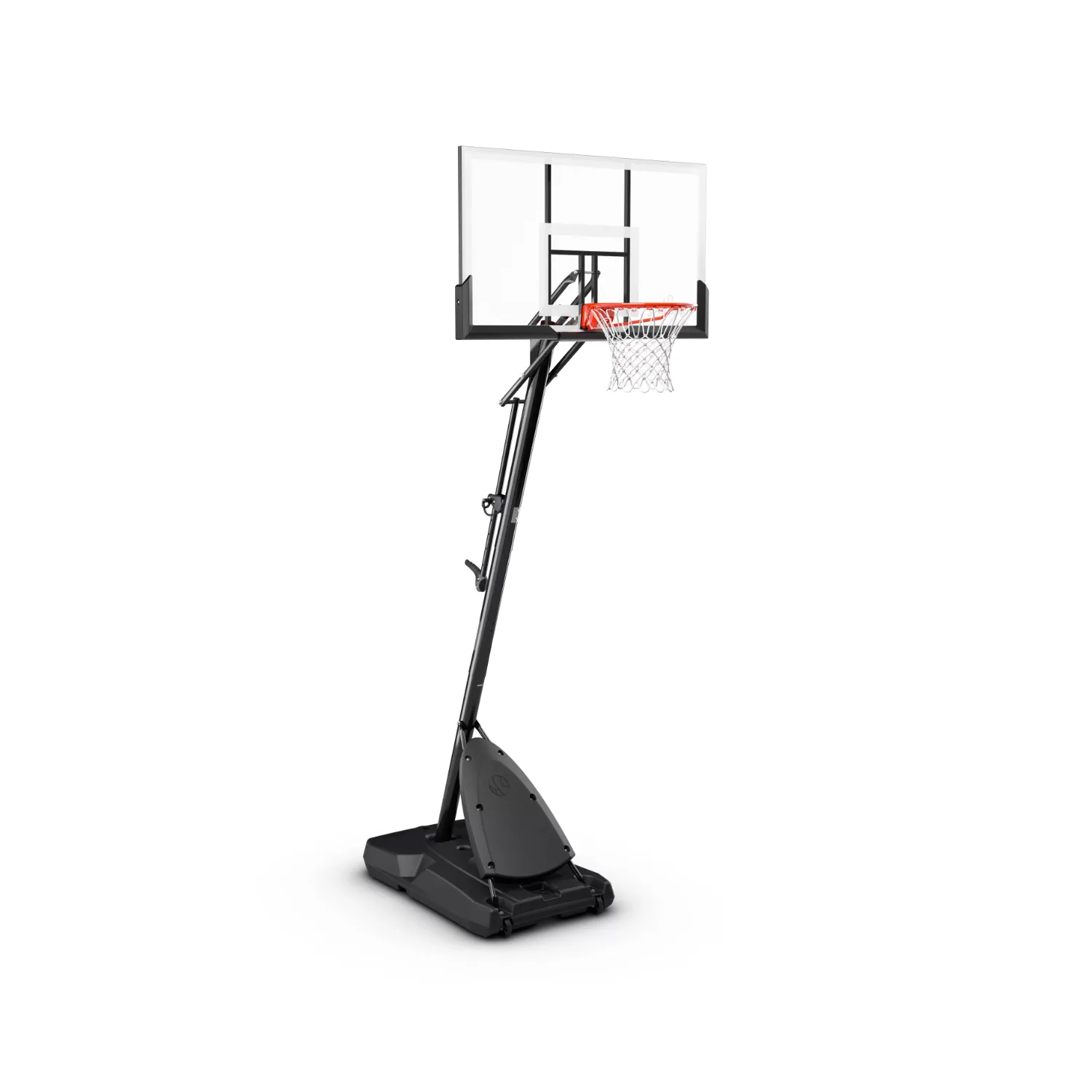 Upgrade Pick
With an acrylic 54" backboard for a more realistic bounce and a hybrid base that is filled with water and sand, the Spalding Ultimate Hybrid is a great choice for basketball enthusiasts.
Backboard Material
Acrylic
Rim Height Range
7.5' to 10'
Great rebound performance
Hybrid sand and water base system
Might be difficult to justify extra cost over Silverback NXT
The Spalding Ultimate Hybrid Portable Basketball Hoop consistently ranks among the best when it comes to delivering a superior at-home basketball experience. Suitable for casual players and dedicated athletes alike, this hoop system brings the excitement and rigor of the game right to your driveway or backyard.
The Ultimate Hybrid model lives up to its name with its unique base design. This exclusive feature combines water and sand, allowing for maximum stability during the most aggressive play.
Backboard sizes also vary, with options ranging from 54 to 60 inches. Whatever you end up going for, it'll offer ample space for bank shots while providing a professional-style rebound.
A noteworthy feature is the Spalding Arena Slam breakaway rim, which handles aggressive plays and powerful dunks effortlessly. Its spring-back action imitates professional-grade rims, adding an extra layer of excitement to your games.
The Ultimate Hybrid also features Spalding's well-known Exacta-Height lift system, allowing easy height adjustment from 7.5 to 10 feet. This ensures that the system can adapt to players of varying ages and skill levels, promoting inclusive play.
Constructed with a steel board frame and designed to withstand outdoor conditions, the Spalding Ultimate Hybrid is designed to last. The weather-resistant finish protects against the elements, helping your hoop to maintain its aesthetic appeal for years. While the stated 16″ overhang might seem a little short, that measurement is taken at the top, and the angled pole means there's actually plenty of room to operate under the net.
Price-wise, the Spalding Ultimate Hybrid falls somewhere between the mid-range and high-end points, and it offers fantastic value for its price. It provides many of the fancy features found in professional-level systems like the Spalding Beast at a more affordable cost.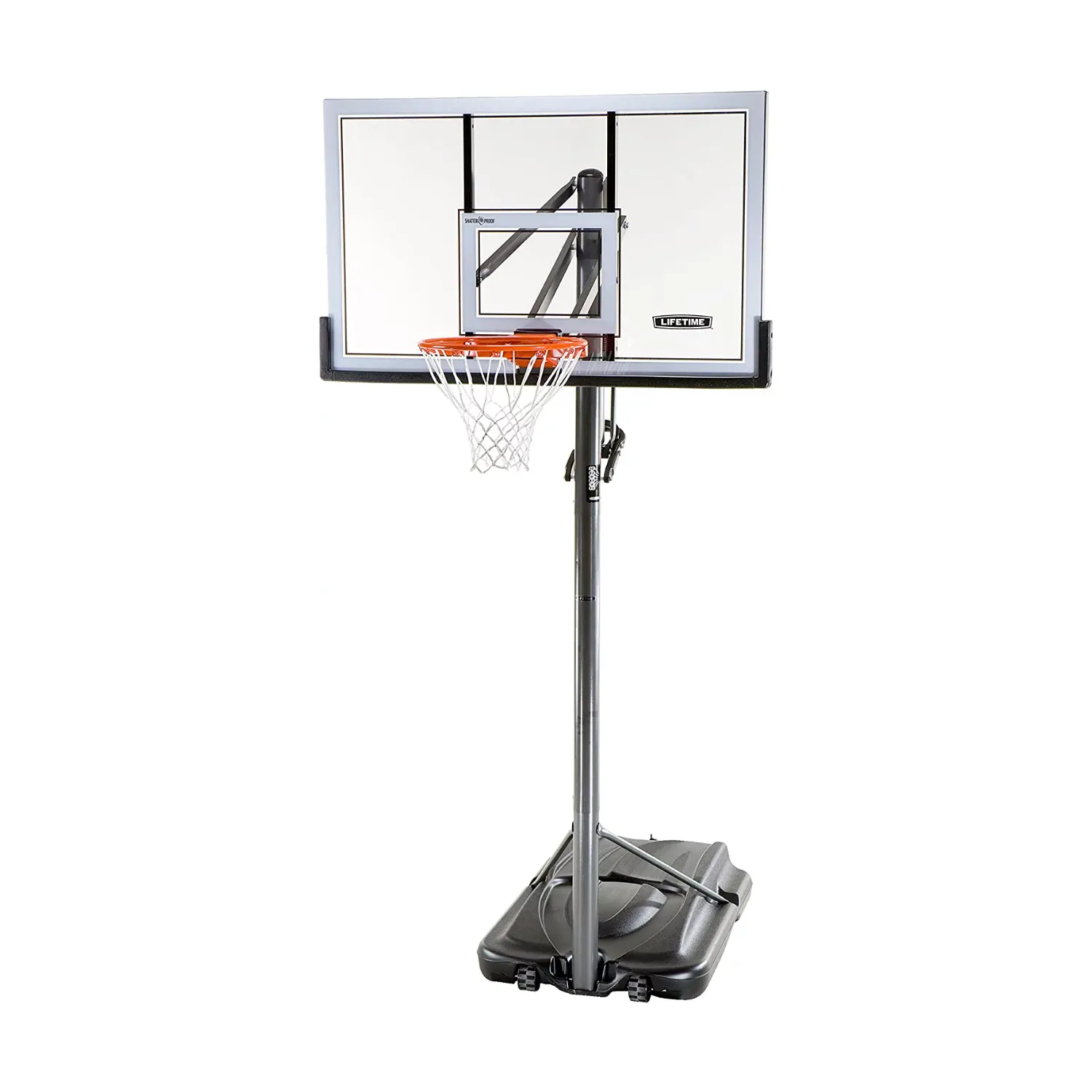 Noteworthy mention
While the Lifetime 71522 Competition XL feels a little basic, you won't find a better backboard on a hoop around this price
Backboard Material
Acrylic
Rim Height Range
7.5' to 10'
Acrylic backboard with excellent rebound
35 gallon base provides sufficient stability
We recently used the Lifetime 71522 Competition XL Portable Basketball System and were impressed with its professional look and feel. The 54″x33″x1.5″ steel-framed acrylic backboard provides a realistic playing experience, suitable for players looking to practice at a high level.
The Power Lift height adjustment mechanism on this portable hoop easily adjusts between 7.5 and 10 feet, accommodating players of varying ages and skill levels. Built to withstand harsh weather conditions, the weather-resistant pole and net ensure long-lasting outdoor play, while the fade-resistant graphics keep the hoop looking new.
However, we noticed a few drawbacks to this Lifetime basketball hoop. Assembly can be a bit challenging, especially compared to other midrange hoops like the Silverback NXT and Spalding Momentous EZ Assembly, so we would recommend setting aside ample time and potentially asking for help from others. Additionally, some users have reported warping on the top of the backboard under extreme heat, which may affect performance.
The XL 35-gallon base provides plenty of stability and portability, The base can be filled with water or sand, and the system is backed by a 5-year limited manufacturer warranty.
The Silverback NXT is obviously this hoops main contender given the price similarity, and overall it just feels like a better thought-out system, with an easier assembly, better stability and maneuverability, and slightly longer overhang. However, the acrylic backboard on the Competition XL does give off a slightly better rebound, which is worth considering.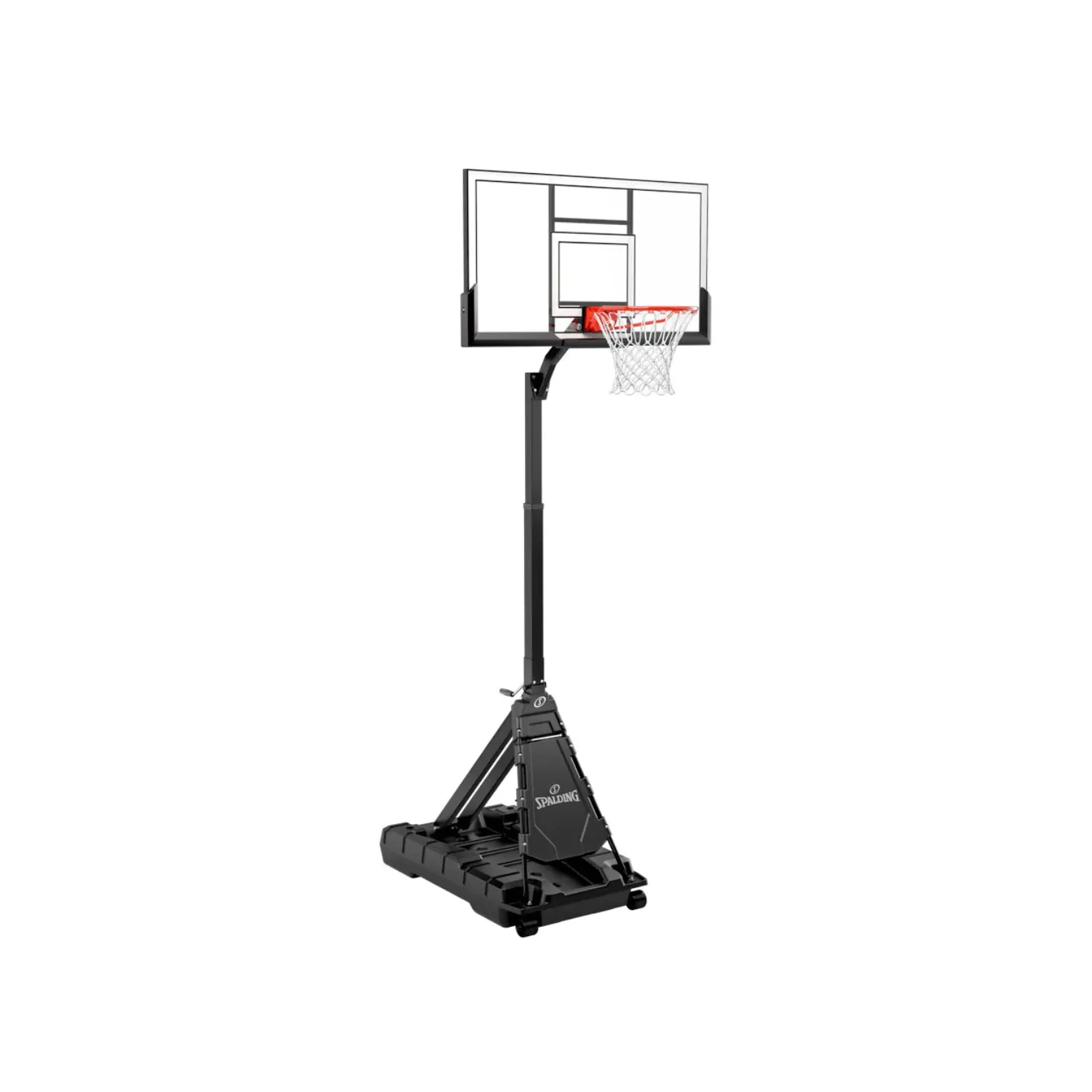 Easiest to assemble
With a stated 30-minute assembly time, the Momentous EZ assembly will see you playing ball in under an hour. However, the base sometimes gets in the way of play under the net.
Backboard Material
Acrylic
Rim Height Range
8' to 10'
Quick, simple assembly
Acrylic backboard with realistic bounce
Some shots land and bounce off the base
Limited overhang for the price
The Spalding Momentous EZ Assembly Hoop is not just another basketball system; it's an innovation that disrupts the portable basketball hoop market. With an assembly process designed for convenience and speed, this hoop brings accessibility and high performance to any backyard, aiming to engage more people with the game of basketball.
Unlike many other hoops on the market that demand 3-5 hours of setup, the Momentous EZ Assembly boasts a simplified process that can be completed in under 30 minutes. The combination of customer insights, collaborative engineering, and proprietary design has led to a product that is mainly pre-assembled without any compromise on quality, stability, or price. The accompanying step-by-step digital assembly tutorial further simplifies the process, making assembly an enjoyable experience rather than a chore.
As for performance, the Momentous EZ Assembly doesn't disappoint. Available with either a 50" or 54" steel-framed acrylic board, it caters to players of various levels.
The Infinite Adjust Elevator Lift System allows the height to be easily adjusted between 8′ to 10′, accommodating most ages and skill levels, although this height adjustment range is slightly lower compared to more standard telescoping hoops.
The Momentous EZ Assembly also features a 36-gallon capacity base, providing similar stability to the Silverback NXT. Furthermore, the Arena Slam Breakaway Rim can withstand the impact of powerful slam dunks, adding to the product's overall durability and resilience.
This system successfully marries ease of assembly with high performance, earning its title as a 'Momentous' leap forward in portable basketball systems. However, the Silverback NXT by Goalrilla performs almost as well at significantly lower price, and also has a relatively quick setup time. So unless you really value a slightly easier setup and better backboard, the Momentous EZ Assembly isn't worth the additional cost.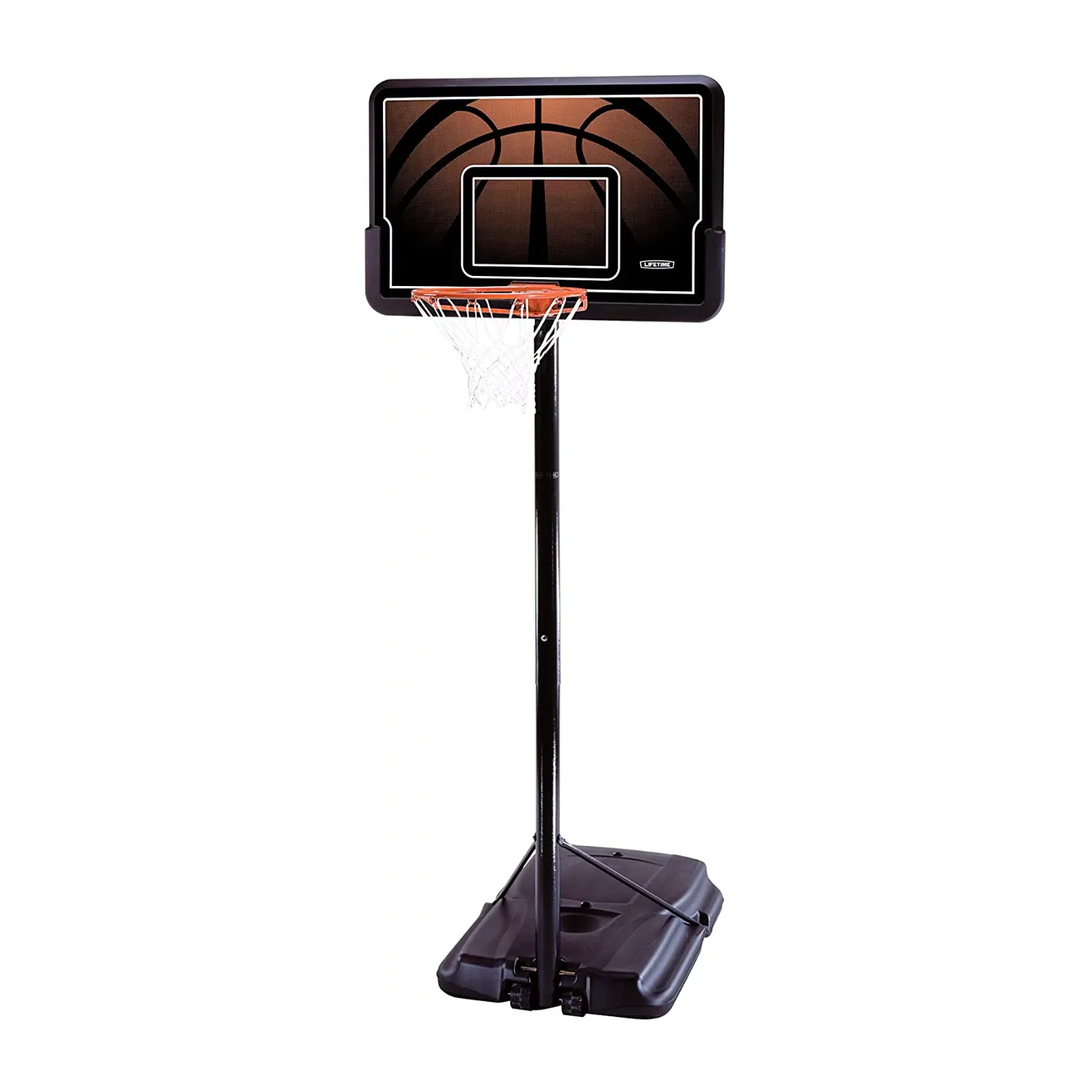 For Beginners
With a durable construction and adjustable all the way to the regulation 10-feet height, the Lifetime 90040 is the perfect companion for a child starting their basketball journey.
Backboard Material
Polyethylene
Rim Height Range
7.5' to 10'
Budget price
Durable backboard
Base unstable at times
Backboard has a fairly flat bounce
When budget constraints are a concern, the Lifetime 90040 Portable Basketball System shines as a cost-effective solution. While it doesn't boast the premium features of higher-end models, it delivers a solid, user-friendly playing experience.
The Lifetime 90040 is equipped with a 44-inch impact backboard, smaller than the 50"+ inch backboards seen on midrange systems and above. Made of high-density polyethylene, the backboard lacks the clear rebounding experience of acrylic or tempered glass counterparts. Despite this, it offers impressive durability and can withstand the elements without breaking down.
Its 27-gallon base, though smaller than those of higher-end systems, provides a stable foundation for recreational play. However, during more intense games, the system may wobble and hanging on the rim is simply out of the question. As always, it's recommended to always fill the base to capacity for the most stability.
A major highlight of the Lifetime 90040 is its adjustable height mechanism, which allows for adjustments from 7.5 to 10 feet in 6-inch increments. This versatility makes the hoop suitable for players of all ages, although the adjustment process is less fluid compared to the smooth adjustability offered by more expensive models.
Due to the relatively simple structure of the system, assembling the 90040 isn't complicated. Although it does not promise a record-breaking 30-minute setup like the Spalding Momentous, it is straightforward enough to assemble without professional help.
Moreover, the Lifetime 90040 is backed by a five-year manufacturer warranty, testament to its durability and Lifetime's confidence in the product. Overall, this portable hoop is great starting point for casual play, just don't expect it to play like the hoops at schools or playgrounds.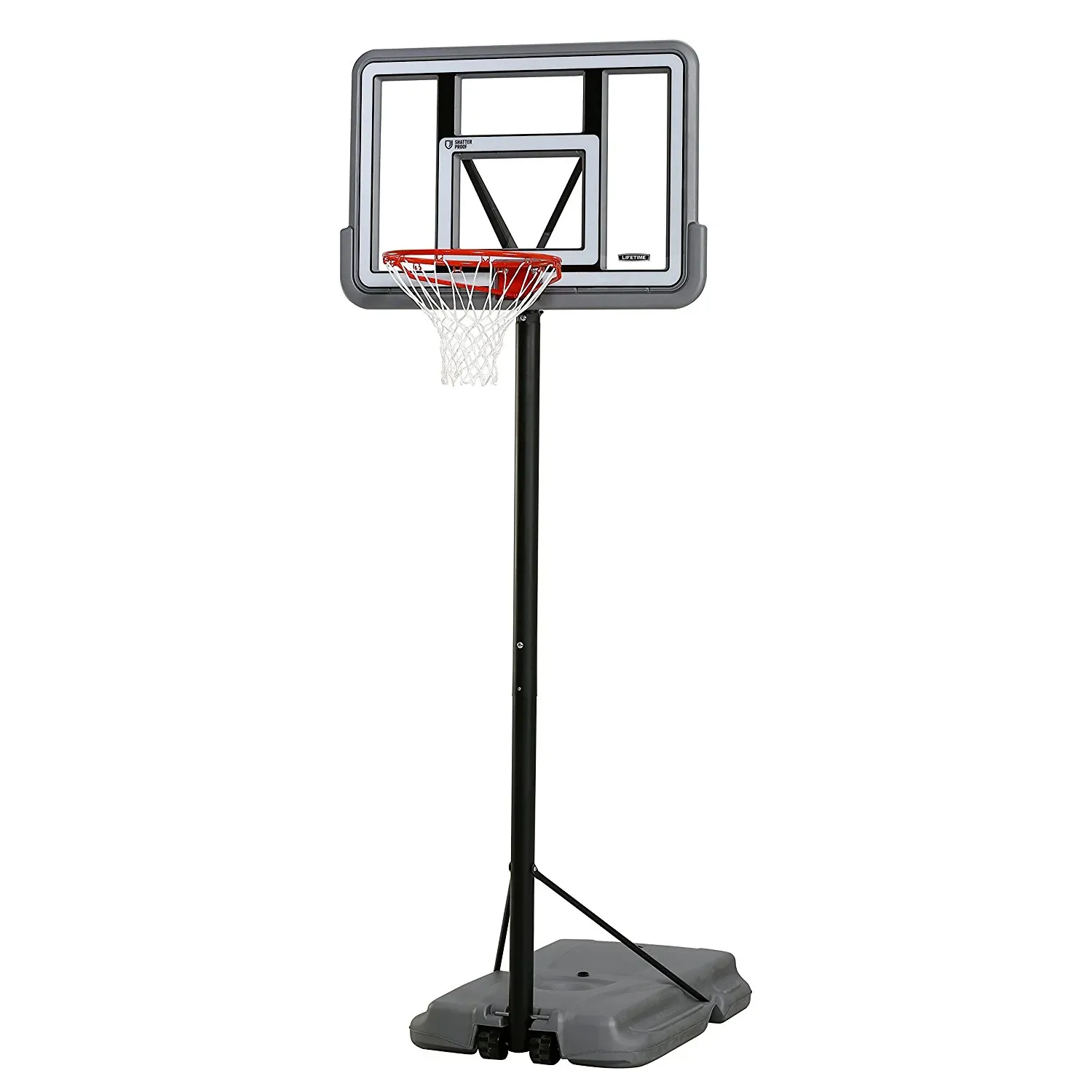 For Beginners
With a slightly more hard-wearing and clear backboard, the Lifetime 1269 is a very slightly improved version of the Lifetime 90040
Backboard Material
Polycarbonate
Rim Height Range
7.5' to 10'
Shatterproof backboard
Budget Price
Base unstable at times
Backboard has a fairly flat bounce
Our experience with the Lifetime Pro Court Height Adjustable Portable Basketball System has been nothing short of enjoyable. This portable hoop is actually almost identical to the Lifetime 90040 mentioned above, but switches out the basic 44″ Impact backboard with the slightly improved 44″ Shatterproof Fusion backboard.
The 44-inch Shatterproof Fusion Backboard withstands outdoor elements with ease, and the UV-protected ink graphics ensure it remains visually appealing. It is designed to be less prone to shattering, which is a real possibility with backboards during intense play.
While playing, we appreciated the heavy-duty Pro Court base, providing necessary support during games. Keep in mind, though, that you might need to add sandbags or other weights to keep the hoop upright in strong winds or aggressive play if you're filling it with water.
The Lifetime Pro Court basketball hoop has a solid-steel rim with half-inch braces, featuring an all-weather nylon net, so you can play rain or shine. Installing the rim to the backboard can pose a small challenge, as there isn't a lot of room to work with. Using a power drill made this step easier to manage, so keep that in mind during assembly.
Overall, the Lifetime 1269 Pro Court is a solid budget hoop and slight improvement over the 90040. However, because it plays so similarly, it may or may not be worth the difference in respective prices at the time of purchase.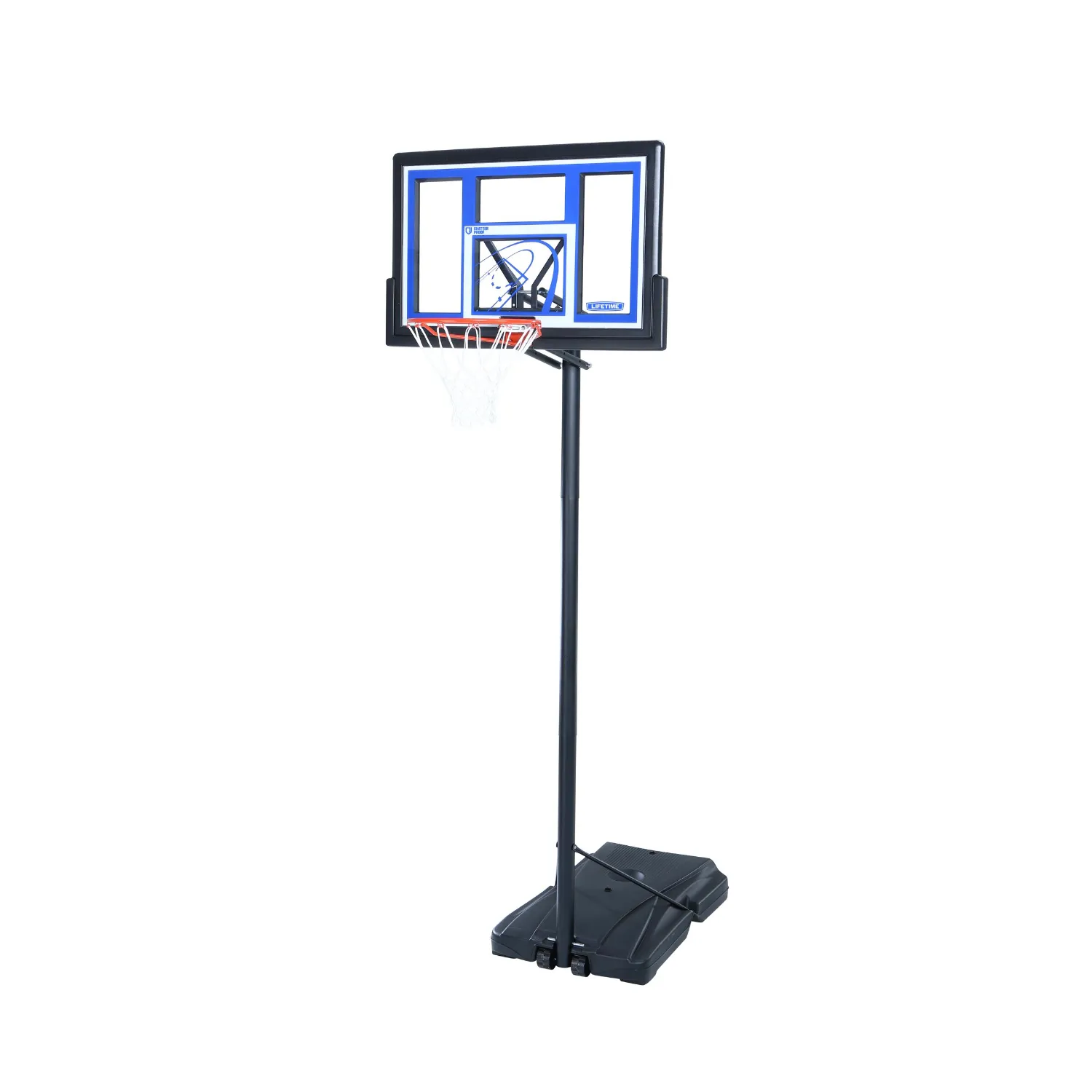 Best around $300
The 51550 is a good choice for beginner and intermediate players, with slightly more room to grow thanks to a bigger backboard and a sturdier base than the cheapest portable hoops
Backboard Material
Polycarbonate
Rim Height Range
8' to 10'
Bigger 48" backboard and 31 gallon base than budget models
Some overhang for moves under the net
Quickly readjust rim height
Backboard has a flat bounce
Finicky assembly
With budget hoops typically costing around $200 and the cheapest midrange hoops starting around $500, there's a dearth of options when it comes to budgets that fall in between. The Lifetime 51550 is one of the few that bridge that gap, and while it performs closer to a budget hoop, the bigger 48″ backboard and Speed Shift adjustment mechanism justifies its increased cost.
One of the standout features of this hoop system is the Speed Shift height adjustment mechanism. We found it effortless to adjust the hoop's height from 8 to 10 feet in 6-inch increments. This is an excellent feature for families with children of different ages and skill levels who may want different hoop heights, since changing heights is achieved so quickly.
However, we did find the assembly process to be time-consuming and, at times, confusing. It took a considerable amount of time and required the help of additional hands. Many of the parts weren't labeled, making the process even more difficult.
Another small downside is the sand filling for the base. The hole for adding sand is quite small, making it challenging to pour it in.
Once you get past the annoyances in assembly and base filling, it's a decent hoop that performs slightly better than the typical budget hoop, but you'll need to stretch your budget further to get something that performs significantly better than a budget hoop.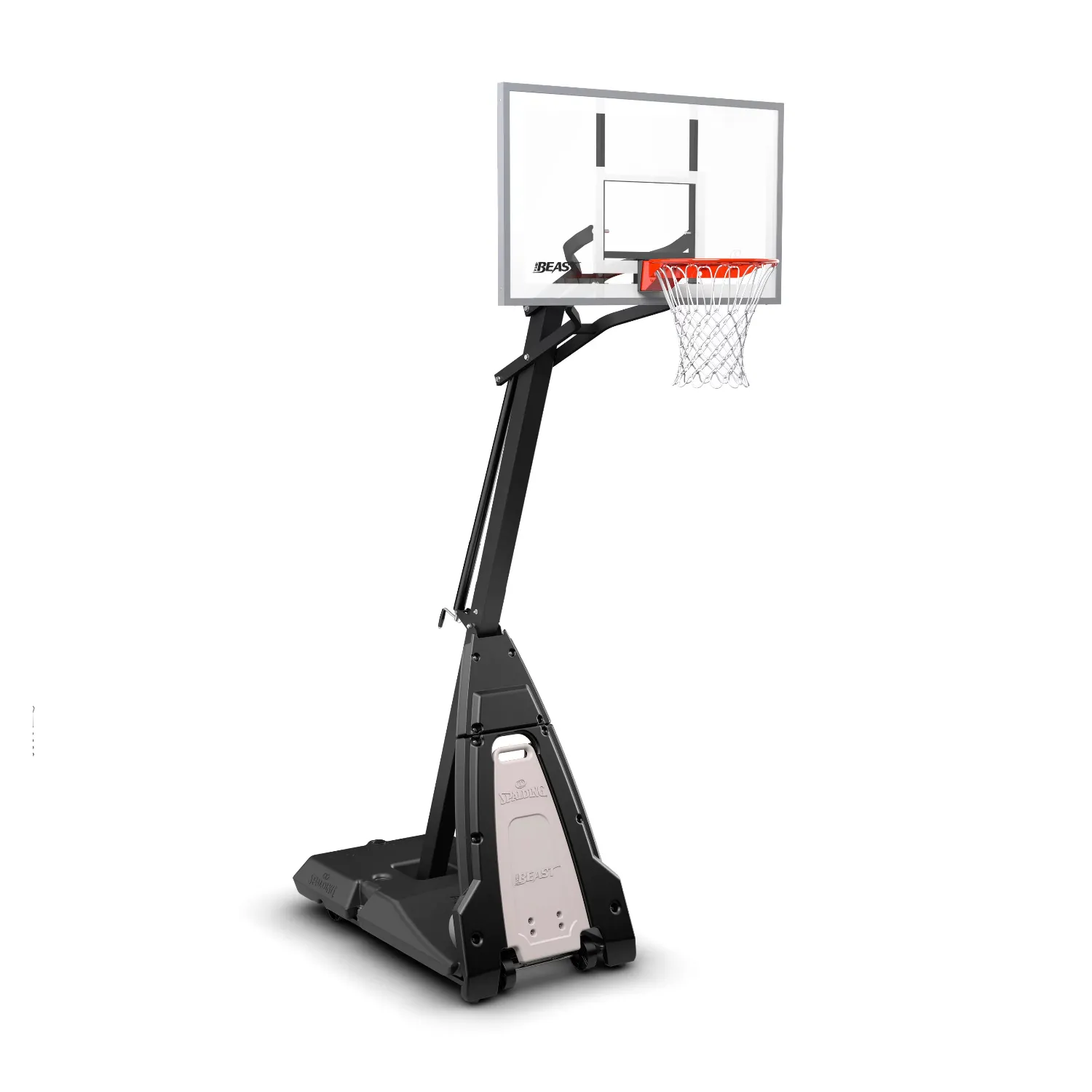 With Tempered Glass
For high level players looking to perfect their game, the Spalding Beast will provide a regulation rebound and comfortably handle even the most aggressive of dunks
Backboard Material
Tempered Glass
Rim Height Range
7.5' to 10'
Regulation level rebound
4 wheel base for easy moving
High quality "Pro Image" spring-loaded breakaway rim
The Spalding Beast Portable Basketball Hoop sets the standard for outdoor, driveway hoops. It sits at the very top end of consumer-grade portable basketball hoops. It's an expensive purchase, but take a look and you'll see why.
This hoop features a massive 60″ tempered glass backboard, mimicking the feel and response of indoor hoops found in professional basketball leagues around the world. The backboard not only enhances performance but adds to the durability factor, maintaining the system's quality even under harsh weather conditions.
To make sure the whole system stands firm, it's grounded by a massive 55-gallon multi-wheel base, which not only keeps things stable but also makes this heavy-duty hoop surprisingly portable. Fill it with water or sand, and you've got a rock-solid, stable system that readily absorbs the impact of your dunks and free throws. Its two-piece, 5-Inch square angled pole system adds to its sturdiness.
The Spalding Beast employs a Spalding's acclaimed Pro Image Breakaway Rim that is commonly seen in NCAA play and is worth $125 alone. It boasts excellent spring-back action and is designed to withstand powerful slams.
Adjusting the hoop's height is a breeze thanks to Spalding's Screw Jack lift system. You can easily alter the height from 7.5 feet to the professional standard 10 feet, accommodating players of all skill levels and ages.
In terms of build and finish, Spalding has left no stone unturned. The steel frame is wrapped in aluminum trim, providing an excellent balance between sturdiness and weight. Plus, the weather-resistant finish ensures that the system remains rust-free, retaining its professional look over time.
The Spalding Beast comes at a higher price point compared to many other portable basketball hoops on the market, but the value it provides for serious players is hard to ignore.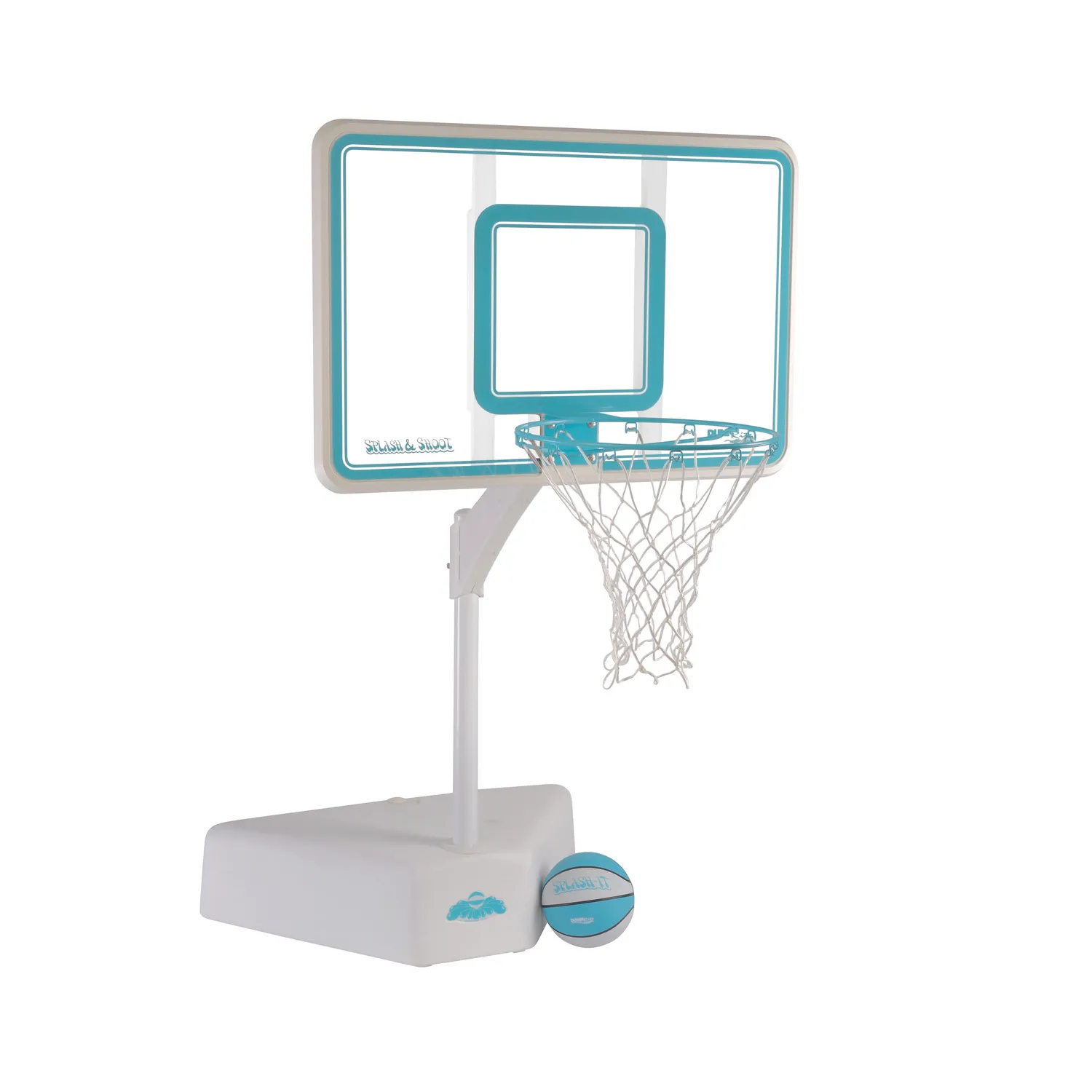 Best Portable Pool Basketball Hoop
With its high quality construction and various design considerations, there are few other pool hoops that perform as well as Dunn-Rite's Splash & Shoot.
Backboard Material
Silkscreened Polypropylene
Rim Height Range
1.9' to 4.4'
Sturdy non-slip base with brass anchor kit
Made in USA with quality materials
For basketball enthusiasts looking to combine their love of the game with poolside fun, the Dunn-Rite Splash & Shoot offers an excellent solution. Though it may not offer the competitive realism of a traditional hoop, it's a fantastic addition to any pool party or casual game.
The Splash & Shoot hoop features a durable 29-inch by 43-inch polypropylene silkscreened clear backboard. While slightly smaller than conventional outdoor hoops, its size is well-suited to a pool environment. The backboard is not quite on par with professional-grade acrylic or glass boards, but it delivers consistent rebounds and can withstand the harsh elements of an outdoor pool setting.
Allowing for height adjustments from 23 inches to 53 inches above the deck, the height range is significantly less than a standard hoop, but accounting for the depth of the pool, it can still end up being a fair bit higher than your release point. A 14-inch overhang also means the ball will comfortably land back in the pool after going through the net.
The base of the hoop, with a 25-gallon capacity and designed to be filled with water or sand, ensures stability in the pool environment. The hoop features a regulation 18" rim, but the included ball is a smaller 9" pool basketball that is better suited for pool play.
The assembly process is relatively straightforward. However, it can be a bit tricky compared to dry-land hoops due to the need for water-tight sealing. It's worth noting that the rust-resistant coating is a plus, helping the hoop withstand continuous exposure to pool water.
Overall the Dunn-Rite Splash & Shoot pool hoop is about as good as they come when it comes to pool hoops. It is one of the more expensive pool hoops out there, but it is a quality USA-made piece of equipment that will make any pool a whole lot more exciting.
Things To Look Out For
All of the portable hoops you'll find in our roundup, including the cheaper ones, are perfectly suitable for recreational play. However, increasing your budget will make for a more enjoyable playing experience.
Here are the factors that determine the usability, quality and price of a portable basketball goal.
1. Base Stability
The last thing you want is a portable hoop that gets blown over in the wind! Or a hoop that comes falling down when you throw down a slam dunk…
Every portable basketball hoop has a base size, measured in gallons. These bases are filled with water or sand to weigh down the entire hoop and keep it grounded.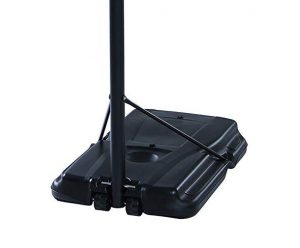 Generally speaking, any base size that is around 35 gallons or more is perfectly fine for most purposes (unless you're Shaquille O'Neal, of course!)
Expensive hoops will have even bigger bases, partly to provide additional support and partly because the entire hoop weighs more.
Just keep in mind, bigger is not always better, especially if you're going to move it around often.
2. Support Pole Specifications
The support pole is what connects the base to the backboard.
A strong support pole provides better overall stability. You'll find most support poles either come in three-piece or two-piece configurations.

The top-end portable hoops are more likely to come in two-piece configurations. Two-piece configurations are slightly less portable but have less bits and moving parts and are therefore more stable.
Another important consideration is the height-adjustment range. Most portable hoop heights can be incrementally adjusted – perfect for the kids or when you want to practice dunking on a lower rim.
3. Overhang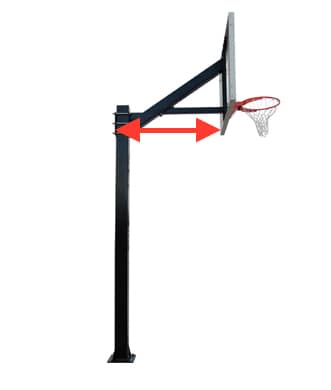 Overhang refers to the distance between the front of the post and the front of the backboard. This is important because you don't want to be crashing into the support pole when you're playing deep.
The cheapest hoop systems have the backboard directly attached to the support pole, meaning there is effectively no clearance. More expensive systems will have greater clearance, giving you the freedom to move around under the goal.
4. Backboard Size And Shape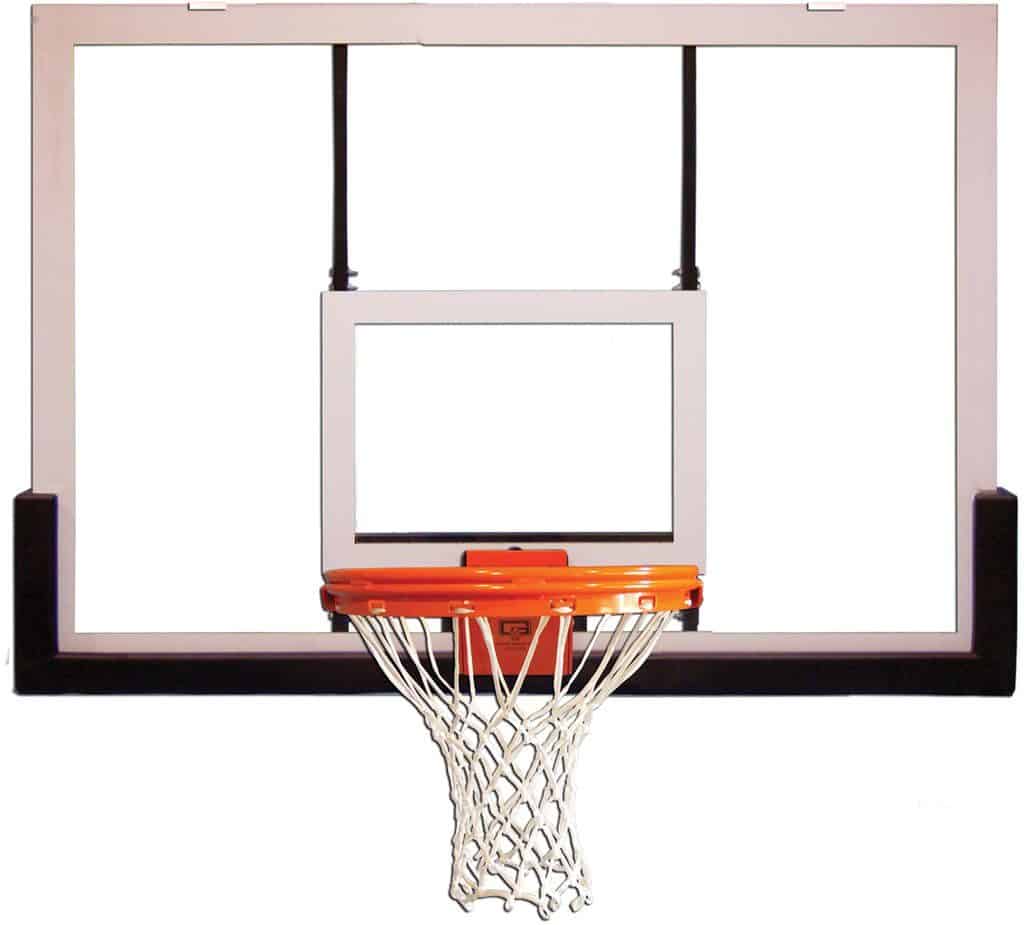 In NBA games, backboards measure a massive 72-inches wide. You can't really get portable basketball hoops with backboards that big, but generally speaking: more expensive hoop = bigger backboard.
Bigger backboards make it possible to land more bank shots and get more rebounds. You generally want the backboard size to be at least 52-inches wide to prevent things feeling a little awkward around the board.
Also take note of the shape of the hoop's backboard. A straight edge, rectangular backboard is preferable to an oval or fan-shaped one.
5. Backboard Material
Backboards are typically constructed from polycarbonate (plastic), acrylic, or tempered glass.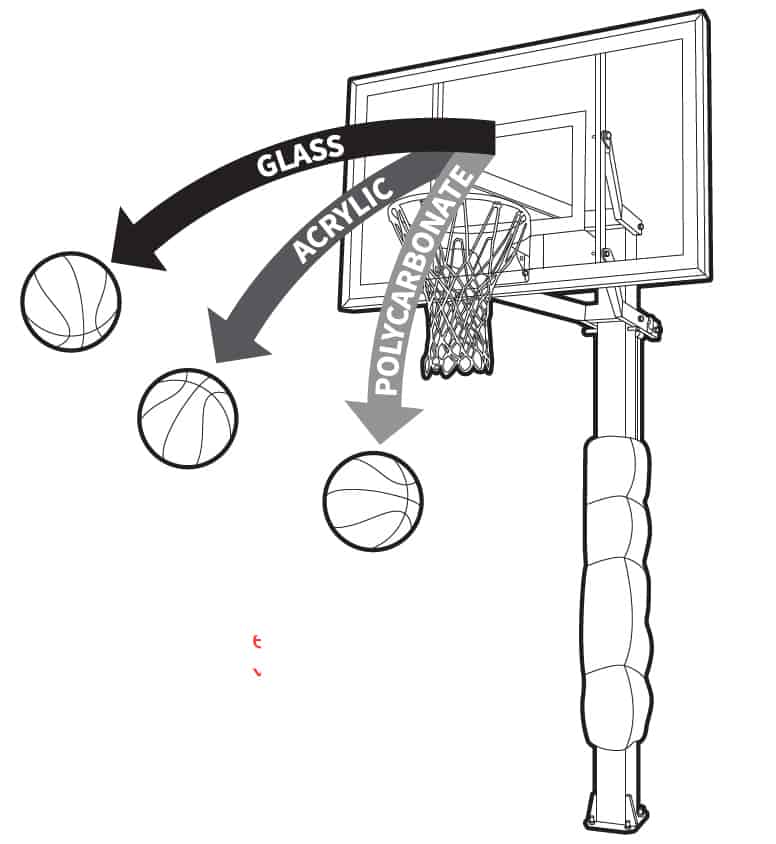 Cheaper hoops come with polycarbonate backboards which are fine for all intents and purposes. However, they lack the rebound qualities of higher-quality material backboards. In other words, the rebound might feel flat and unnatural.
Furthermore, a polycarbonate backboard can become brittle in around 3-5 years under significant UV exposure. Its lifespan is significantly shorter than acrylic and tempered glass backboards which can easily last 10-20 years.
Note that not all polycarbonate backboards are made the same, so some will perform quite differently from others.
Acrylic backboards provide a better rebound than polycarbonate backboards. Balls will bounce off these backboards very nicely, and they are relatively lightweight.
Glass backboards provide a bounce that matches what you would expect from a professional hoop. You'll see them in college and professional basketball games. They produce the least amount of vibration. The main downsides are their higher price tag and heavier weight.
The backboard material provides a good indication of how well the ball will rebound. However, keep in mind the quality can vary within each material. You will find some more expensive polycarbonate backboards can rival or even beat a cheaper acrylic backboard, for example.
6. The Rim
While the rim itself will always be sized according to the 18-inch diameter specification, there is variation among the way the rim is attached to the backboard.
Standard rims are screwed directly onto the backboard. Standard rims have the advantage of being cheap, strong and reliable.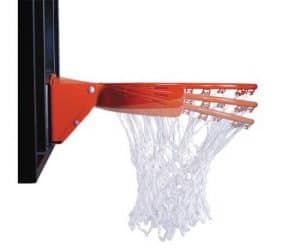 Higher-end hoops feature compression breakaway rims which feature springs inside the bracket. That means there'll be some nice cushioning each time you hang on the rim after a dunk.
Compression breakaway rims should only be seen as an essential factor for those that dunk, as otherwise it doesn't make any difference.
More Buying Advice
Where To Place Your Portable Basketball Hoop
Since we're dealing with portable basketball hoops, placement is quite flexible. The backyard or driveway are the most common places. Just ensure the surface is flat and the surrounding play area is big enough and away from any potential danger.
Hoop Maintenance
Portable basketball hoops are designed to last for years and even withstand harsh weather conditions. However, the plastic base is usually most vulnerable to damage. They are susceptible to cracking, in which case they need to be repaired or replaced.
Filling Out The Support Base
The support base is typically filled with either water or sand. Some hoops, like the Spalding Ultimate Hybrid recommended in this buyer's guide, can be filled with both.
Water is quick and convenient, but it weighs less (given the same volume) and can evaporate over time. Another drawback is water can freeze during the winter, cracking and permanently damaging the support base. Make sure to empty the water or add antifreeze when the weather is cold.
Sand is typically the recommended option. Sand weighs around 13 pounds per gallon (compared to water's 8 pounds per gallon) providing extra stability. There's also no chance it will freeze, so that's one less thing to worry about. However, filling and emptying the support base will be more of a hassle.
Another option is BaseGel. BaseGel mixes with water to produce a heavy gel that is an excellent filling for support bases. Unlike water, it doesn't suffer from freeze-thaw cycles that damage the support base.
How do portable basketball hoops perform in windy conditions?
Portable basketball hoops are generally less stable in windy conditions compared to their in-ground counterparts. However, they can still perform well if the base is filled and secured correctly.
If you live in an area with frequent strong winds, you might consider placing your hoop in a more sheltered area or adding additional weight to the base for added stability. Remember, it's better to be cautious and assess your hoop's safety in changing weather conditions.
Finally, loading additional weight onto the base will provide additional stability. Products like the Silverback Universal Weight are designed for this very reason—to be placed onto virtually any portable hoop and keep the base planted down even more firmly.