As a relatively new basketball that Wilson has released since becoming the official NBA ball supplier back in 2021, I was excited to get my hands on the affordable Wilson NBA DRV Basketball Pro and put it through its paces. The Wilson NBA DRV Pro is a basketball designed primarily for outdoor play, catering to players of all levels. In this review, I will provide an in-depth analysis of the ball's features, grip, bounce, durability, and design, comparing it to other popular basketballs in the same price range.
Key Features
The Wilson NBA DRV Pro Basketball is an official size and weight (29.5 inches) outdoor basketball, making it suitable for both competitive and recreational play. Wilson also offers the ball in sizes 5 (youth) and 6 (women's).
As is the case for most outdoor balls, the DRV Pro is made from rubber, which sacrifices softness for durability. However, unlike your typical rubber ball including the standard DRV, the Pro version features an improved "tackskin" cover which is ever so slightly softer to the feel and easier to grip. The difference will probably go unnoticed by most, but it doesn't cost much more than the standard version, so all in all it's a decision only you can make.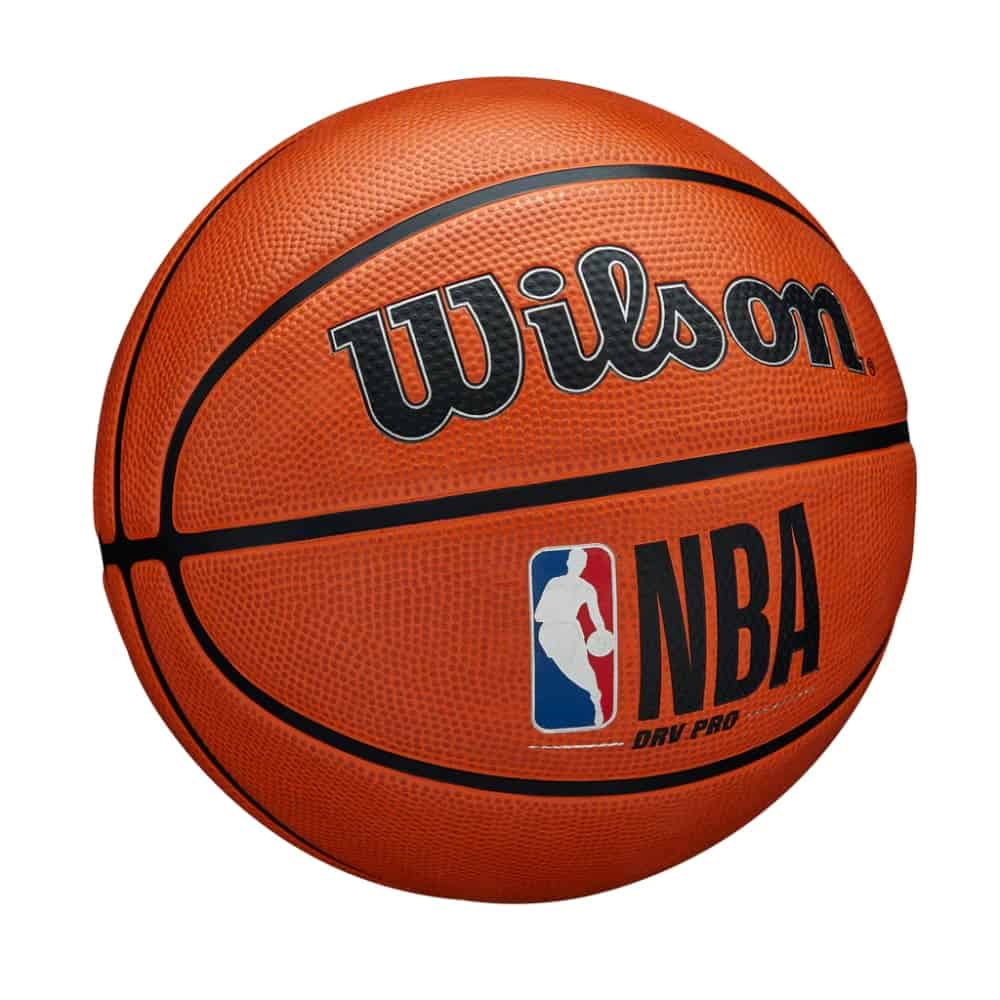 Wilson NBA DRV Pro
A durable and affordable rubber basketball that offers a slightly superior grip compared to other rubber balls.
Save 15% on your Wilson.com order with code:
HoopsBeast-15
Grip
When it comes to grip, the Wilson NBA DRV Pro Basketball is slightly better than other similarly priced rubber balls. So long as you're not expecting the grip you'd get from an indoor composite leather ball like the Wilson Evolution, you won't be disappointed.
Unlike the Evolution and some other basketballs which feature pebbled channels (for improved grip when your fingertips are in contact with the channels), the NBA DRV Pro has smooth channels. Wilson themselves call the channels "NBA Pro Seams", but it doesn't seem to be much more than marketing vocabulary.
Compared to other popular rubber outdoor basketballs like the Spalding Street or AND1 Chaos, the Wilson NBA DRV Pro offers a slightly better grip thanks to its tackskin layer, which is beneficial for ball-handlers. However, it doesn't come close to composite leather territory, so it's not exactly a game changer.
Bounce
A consistent bounce is critical for any basketball, and the Wilson NBA DRV Pro Basketball performs well in this aspect. The ball's inflation retention lining ensures optimal air retention, resulting in a steady bounce throughout the game. In my testing, I found the bounce to be reliable and predictable, unlike some cheap balls which suffer from awkward bounces.
Durability
I haven't played with the DRV Pro extensively, but I didn't notice any significant signs of wear during my time. While it's too soon to definitively comment on its long-term durability, my initial impression is that this basketball will last just as long as other typical rubber outdoor basketballs like the Spalding Street, while benefitting from an improved cover that feels slightly softer to the touch.
Design
Perhaps the standout feature of the NBA DRV Pro basketball is its NBA branding, with the iconic NBA logo prominently displayed, giving it an official and professional look. Younger players especially will probably welcome the association with the NBA.
I went ahead and purchased the most boring brown colorway, but Wilson offer several other options to suit various tastes.
Conclusion
Overall, there's not much to particularly like or dislike about the NBA DRV Pro. This is just another solid cheap rubber basketball, but it's not much more than that. If you particularly like the NBA branding, then that's a good reason to pick it over rubber balls from other ball manufacturers.
But if you want something that actually feels nice in the hands, you really need to pay a little more for a composite leather indoor/outdoor ball and just accept the fact it will wear out a bit faster on rougher surfaces. Check out my outdoor basketball buying guide if you want to learn more about the different types of outdoor balls.