There's a basketball academy in Würzburg, Germany, where an elderly coach named Holger Geschwindner teaches basketball by using methods that seemingly connect with everything, except basketball.
The so called "Institute of Applied Nonsense" is a subtle nod to all the critics who didn't believe in his unorthodox methods. These methods would be put to the ultimate test when a 51-year-old Holger noticed a tall and skinny 16-year-old named Dirk Nowitzki after a youth game in 1994. He offered to train Dirk, and Dirk accepted.
Holger Geschwindner: Basketball Is An Art
Holger had his own vision of basketball, he hated patterns and saw the sport as an art form, a dance where the best players were artistic and aggressive. Only one thing had to have a perfect pattern – Dirk's jump shot.
Every component of the unique high-arching jump shot Dirk became known for throughout his career was by design. Holger, who studied mathematics and physics in college, calculated the optimal arch and release point for that shot based on Dirk's physical measurements. Now all that was left was to perfect the art, and what better way to teach art, than through art?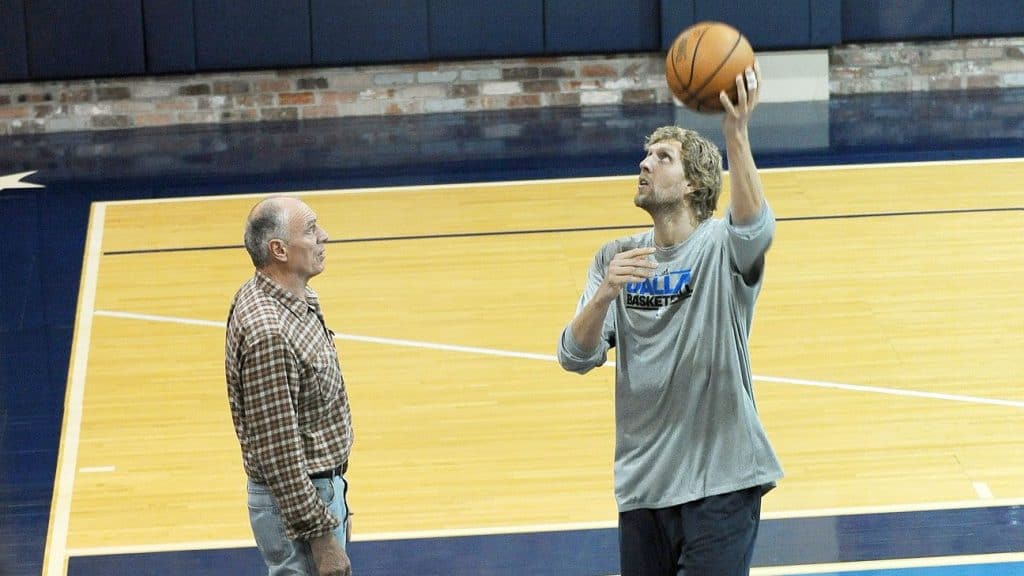 Holger's Unique Coaching Methods
One day in practice Holger brought a friend of his who was a saxophone player. Dirk was working on his dribbling and music suddenly filled the gym. Without missing a beat, Holger instructed Dirk to keep dribbling in the rhythm of the music his friend was playing. Things like this became a regular occurrence, and a big part of Holger's coaching philosophy was to teach students to improvise and be an artist, not a pattern player.
Holger's approach was to work on every aspect of Dirk's game both on and off the court, and this latter part was perhaps the best showcase of his unorthodox coaching genius.
Dirk would shoot from one leg, from a squat, from a lunge, and after a pirouette in practice. That would be followed up with push-ups on his fingers, which Holger believed was the best way to improve a shooter's release.
Out of practice, he would learn to play the piano and the guitar to learn finger rhythm and read physics books to better understand his shooting mechanics and overall movement. He would go through a series of footwork drills with Holger in the gym and then go to waltz and fencing lessons to learn footwork rhythm. After dribbling and shooting to the rhythm of the saxophone, Dirk would learn how to play it, to improve his ability to improvise. Holger also made him recite poetry and watch operas to both make him a more complete individual, and learn more about different forms of art.
Dirk Nowitzki Stuns The NBA
As it turned out, all this that looked like utter madness to onlookers had tremendous consequences for Dirk's basketball. Thanks to all of the strange shooting drills and his experience playing the piano and the guitar, Dirk was able to shoot and hit from almost any position and situation. All the dancing and fencing lessons gave him incredible footwork on the court, and all the other improvisation and rhythm activities allowed him to get out of difficult situations and simply invent baskets when needed. Dirk even stuck to Holger's training regime while he was performing his compulsory military service after he turned 18. NBA teams soon came to see Dirk, and he went to the US in 1998.
Holger not only helped him get through his rough rookie season where he struggled to adapt and considered returning to Germany, but he stayed by Dirk's side throughout his career as a mentor and a friend. He helped Dirk recover mentally after devastating playoff loses in 2006 and 2007, and he was there to cry tears of joy as he was in the arena watching Dirk become the first European to score 30,000 points in the NBA. Dirk retired as a living legend after 21 seasons.
By Dirk's own admission, and even if Holger doesn't want to admit it, he shaped and created Dirk as a player. Multiple players and coaches adopted to some degree the methods made famous by Holger, but no one has yet been able to replicate the success he had with Dirk. Regardless of what people may say about him or his work, Holger's results have told a story for the ages.