When looking at the physical attributes of some of the biggest names in NBA history, it can truly be a sight to behold. Whether you're in awe at the mere size of 7'6" Tacko Fall or marveling at the 48-inch vertical of the great Michael Jordan, there's no questioning the natural physical advantages of some of basketball's biggest stars. A much less discussed, but still important physical trait to be considered, is the hand size of NBA players.
All-time NBA greats have been photographed palming the basketball (where they hold the ball in one hand) for decades. Kawhi Leonard and Michael Jordan are just two of the elite-level players known for their large hand span. But how do they stack up against the true Goliaths in the history of the sport, such as Wilt Chamberlain and Shaquille O'Neal? We'll explore how these past and current legends of the sport match up in this list of the Top 10 players with the biggest hands in NBA history.
How Hand Size Is Measured
While other measurements like hand circumference and hand width exist, the two measures used to assess hand size in the NBA are hand length and hand span. Hand length is measured by stretching out your hand and measuring from the base of the palm straight upwards to the tip of the middle finger. Handspan is measured by stretching out your hand and measuring horizontally from the tip of the pinky to the tip of the thumb.
These measurements have been recorded by the NBA every year since the 2010 draft. This list includes the known hand size of more recent NBA players, as well as the estimated hand size of NBA players that played before these measurements were routinely taken. These estimates may be quoted hand sizes or based on comparisons to hand sizes that are known to be accurate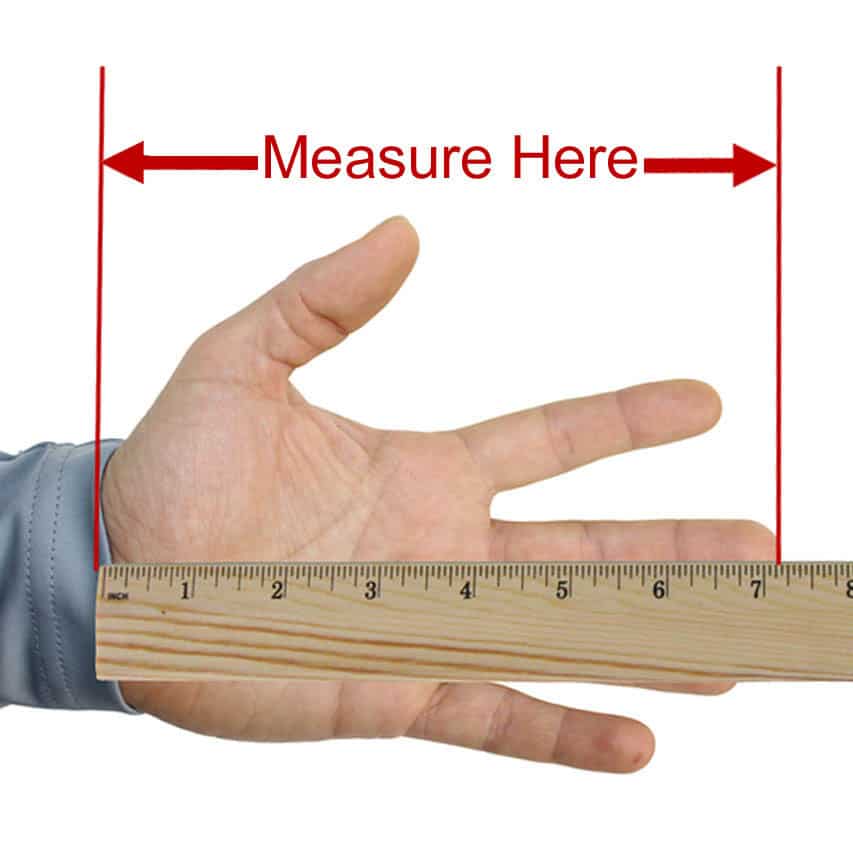 .
The hand length of the average male measures around 7.4 inches. When comparing this to the average hand length of NBA players since the 2010 draft combine, we see point guards have around an inch larger hand than the average male at 8.4 inches. Centers have another inch on top of that, coming in at an average hand length of 9.2 inches since the 2010 draft combine.
Advantages of having big hands in basketball
The advantages of having big hands can't be overstated. Michael Jordan could send opponents the wrong way hesitating on a cross-over, or drive the baseline and hang in the air for a highlight-reel dunk. Kareem Abdul Jabbar, the all-time leading scorer in the NBA would handle the ball perfectly with his signature skyhook. These are examples of the offensive advantages that enormous hands can bring, allowing better handling and manipulation of the basketball and providing that competitive edge.
Defensively, large hands assist when swiping at the ball, reaching for an interception, or controlling the ball during a heavily contested rebound. It comes as no surprise that Kawhi Leonard appears on our list and is one of the best defensive players of all time.
The late Kobe Bryant, in an infamous interview with ESPN's Dave McMenamin, recognized the benefits of hand size within basketball. Bryant pointed how his hand size didn't compare to the likes of Jordan and Julius Erving and how he took steps to overcome this potential barrier early on in his career.
Disadvantages of having big hands in basketball
It has been claimed that a major disadvantage of having large hands in shooting free throws, a claim often made to excuse the poor free throw percentages of the likes of Shaquille O'Neal and Wilt Chamberlain. There is actually very little evidence to support this, as no relationship has been found between free throw shooting accuracy and the size of hands.
Besides this talking point, you also have the notion that the best ball "handlers" are smaller guards. Think Chris Paul, Kyrie Irving, Stephen Curry, and Allen Iverson. But just because it has the word "hand" in it, it doesn't mean these legendary ball handlers have the best hands for basketball. Instead, ball control and ball-handling are more about dribbling and passing than their grip on the ball.
So overall, it doesn't seem like there are any significant disadvantages to having huge mitts on the court.
Top 10 biggest hands seen on an NBA court
10. Wilt Chamberlain
Height: 7'1"
Hand Length: 9.5 inches
Hand Span: 11.5 inches
Wilt Chamberlain was one of the most formidable centers the league has ever seen. Nicknamed 'The Big Dipper', Chamberlain boasted numerous accolades including being a two-time NBA champion to being a four-time NBA MVP. Chamberlain's records have held up against the test of time, remaining the only player in NBA history to record a 100-point game. Throughout his 15-year career, Chamberlain recorded over 30,000 career points; cementing his legacy as one of the greatest offensive basketball players of all time.
9. Kawhi Leonard
Height: 6'7"
Hand Length: 9.75 inches
Hand Span: 11.25 inches
Kawhi Leonard was drafted in 2011 and made an instant impact as a rookie at the San Antonio Spurs. In the years that followed his rookie season, he achieved two NBA championships and is a two-time NBA defensive player of the year. No doubt his large hand size has been instrumental to his success within the league, especially when you consider his nickname – 'The Klaw'.
8. Michael Jordan
Height: 6'6"
Hand Length: 9.75 inches
Hand Span: 11.375 inches
If any name rings a bell on this list, it's likely this one. Michael Jordan is widely regarded as the greatest player of all time to play in the NBA. The impact he made on the game of basketball is clear, with six NBA championships where he took home the Finals MVP in every final he played in. From beautiful ball fakes, one-handed highlight-reel dunks, to hanging in the air for an inhuman amount of time for layups, the size of Jordan's hands was a key asset in his overall game.
A 5-time NBA MVP, he went on to have an acting career and build a brand around himself, which have led to him becoming the richest athlete of all time. If you're interested in learning more, a critically acclaimed Netflix documentary "The Last Dance" aired in 2019 is definitely worth the watch.
7. Julius Erving
Height: 6'7"
Hand Length: 9.5 inches
Hand Span: 11.75 inches
Julius Erving was a small forward who spent most of his career playing for the Philadelphia 76ers from 1976-1987. Known as one of the best and most influential of his era, Julius Erving represented the American Basketball Association (ABA) as it merged with the NBA after the 1975-76 season. An innovator when it came to slam dunks, Erving is well known for slam dunking from the free-throw line and incorporating dunks into his game like no one else before him. Aside from his many accolades playing in the ABA, Erving went on to be a four-time NBA MVP during his time at the 76ers.
6. Noah Vonleh
Height: 6'10"
Hand Length: 9.75 inches
Hand Span: 11.75 inches
Noah Vonleh is a 26-year-old power forward / center currently playing in China for the Shanghai Sharks. After initially being drafted by the Charlotte Hornets in 2014, Vonleh spent seven years in the NBA with spells at seven different teams. While his accolades don't match up with the other names on this star-studded list, the size of his hand certainly does – boasting a hand length of 9.75 inches and span of 11.75 inches. Vonleh's key attribute is his ability to secure rebounds, a task no doubt made easier by the size of his hands.
5. Connie Hawkins
Height: 6'8"
Hand Length: 10.5 inches
Hand Span: 11 inches
Connie Hawkins had a 15-year career from 1961-1976, spending the best years of his career in the ABA before its merger with the NBA. Connie Hawkins came into the NBA as one of the first players to have the kind of showmanship and style that the likes of Erving and Jordan eventually became known for. Inducted into the hall of fame in 1992, 'The Hawks' storied career, (and massive hands!) will always be remembered.
4. Greg Smith
Height: 6'10"
Hand Length: 9.8 inches
Hand Span: 12 inches
Greg Smith is a current 30-year-old basketball player who has had spells in Mexico, America, Japan, Taiwan, Turkey, and the Philippines. Most of his playing time in the NBA came in the 2013 season with the Houston Rockets. As his success on the biggest stage is limited, Greg Smith will likely be remembered for his huge hands more than anything else.
3. Giannis Antetokounmpo
Height: 6'11"
Hand Length: 9.85 inches
Hand Span: 12 inches
"The Greek Freak" Giannis Antetokounmpo is one of the best players in the NBA today, winning the NBA MVP award in 2019 and 2020. Antetokounmpo has ball-handling skills that are rarely seen in players of his size, likely aided by the size of his hands, which were officially measured to be 12 inches wide in the 2013 NBA Draft Combine. He has spent his eight-year NBA career at the Milwaukee Bucks and led them to their first NBA championship in 40 years in the 2021 NBA season.
2. Shaquille O'Neal
Height: 7'1"
Hand Length: 10.25 inches
Hand Span: 12 inches
One-half of one of the most well-known and formidable duos in NBA history, Shaquille O'Neal is likely the first person that comes to mind when considering colossal centers in the NBA. His physicality gave him a massive advantage on the court, and his hands were part of that equation. His hands measure 10.25 inches in length and span 12 inches.
A four-time NBA champion and L.A. Lakers legend, Shaq's incredible 19-year career has led to him being regarded as one of the greatest big men to ever play in the league. Now an actor and basketball analyst, Shaq's name and brand have led to him becoming a worldwide icon.
1. Boban Marjanovic
Height: 7'3"
Hand Length: 10.75 inches
Hand Span: 12 inches
Current Dallas Mavericks center Boban Marjanovic tops our list of the biggest hands in NBA history. Boban's hand length is a monstrous three inches longer than the size of the average male. As you'd probably expect, Boban is also the tallest player on our list.
Following success in the Serbian leagues, Boban was signed to the San Antonio Spurs in 2015. After multiple trades, Boban landed in Dallas in 2019 and is currently enjoying his best run of form since arriving in the NBA.
While Boban's career in the NBA hasn't surpassed mediocrity up to now, he will always be in the record books as having the biggest hands ever seen on an NBA court.
Notable Mentions
Rajon Rondo
Height: 6'1"
Hand Length: 9.5 inches
Hand Span: 10 inches
Rajon Rondo is a deserving mention in any list that looks at the size of an NBA player's hands. You rarely see a point guard with hands this big, and while he doesn't quite make the top 10, his hand size is remarkable when considering how short he is compared to those that made our list. Besides his gigantic hands, he also boasts an incredible 6'9″ (206cm) wingspan that solidifies him as a true freak of nature.
Lebron James
Height: 6'8"
Hand Length: 9 inches
Hand Span: 9.25 inches
While we've seen that hand size has a relationship with success in the NBA, Lebron James is an NBA player that provides evidence to the contrary. Regarded as one of the greatest players of all time, his 9-inch-long hands are still considerably bigger than the average person and can easily palm a basketball, but they're unremarkable when compared to others that make our list.
Kobe Bryant
Height: 6'6"
Hand Length: 9.125 inches
Hand Span: N/A
Phil Jackson, one of the most successful coaches in NBA history, claimed that hand size was the reason Michael Jordan would take on Kobe in a matchup between the two. Despite the monumental heights that Kobe Bryant reached throughout his career, there's no telling what adding just one more attribute to his game would have led him to achieve.
How small are the smallest hands in the NBA?
If you go to the other end of the spectrum, you will find that the smallest hands in the NBA are roughly the same as the hand size of an average person (male).
Since the NBA started taking hand measurements in the Draft Combine, there have been a number of players listed as having 7.5″ hands. Considering the Draft Combine measures to the nearest quarter-inch, some of these players could actually have hands that are closer to 7.375″.
While these NBA players are typically shorter players, there are interesting outliers like Michael Carter-Williams (6'6) and Tyrell Terry (6'3) with a 7.5-inch hand length measurement.
Wrapping things up: the biggest hands in NBA history
When looking at the quality of names that appear on this list, it becomes clear that massive hands can be a major strength in the NBA. The mastery of the game of basketball seen from the likes of Jordan and Erving in the past and the current dominance of Kawhi and Giannis can attest to this. The offensive monsters that were Shaquille O'Neal and Wilt Chamberlain also benefitted from the size of their hands.
Now, this obviously isn't necessary for greatness, as evident by the likes of Lebron James, Kevin Durant, and Kobe Bryant. However, I'm sure these other greats of the sports would agree with Kobe in recognizing that having larger hands is something they'd love to add to their arsenal.