Making sure players use the appropriately sized basketball for their age and gender is incredibly important but often overlooked.
While it might be tempting to fast-track youth players to use a full-sized basketball, a basketball that is too big and heavy can make ball handling difficult and even develop poor habits—like flinging the ball, instead of shooting it, to reach the net.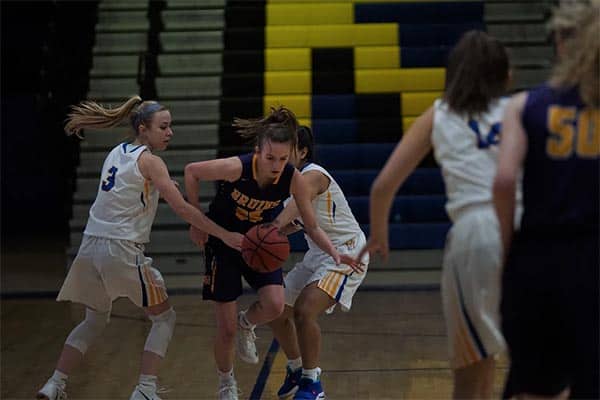 So what basketball size should be used?
Basketballs are readily available in a total of 7 standard sizes, with each differing in diameter and weight.
Basketball Size Chart
Here's a table comparing the most common basketball sizes: 3,4,5,6 and 7. Note that smaller sizes are much harder to come across.
| | |
| --- | --- |
| Size 7 (Official Men's) | For men and boys aged 15+. Used in high school and college play, official size for NBA, Men's FIBA and NCAA games. (Circumference: 29.5″, Weight: 22 oz) |
| Size 6 (Official Women's and Boy's Intermediate) | For women and girls aged 12+. Also boys aged 12-14. Official size for WNBA, Women's FIBA and NCAA games. (Circumference: 28.5″, Weight: 20 oz) |
| Size 5 (Youth) | For boys and girls aged between 9-11 years old. (Circumference: 27.5″, Weight: 17 oz) |
| Size 4 (Junior) | For boys and girls aged between 5-8 years old. (Circumference: 25.5″, Weight: 14 oz) |
| Size 3 (Mini) | "Mini" basketball for use with mini hoops. (Circumference: 22.0″, Weight: 10 oz) |
Of course, these are just guidelines, and you may wish to stray from them in certain situations. For example, if you're buying a basketball for a boy who had an early growth spurt, practicing with a Size 7 ball a little earlier is preferable.
Do All Schools Follow These Size Guidelines?
The short answer is no. For varying reasons (often relating to cost or administrative issues), it is common for schools to conduct basketball training and tournaments with balls that are too big. Boys under 12 years old training with Size 6 balls is especially common.
This is not ideal but in these circumstances you'd want to buy a ball that is the same size for consistency. This ensures everything feels the same when switching between playing at home and school.
Which Basketball Should You Buy?
Fortunately, most popular basketballs are offered in sizes 5, 6 and 7, which means you don't have to worry about the basketball you like the feel of not being in the size you want it.
I have listed my recommended basketballs for indoor and outdoor purposes here:
Options are more limited when it comes to Size 4 (for ages 5-8 years old) basketballs. However, at this stage in a player's development the main focus should simply be getting a correctly sized basketball.