One essential aspect of basketball is shooting, and to excel in it, continuous practice is crucial. This is where basketball return systems come into play. These systems help players streamline their practice sessions by automatically returning the basketball to them after a shot, allowing them to focus on improving their shooting skills.
Basketball return systems come in various designs and functionalities but serve the primary purpose of saving time and energy during shooting practice. They can be easily attached to the basketball hoop, and some of them are adjustable, catering to players of different skill levels and ages.
When choosing the right basketball return system for your needs, some critical factors must be considered, such as compatibility with your hoop, ease of installation, adjustability, and durability. A high-quality return system should withstand weather elements and rigorous shooting sessions. Additionally, the ideal return system should have a smooth functioning mechanism, ensuring that the ball is consistently and accurately returned to the player.
Best Basketball Return Systems
Taking these important aspects into account, we have researched and tested various basketball return systems on the market to bring you our top picks that guarantee efficient practice sessions, ultimately improving your shooting skills and overall performance.
In this list, you'll find our recommendations for four types of return systems:
Rim add-ons – attached under the rim and deal with made shots only.
Return nets – angled netting that the ball will roll off of.
Funnel-type – shots that weren't on their way in will be caught and returned.
Pass back rebounders – to receive a realistic pass when practicing alone.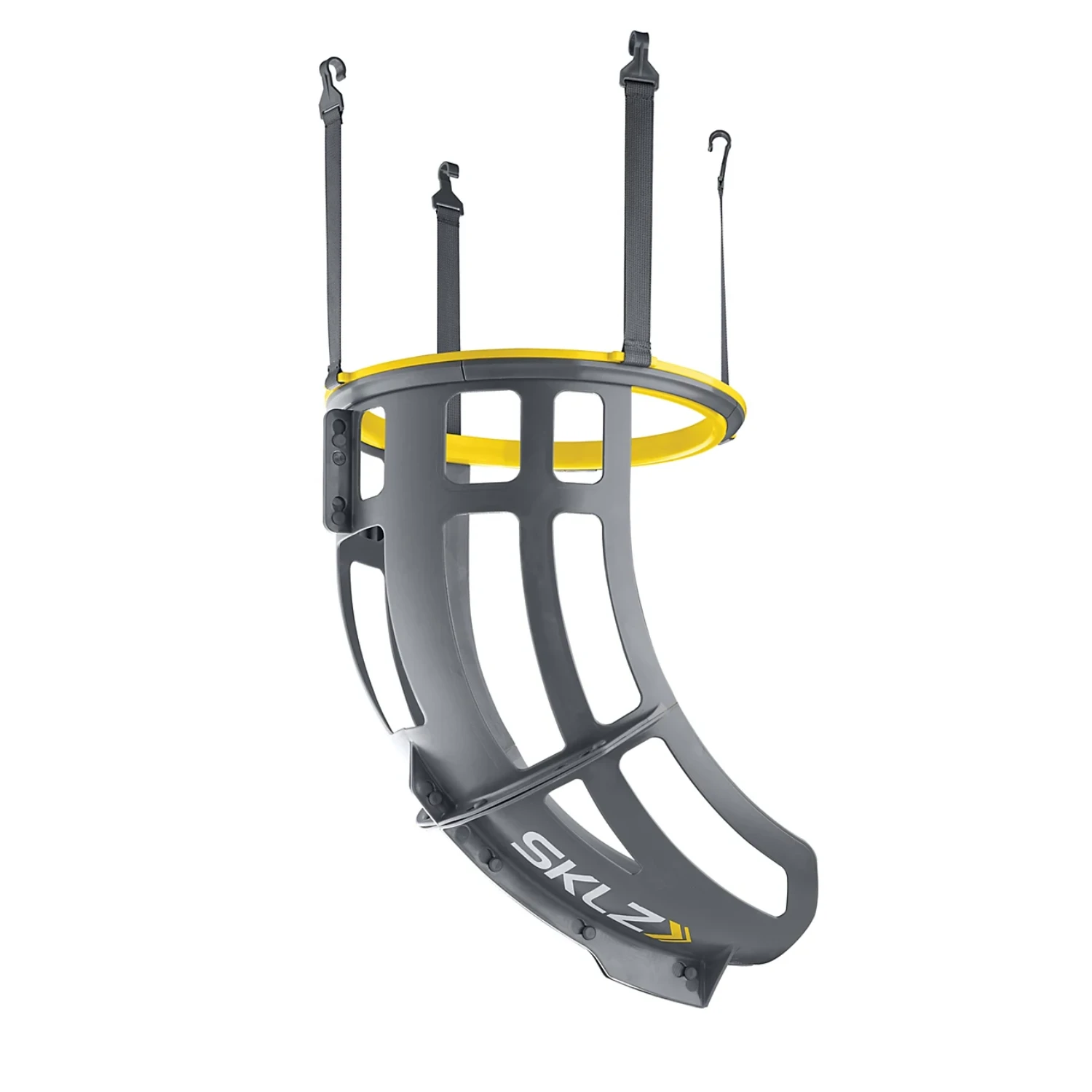 Best Rim Add-on
Simply clip this to the basket and the chute will feed you back the ball. The chute can be rotated 360 degrees.
Affordable
Clips on and off quickly
Adjustable return angle
Here we have a very simple basketball return system which simply rolls the basketball out of a chute. Unlike some other under-the-net returners which barely alter the ball's direction, the chute of the SKLZ Kick-Out is long enough to propel the ball towards the player with sufficient force.
The uncomplicated design makes for a very quick and easy installation process. You really don't have to put much together at all. Simply take the unit as it comes and use the included hanging hooks to attach it to the rim of your basketball net. The clips are designed in such a way so that they securely attach to your hoop, but can also be easily removed.
The standout feature of this unit is the rotating chute. This allows you to adjust the angle of the return any way you see fit. You can direct the ball as it is returned to you, effectively allowing you to practice from anywhere on the court.
Being a fairly cheap attachment, it is made out of plastic which means durability is a concern. While the plastic yellow ring and gray chute are unlikely to break, the rim clips can wear out over time. Fortunately, it's easy to perform some DIY fixes to securely attach it to the rim in those situations.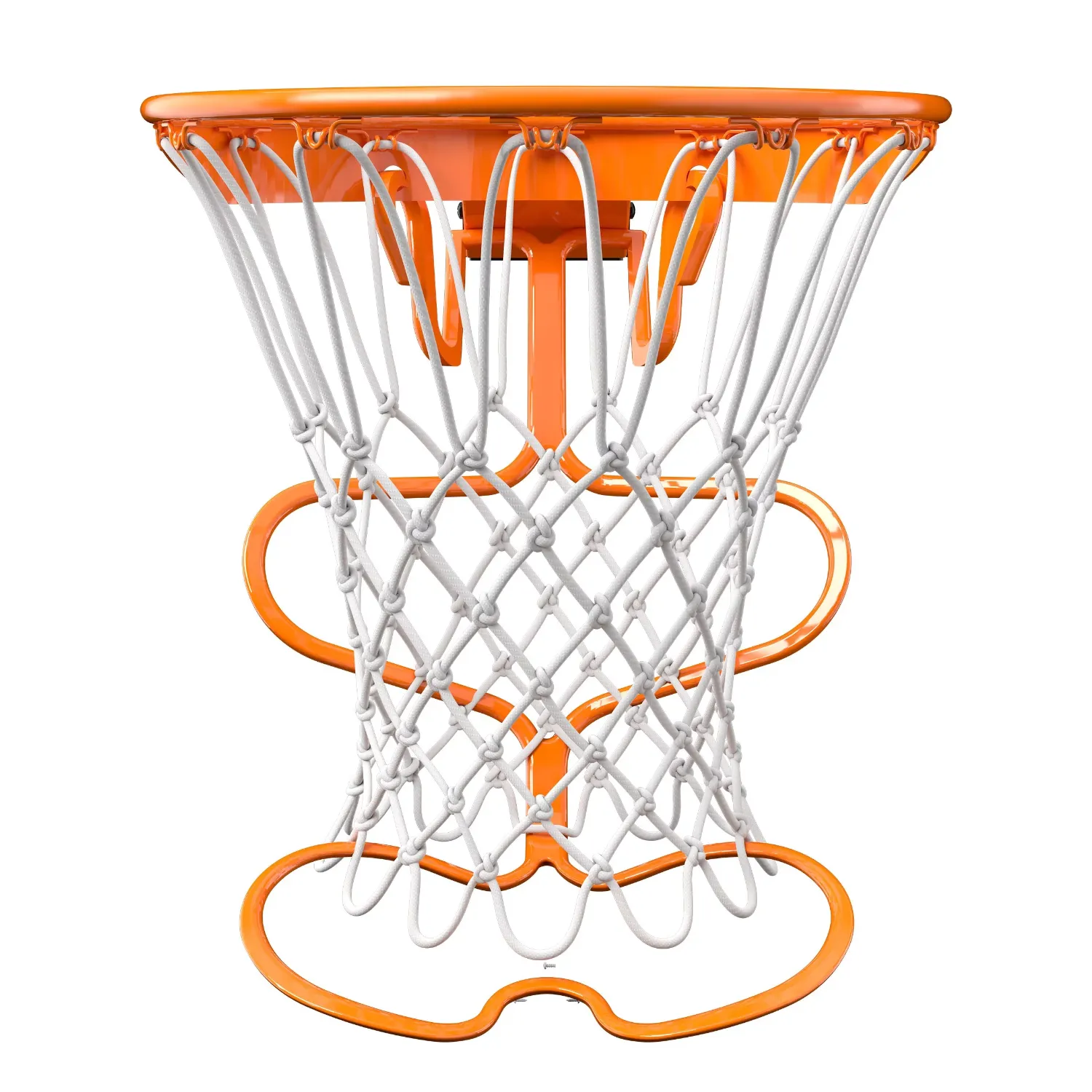 Budget Alternative
For those looking for something cheap, the Spalding Back Atcha does a reasonable job directing made shots away from the hoop.
Budget friendly
Reliable returns down the center of the court
Fits any basketball rim
Easy to mount
Can't change return angle
Return lacks velocity
If you're looking for an extremely affordable basketball return system that will barely cost you any money at all, then this one from Spalding is worth considering. As far as mounting and assembly go, this has to be one of the simplest units out there.
You don't have to assemble anything at all, and using the included loops integrated into the frame of the unit, you can hang it right on the rim of your basketball net. It really doesn't get much easier than that. It's also designed in such a way that it returns the basketball in a 90-degree arc.
In other words, it always returns the basketball straight down the center of the court or straight away from the backboard. Unlike the SKLZ Kick-Out basketball return attachment above, this one is not adjustable for the angle direction of the return.
This rim add-on also features a relatively minimalistic design, and it's made out of plastic. The orange color closely matches the color of many basketball rims, which is a nice touch.
The Spalding Back Atcha's biggest drawback is that it doesn't return the ball with much velocity, so you end up waiting a while as the ball slowly bounces its way back to you. Either that or you make a run and meet it halfway. Still, it's more efficient than training without the aid, and you'll appreciate the time you save for its low cost.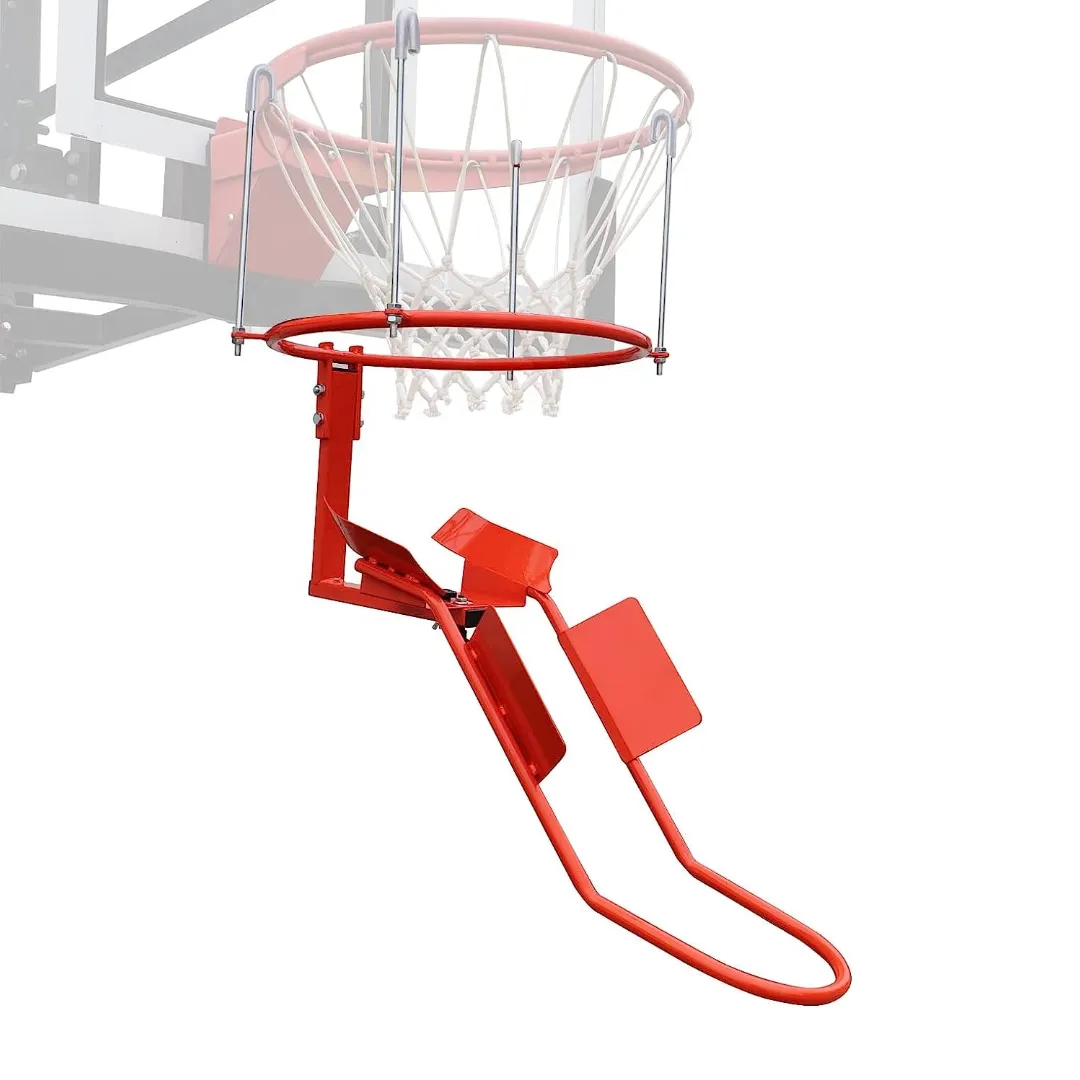 Heavy Duty Alternative
This steel rim add-on from ProSlam with stainless steel hooks will outlast the plastic competition.
Easy mounting
Superior durability
Rotates 180 degrees
The last rim attachment to make our list is one that costs dearly but is designed to last as long as the hoop you're playing on. The whole unit already comes assembled, and you just have to use the four steel hooks to hang it right from your basketball rim.
As you might have noticed, we used the word steel, because yes, this whole item is made out of heavy-duty and durable steel. It is by far the toughest and most durable chute-type shot returner around.
Though expensive, it should be able to resist a whole lot of punishment, inclement weather, impact, and more. What you may also appreciate about this basketball return attachment is that it can be rotated by 180 degrees, so you can effectively adjust the direction of the return, much like the previously mentioned SKLZ Kick-Out Basketball Return Attachment.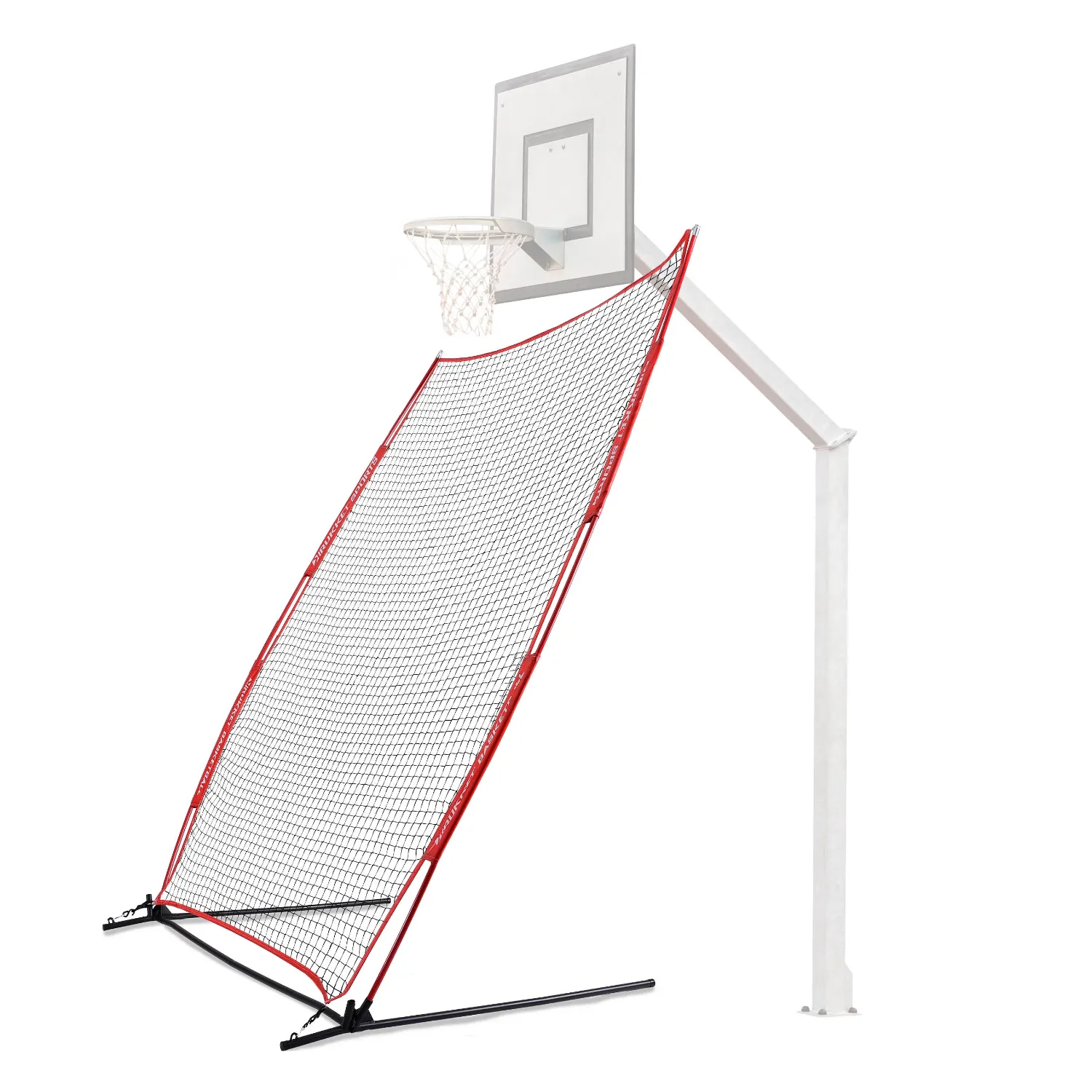 Best Net Return System
This freestanding net is much less troublesome than nets which attach to the goal and you can change its placement to best suit what you're practicing
Less hassle than nets that attach to the hoop
Change placement depending on practice
While rim attachment return systems only end up doing anything for made shots, a net return system will deal with anything, be it a swish or a miss. The other bonus is that it also serves as a guard net (a.k.a. yard guard), meaning it will prevent any stray balls from going past and behind the hoop.
We particularly like this one from Rukket Sports for one major reason: it's freestanding. Most return nets either attach to your hoop's support pole while the sides are anchored to the ground by filling up the included bags with water or sand. They tend to be a hassle to deal with and the bags can leak.
By contrast, the Air Defense return net stands on its own and is a much cleaner solution. Unlike basic guard nets which stand completely straight, the angle of the netting can also be adjusted, meaning balls will roll back with sufficient velocity.
The standard version is 6'x10′, but Rukket Sports also offers an XL version which measures 12'x13′ for greater coverage.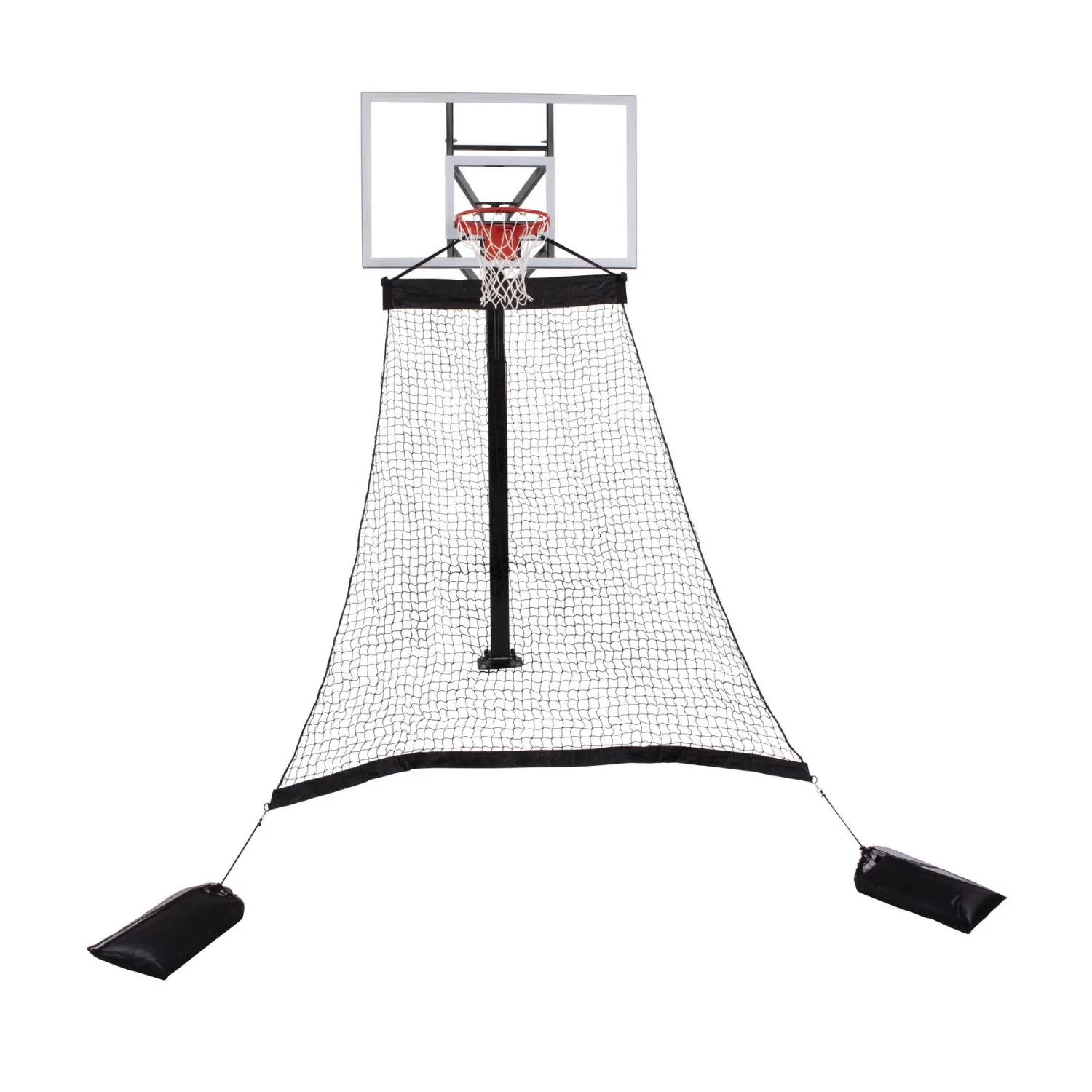 Budget Alternative
Shots that go through the hoop or hit the backboard will roll back towards you, but setup and cleanup can be tiresome
Deals with most shots
Heavy duty netting
Affordable
Rebound direction can be a bit unpredictable
Water/sand bags can get damaged easily
If you'd prefer a more traditional net return system that costs less than a freestanding one like the Rukket Sports Air Defense system, this one from Hathaway Sports is a good bet.
The heavy duty polyester net is held up by a hanger that you rest on the arm of your rim. Then, you extend the netting and keep the bottom corners anchored by filling up water or sandbags. You are provided with bags for each, so it's up to you, although sand will provide a better grounding.
The rebounder return system isn't perfect, however. First, the direction in which the ball rebounds is not very predictable. Second, and more importantly, the water and sandbags that are used to anchor the sides of the net can leak and get a little messy if damaged.
While it folds down nicely, the process of putting it away is fairly time-consuming. And that's something you'll definitely want to do if you're expecting rainy or windy weather that could damage the netting and/or anchor weights.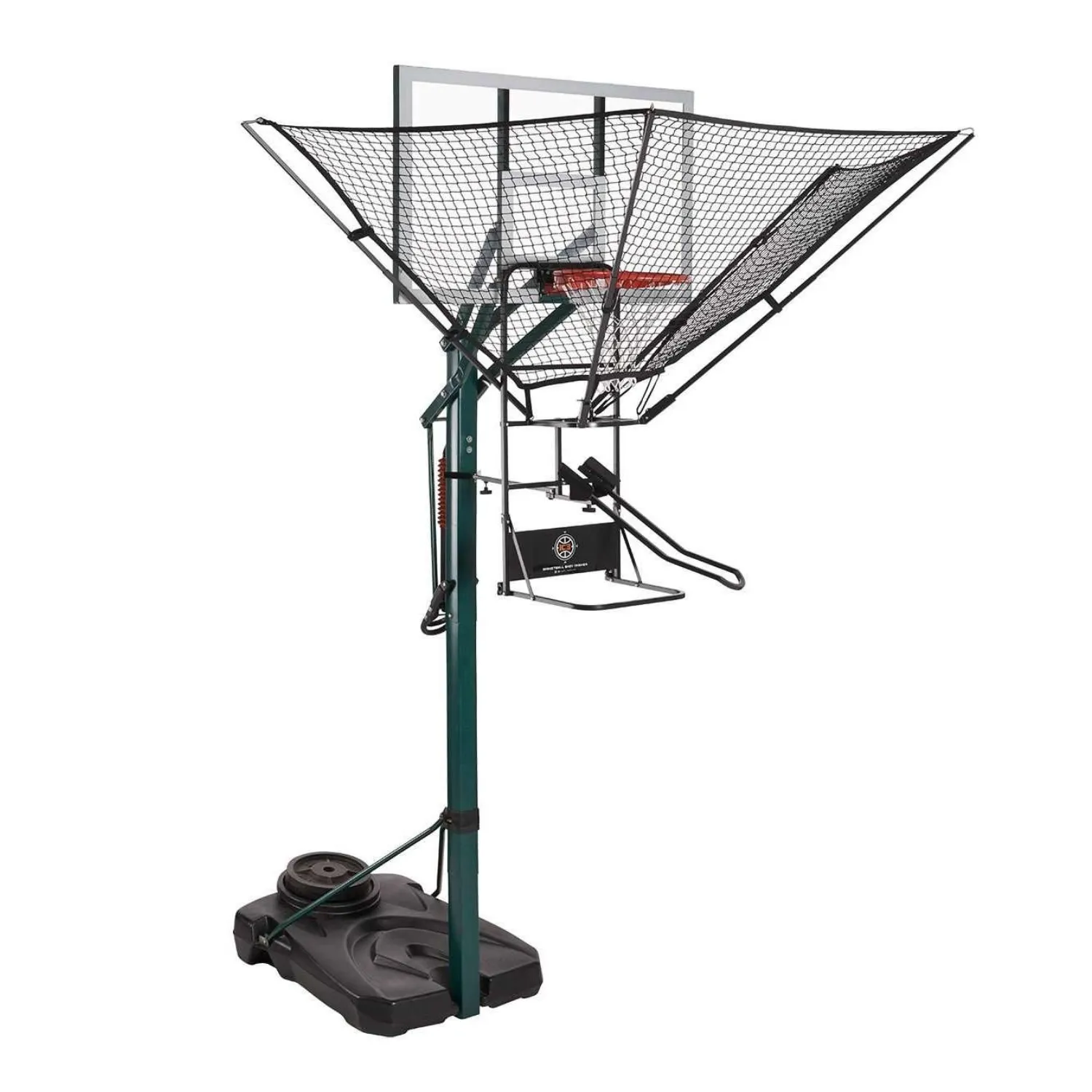 Best Funnel Type
A complete return system for those seriously trying to improve their shooting
Returns both made and missed shots
Encourages better shooting form
180-degree rotating gravity ramp
May be challenging to set up alone
Ball can occasionally get stuck
We recently tried out the Dr. Dish iC3 Basketball Rebounder Net Return System, and right off the bat, were impressed by its durable and safe design. This basketball shot return system is made with a 3″ weave black rebounder net that reduces light refraction and glare, providing increased visibility while playing. The basketball rebounder net is also 17″ above the rim, which trains players to put an arc on their shots for better form.
The distinguishing feature is how the iC3 returns both made and missed shots. Provided the ball enters the funnel, the ball will be returned to you from the chute, which itself rotates 180-degrees to change the return angle.
According to Dr Dish, this has been shown to potentially increase shooting reps by up to 300%, with up to 800 shots per hour when using two basketballs.
The initial assembly of the Dr. Dish iC3 can be a bit of a challenge, especially if you're setting it up by yourself. However, once assembled, it weighs only 35 lbs, making it portable for moving to a gymnasium, park, or driveway. It also folds to 22″ x 22″ x 59″ for easy storage when not in use.
Despite the potential for the ball to get stuck between the net and hoop, adjusting the net and tightening the Velcro resolved this issue for us, and overall, the product performed well.
Dr. Dish is the best-known shooting machine producer and the iC3 shot trainer is an excellent yet relatively affordable shot return system that is well worth the extra cost compared to cheaper alternatives.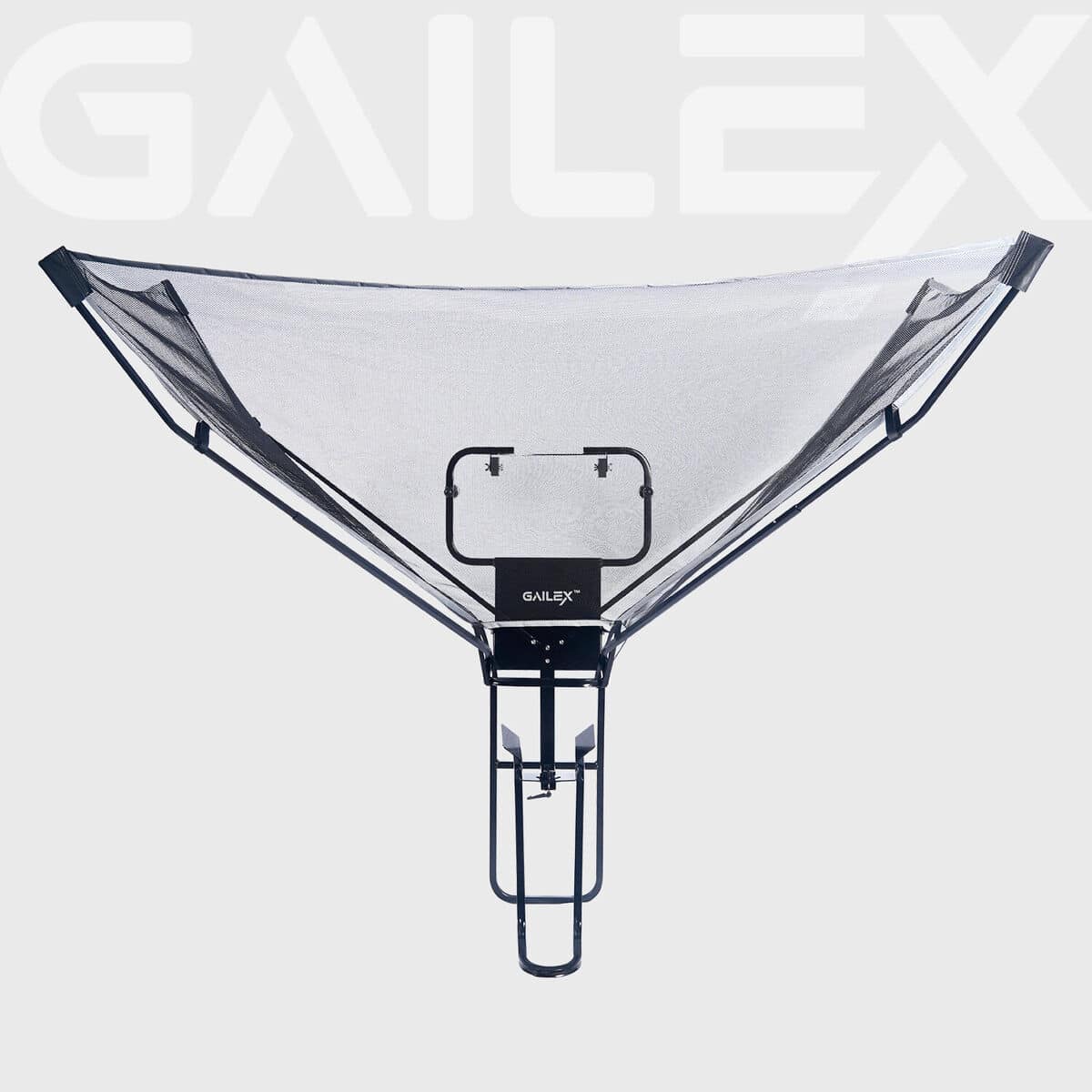 Budget Alternative
A cheaper funnel-type return system that achieves the same thing as the Dr Dish iC3 for less
Returns both made and missed shots
Encourages better shooting form
180-degree rotating gravity ramp
Reduced build quality
Netting can impact hoop visibility
Another funnel design return system like the Dr Dish iC3, the Gailex shot return system is a more affordable option for those who want a return system that works for both made and missed shots.
The system didn't feel as well-built or substantial as the iC3. The system itself weighs 18 pounds, roughly half as much as the iC3 which weighs 35 pounds. This does have the advantage of being easier to mount, and may also be better if you're using a cheap portable hoop with a small base that is prone to toppling. But let's be honest, if you're considering an expensive return system, you've most probably already invested in a premium hoop that can handle much heavier loads.
Another shortcoming of this return system compared to the Dr Dish iC3 is the netting itself. Unlike the 3" weave netting on the iC3, this net reduces visibility of the rim more and can produce some glare when used outside under certain conditions.
That being said, this is still a solid piece of kit that gets the same job done for a fraction of the price. If you'd prefer to save some money and don't mind going with an off-brand that isn't endorsed by FIBA and AAU basketball, this is definitely worth considering.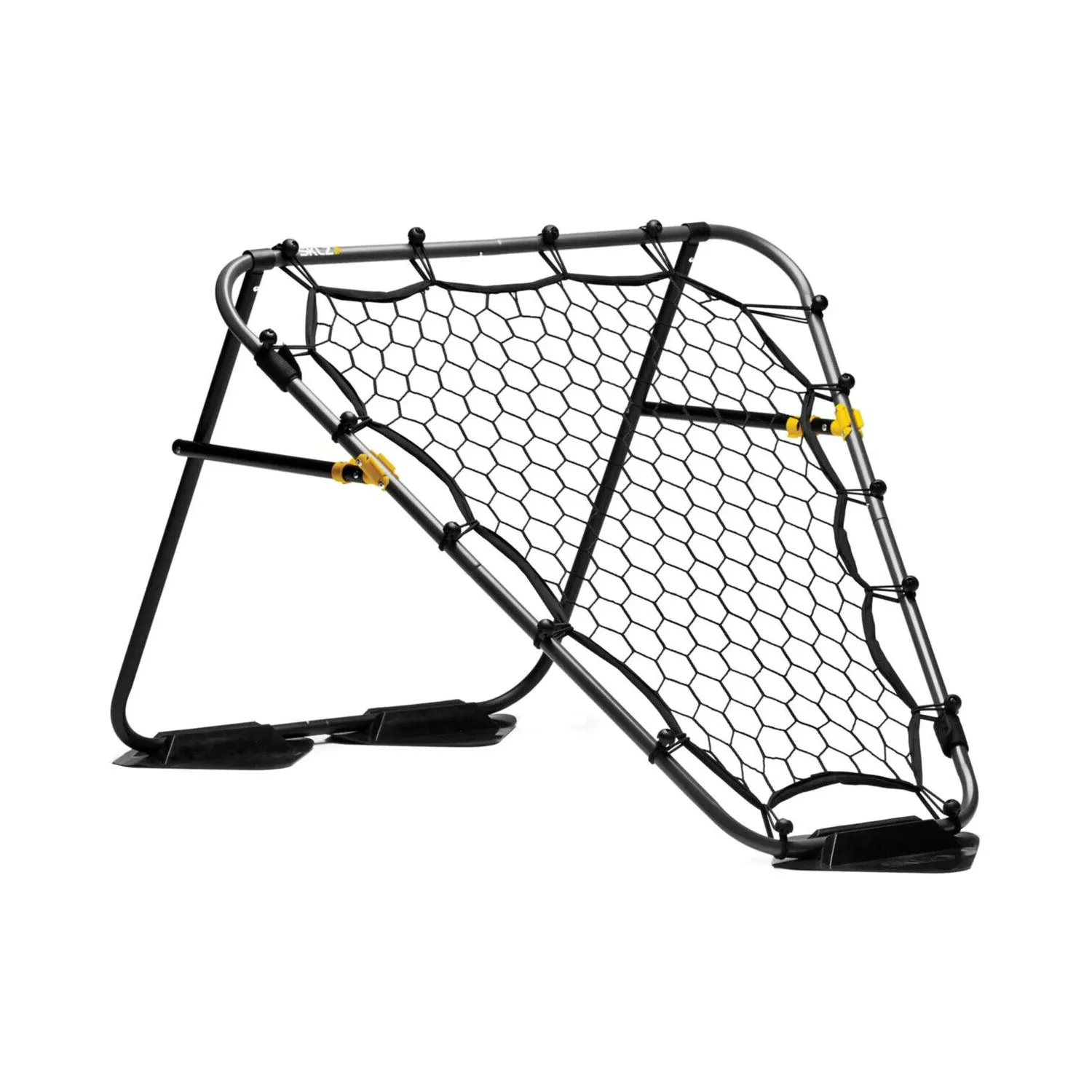 Best Pass Back Rebounder
Practice catch-and-shoot drills with this rebounder from SKLZ
High tension netting for a realistic pass
Wedge shape makes it an easy target
More expensive than most pass back rebounders
Here we have a special type of rebound system. It isn't designed for returning shots back to the shooter.
Instead, you throw the ball into its netting and it will return the ball to you with the energy of an actual person passing to you. This makes it a great training tool for catch-and-shoot drills. You'll learn to set your feet, square up, and shoot the ball following a pass.
It does not have to be attached to the support pole or the rim in any way, because it is not designed to be a shot rebounder.
We especially like the SKLZ Solo Assist for basketball practice because it has been designed with basketball in mind. The return mimics a real-life pass more closely than other similar rebounders.
However, it is one of the more expensive rebounder nets around, and we'd also recommend checking out the Franklin Pass Back Rebounder Net below which does a similar job for less.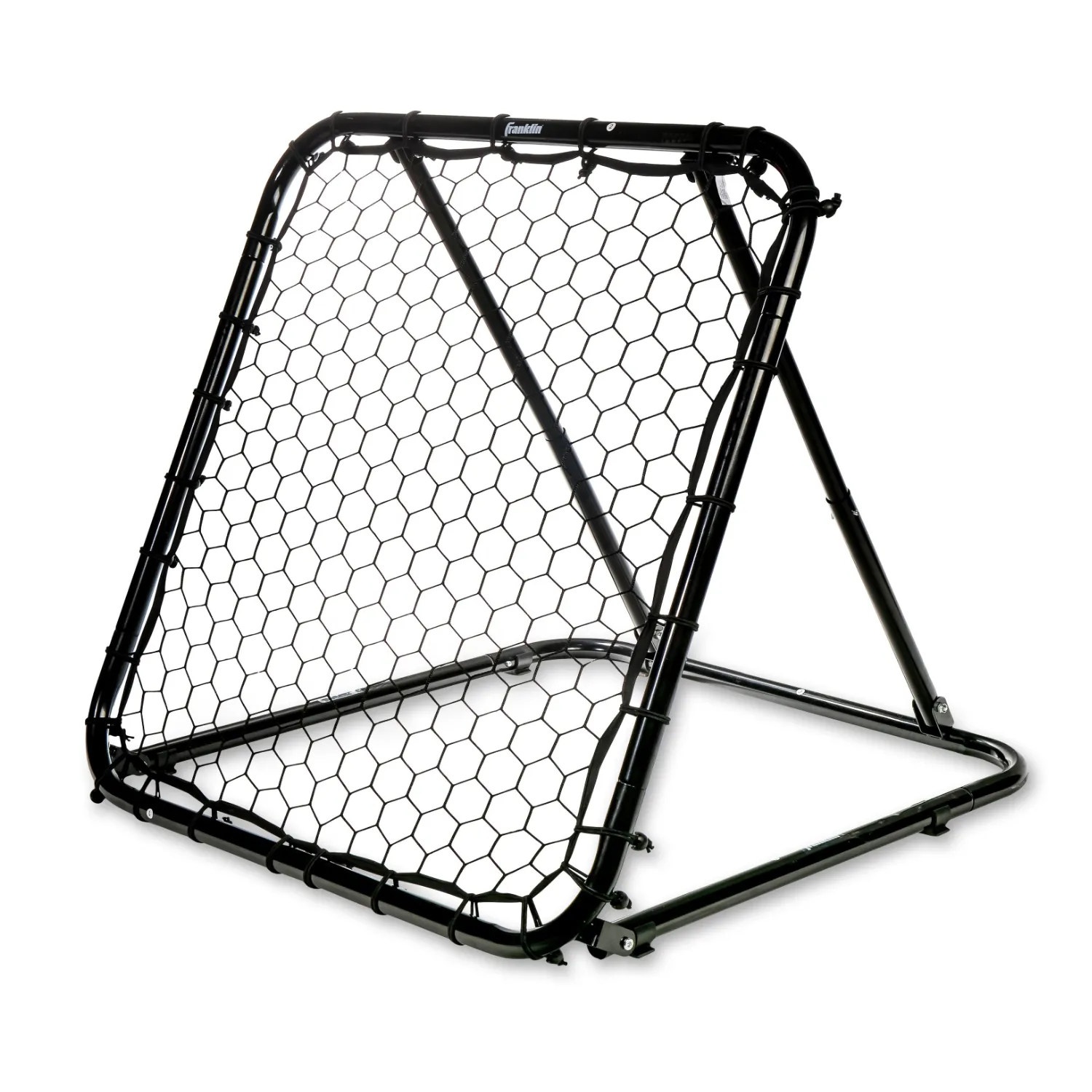 Budget Alternative
A simple rebounder that will feed you back the ball you throw at it
Multi-sport rebounder
Adjustable angle
Smaller sweet spot than wedge shaped rebounders
This is a more general rebounder than the SKLZ Solo Assist, designed for multiple sports. Like the Solo Assist, the angle of the 3'x3' net can be adjusted to pass it back to the player at different angles.
The weighted frame ensures that the rebounder does not move around when even a heavy basketball is thrown at it.
Overall we preferred using the SKLZ Solo Assist, because its "sweet spot" felt bigger thanks to its wedge shape. However, this isn't much different, and it costs less.
Basketball Return Systems – What To Know
There are a few main considerations that you need to keep in mind when choosing a basketball return system, so let's take a look at what these are.
Type of Return System
The most important consideration here is the type of return system that you get. There are four main types.
Rim attachments, return nets, and funnel-type return systems are designed primarily to aid shooting practice by reducing the time you spend collecting stray balls.
Funnel-type return systems are by far the most time-saving, as they deal with missed shots and send the basketball back to the player through a chute.
Return nets are the most versatile, as they also prevent all kinds of loose balls from going behind the hoop. A combination of a return net and a rim attachment is also not a bad idea, as they will return made shots efficiently while also handling shots that completely miss or hit the backboard and don't go in.
Finally, there are pass-back rebounders which are for another purpose entirely. These are designed to feed you a realistic pass which lets you practice receiving the ball on the move.
Rotation Adjustability
If we are talking about the basketball return systems that attach to the rim, there are many that are adjustable. This means that you can rotate the return chute to adjust the direction in which the ball is returned to the court.
Materials
When it comes to basketball return systems attached to the rim, there are those made of plastic and those made of metal.
Of course, those made of metal are more durable, but those made of plastic are easier to maneuver when mounting due to their lightweight nature, and they're much more affordable too. It really comes down to a trade-off of price and durability.
If we are talking about net return systems, these should have steel or high-quality plastic frames, preferably combined with durable high-tension netting.
Mounting
Basketball returns systems that feature large nets can be somewhat cumbersome to set up and take some time.
These generally need to be mounted to the support pole or the underside of the backboard, which can take some work and usually requires an adult. Freestanding nets are preferred for this reason.
However, those that attach directly to the underside of the rim are much easier to mount and deal with. You literally just have to hook them onto the rim.