Want to be able to dunk? Want to gain a competitive edge in almost every sport?
Just as people follow gym routines to get buff, vertical jump training systems focus on making you jump higher. They require you to be just as committed and consistent, but the reward is far more satisfying.
A couple of months of lifting in the gym might see you lifting a few more pounds, but simultaneously you could be jumping 9 inches higher and turning heads on the court.
Not only that, you'll develop incredible athleticism, bettering yourself in any physical sport like football, basketball, soccer or tennis.
Sounds pretty awesome, right? Without further ado, let's cover the 3 best vertical jump training programs available right now.
Why They Work
A focus on plyometric training, while also making sure you develop sufficient strength.
Peripheral exercises to recruit and engage 'secondary' muscle groups. Your jump isn't just doesn't just rely on your calves, quads, and glutes!
Optimized muscle growth scheduling. Don't over-work or under-work muscle groups and maximize your training efficiency.
Constantly switches things up to ensure 'muscle confusion'. Prevents the dreaded plateau.
Focus on jumping technique. If your running jump isn't 5+ inches higher than your standing, you stand to gain a lot from fine-tuning your run-up alone.
Proven results. Don't make up your own half-assed workout plan and expect it to work.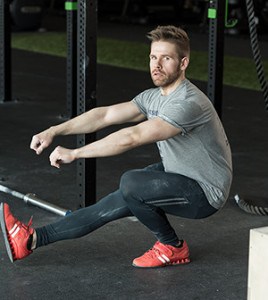 Now, if you're ready to go beyond just doing high-rep squats, calf raises, box-jumps and jump-rope, it's time to step it up with a vertical jump training program.
Here are the best programs for 2018, as ranked by us, in order:
#1. Vert Shock
If you've read my story, I'm sure you already know my answer: it's Folkersystem Vert Shock.
After all, it's the program that got me jumping 10 inches higher – and it's worked for thousands of others.
Now the best-selling jump training program of all time, it demands 8 weeks of your time in return for gaining anywhere between 9 to 15 inches on your vertical jump.
There are other training programs worth your time (I'll come to these later), but it covers everything more concisely and is in my opinion, the best presented.
The program was created by Adam Folker, who previously played college basketball at UC Irvine and entered the 2013 NBA draft.
With his Marketing major, he has gone on to become the CEO behind Thincpro, a business centered around Basketball training.
For this jump program, he worked with Justin "Just Fly" Darlington, who shares his secrets to becoming the world's best dunker and winner of the Nike+ dunk contest.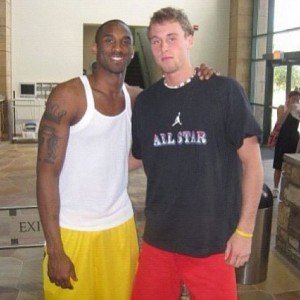 The 3-Phase Approach
The basic idea behind the program is to 'shock' your system through its workouts to stimulate growth in the right areas – a technique that is already used in most bodybuilding programs. The program is split into 3 phases:
Phase 1: Pre-Shock
The first week of the program prepares your body to maximize the effectiveness of the Shock phase. It can add between 3-5 inches to your leap.
Phase 2: Shock
Six weeks long, this phase literally 'shocks' your nervous system into increasing your leap score. This is where the majority of your jumping gains will come from.
Phase 3: Post-Shock
The last week involves committing what has been learned to muscle memory. It is the most intensive week with only a day of rest.
Personally, I only managed to add an inch in the Pre-Shock phase but gained close to 7 inches over the duration of the Shock phase.
I would also suggest not skipping the last phase, as this is where your jumping form is perfected.
Depending on how much previous jump training you've had, you'll probably have a different idea of 'how good' this improvement is.
In my case, I was spending months watching Youtube videos and downloading PDF guides in an attempt to jump higher.
However, after all of that I had barely added 2 inches to my vertical leap.
Then I jumped on the Vert Shock program (sorry for the pun) and gained 10 inches in a matter of 2 months. Following a structured training program is worlds apart from doing your own thing.
Warning: I know everything reads a like I just bought the program and then BAM, 10 inches to my vertical jump. I cannot stress how far from the truth this is, those were easily the most committed 8-weeks I've ever spent in my life! Every inch was hard-earned.
What I Liked
Vert Shock as a whole is very well put together. As soon as you purchase a membership there is a 10-minute introduction that prepares you for the tough weeks ahead.
The program doesn't feel bloated with tons of irrelevant material. Rather, you print out your worksheets, watch the tutorial videos and get cracking.
The program requires you to jump a lot. By my own calculation, if you follow the program 100%, you'll be performing 3684 jumps over 8 weeks.
That works out to an average of over twice as many actual jumps than any other jump program per day.
What I Didn't Like
Honestly, there wasn't much I didn't like about this program.
Most of the things I didn't like came down to small details like the fact you can't download the videos for offline viewing or that the program has some 'unlockable' content that needs to be paid for.
I'd suggest you read my Vert Shock journey if you want a more thorough insight into its flaws.
In case you're wondering…
The workouts in this program don't require your own equipment, while the next two programs do.
This means that if you can't consistently access a gym (a public one or one at home), I would highly recommend this program purely on the basis that you simply can't afford to miss training days.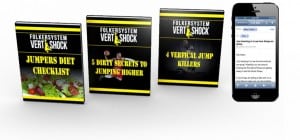 So there it is, my number 1 pick, Vert Shock. It's worth mentioning that there is a 60-day money-back guarantee. If for whatever reason it doesn't work for you, they'll refund you – no questions asked.
2018 BONUS: They're currently throwing in some bonus extras (4 Vertical Jump Killers, 5 Dirty Secrets To Jumping Higher, Weekly Check-Ins and Jumper's Diet Checklist) which include some nice, albeit not essential, tips for taking your jump further. 4 Vertical Jump Killers, which points outs bad habits that might be destroying your potential, is my personal favorite.
#2. Jump Manual
Full Review: Jump Manual: The VJD Review
Jacob Hiller's Jump Manual is the original vertical leap training program that exploded onto the market all the way back in 2009.
The first of its kind at the time, Jacob Hiller was featured in numerous publications including ESPN, FHM and GQ.
The program aims to add 10 inches to your vertical jump over a course of 3 months.
What I Liked
The Jump Manual is incredibly comprehensive. Put simply, it's a well-rounded program that covers
It doesn't shy away from the complex myology behind muscle development.
Exercises are incredibly varied and there are many exercises that take advantage of weights. There are non-weighted alternative exercises, but it feels like there is an emphasis on weight training.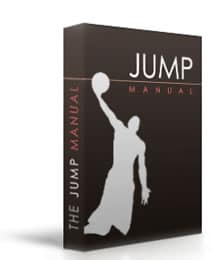 The pacing of Jump Manual also feels more relaxed. That's not to say it's an easy ride, but the course duration is one month longer than Vert Shock and a lot of the exercises have a lower rep count. It certainly doesn't have the same 'shock' factor.
There is a lot of stretching and traditional strength training exercises like deadlifts and hang cleans. You don't get this much variety in other programs. Some of the exercises feel like they aren't that beneficial for your jump, but there's no harm in training other parts of your body.
Due to the slower pacing of the program, if you are someone that is especially prone to injury, I'd recommend the Jump Manual as it takes a less strenuous form of vertical jump training.
What I Didn't Like
While the Jump Manual is undoubtedly a fantastic training program, a few things hold it back from taking the crown.
Showing Signs of Age
Videos are recorded in standard definition and haven't been updated since the program's inception in 2009.
The training system itself is very solid and I seriously believe the program could be worthy of taking the number one spot, but it it's 2018 now and the program is well overdue for a makeover.
Tries Hard to Replace Bodybuilding Programs
At its core, Jump Manual has a solid set of exercises that are designed to build up your vertical jump. These mainly consist of plyometric exercises which are the bread and butter of any jump program.
For some reason, Jump Manual guides you through a lot of basic weight-lifting exercises like the Bench Press and Shoulder Press. These exercises aren't particularly important for your jump, and it sometimes feels like Jacob Hiller decided to throw in as much content as possible for the sake of making the program big.
Need Gym Equipment To Get The Most Out Of The Program
While weights or other equipment aren't strictly necessary, the core workouts involve weighted exercises which can be replaced with bodyweight alternatives if you lack the equipment.
There is a sense that the weighted exercises are recommended for optimal results, leaving those without the right equipment feeling as though they may be missing out.
For most people, accessing a gym 4-5 days a week is not easy. Once or twice is perfectly normal, but jump training programs require a high exercise frequency and volume. Therefore, being able to head to the gym almost every day of the week isn't realistic for many.
At the time of writing: There's a fantastic offer where you can try the program for $1 and only pay the rest later if you like it.
Consider It If…
While Vert Shock is my overall recommendation, there are a few reasons why getting Jump Manual makes sense.
Injury Prone individuals: Being in a less intensive training program means your joints are put under less stress.
Want a more well-rounded program: Personally, I believe a jump program should focus on one thing – increasing your jump. However, if you are interested in a workout routine that also covers some more general exercises, Jump Manual is the way to go.
As a Supplementary Resource for Reference: Even though I have already got the vertical leap I want, I often refer to the Jump Manual for information. It's simply a great resource that covers a LOT.
#3. The Flight System
The Flight System was released in 2017 by Overtime Athletes.
World-famous fitness instructor and head strength coach of Strength Camp, Chris Barnard, has been involved in researching explosiveness for several years, and The Flight System takes all that knowledge and wraps it up into a jump training program.
The main selling point and the reason we've given it a spot in the top 3 is that it incorporates Triphasic Training, an approach that has formed the modern basis of training for NCAA football athletes.
The Triphasic training approach means you'll train in 3 phases: Eccentric, Isometric, and Concentric.
Eccentric – The beginning of any explosive movement
Isometric – Minimizing the transition period between Eccentric and Concentric muscle actions.
Concentric – The muscle action which results in a change of direction
Each month of the program focuses on a different aspect of triphasic training, so in total it lasts 3 months.
Too Complicated!
Does the whole triphasic training methodology sound a little complicated?
I think so. The whole Jump Program is structured around triphasic training, and as a result, it's all too easy to become confused.
While this form of training sounds like cutting-edge stuff, at the end of the day it still boils down to doing plyometrics and strength training.
So unless you've been training your vertical jump for ages and hit a wall, having a training routine that is this specialized feels unnecessary.
No Mention Of Dunking
While Vert Shock and Jump Manual clearly market themselves toward aspiring dunkers, The Flight System doesn't even mention it.
It markets itself to football coaches and those interested in taking their explosiveness to the next level.
Therefore, if you're looking for a jump training program for the purpose of being able to dunk, I wouldn't suggest this one.
A Solid (but expensive) Advanced Program
It should be clear by now that this program is not for the masses.
I would further state that this program is only something of value for:
Basketball/Football Coaches looking to gain some valuable knowledge about how triphasic training could be employed
Those who have completed a jump training program and want to squeeze out an extra couple of inches.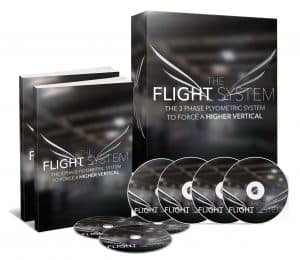 The thing I haven't touched upon yet, but absolutely must, is the program's price. At a whopping $134, it's far more expensive than other comparable programs.
Worthy Mention: Become a Freak v3
Although I can't recommend this program over the others, it's worth mentioning Adam Linkenauger's Become a Freak v3.
A 7-time ACC champion and Powerade National Dunk champion, Linkenauger is a serious dunker and his 'Become a Freak' series is highly recommended by many.
Version 3 is the latest and like Jump Manual, it is a comprehensive 12-week program.
While it is a nicely packaged program, it is just a stripped-down version of Jump Manual and costs twice as much.
The video quality is higher but it just doesn't bring anything new to the table, other than the higher price tag.